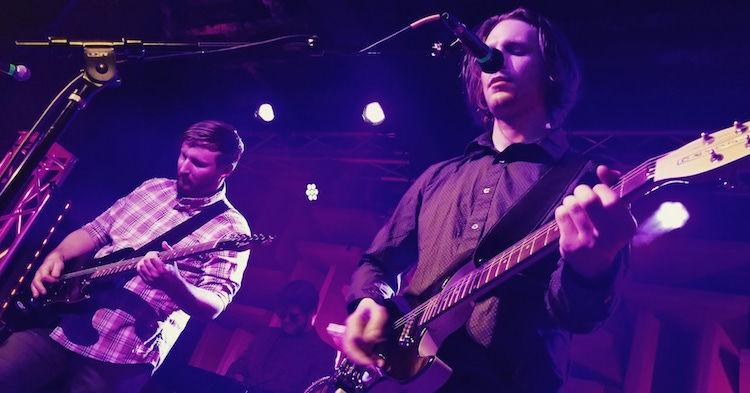 The Lady Presidents are not out here harping on hard-hitting issues. Instead, the Indy five-piece just sticks to playing its potent brand of no-nonsense rock 'n' roll.
"I'll tell you it's not a political statement," says Lady Presidents bassist Geoff Sears when asked about the band's misleading name. "That's the best answer you're going to get out of any one of these guys."
Fresh off the release of a 2019 EP titled About Last Night, The Lady Presidents gear up for a big weekend of hometown shows, playing the Hoosier Dome on Saturday, Feb. 23 and the Melody Inn on Sunday, Feb. 24. Both of these gigs come on the heels of The Lady Presidents' appearance at HI-FI's New Faces Night, where the five-piece performed to a full house alongside fellow Indy acts Palace and themiddleclass.
Long before his days heading up The Lady Presidents, frontman Sean Thomas could often be seen in Broad Ripple, busking his heart out. "These songs [on About Last Night] all started out as songs that Sean busked out on his own on an acoustic guitar," Sears says. "I literally played all of them (except two) on the street before The Lady Presidents was even a thing," Sean says. "It just took getting with a group of guys that could follow what I was doing to really come up with new and improved versions."
The band pinpoints July 2018 as the moment when they solidified their lineup. By this time, energetic keyboardist Sam O'Grady had begun making his mark on things. "Sam changed everything," Sean says. "I think his energy has definitely pushed us to try harder and get weirder," adds lead guitarist Ryan Thomas. For O'Grady, there's much more to a performance than simply playing his instrument.
"To me, being on stage means I have to be a performer to a certain degree," O'Grady says. "I've considered shaving my head on stage before. I may not leave a good impression on people, but at least I'll leave a lasting one."
For their EP, the band teamed up with Alex Kercheval and Tyler Watkins at much-loved Indianapolis studio Postal Recording.
"There are some new things on this EP that we had not ever thought of, and I think it made the songs become whole ideas," Ryan says of the impact Kercheval and Watkins had on their EP.
Going forward, the band has more songs that they're looking to eventually release out into the world. After their success at venues around Indy, they'd also like to start venturing outside the city as well.
"Lately, we've really been looking to start branching out of Indy," Ryan says. "We love the local scene, but we'd love to take our music outside the state. That's something we've been progressing to."