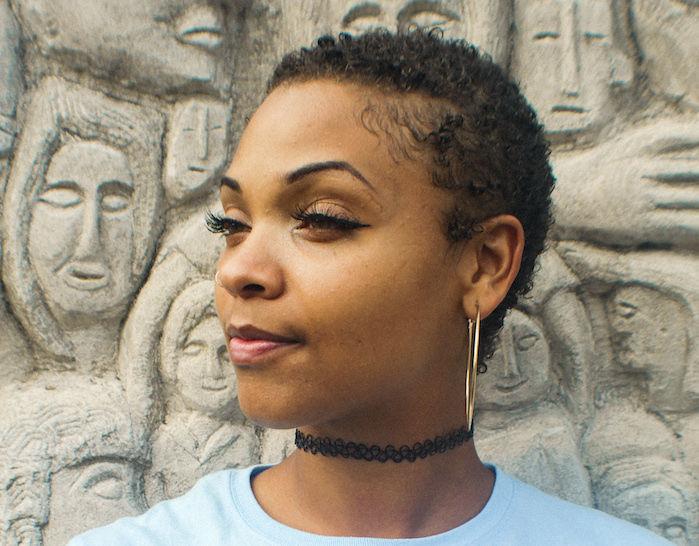 There's no denying the magnetism of Allison Victoria's singing voice. So, it's somewhat surprising to hear the Indy soul artist didn't really start taking music seriously until recent years.
"I was in the church [growing up] and was always around music, but I was so shy and didn't really know how to attack it," Victoria says. "I was one of those singers that you really had to pull it out of. Like, 'Allison, really sing this time.'"
"Then in 2016, I got over sitting on this gift," she says of her musical talent. "I went to Vibe on Wednesday [a local open mic]. Once you go to one open mic in the city, you find a whole lot more. Genuinely, all you have to do is go to one, and you'll find the right people."
Now as part of this year's Art & Soul celebration, Victoria will be showcased as a featured artist, performing at the Indianapolis Artsgarden on Thursday, Feb. 14 at 12:15 p.m.
Put on every year by the Arts Council of Indianapolis, Art & Soul spotlights local African American artists via performances that take place throughout the month of February. Like previous installments, the 23rd annual Art & Soul is completely free and open to the public, with all events starting at 12:15 p.m. in the Artsgarden.
For as far back as she can remember, Victoria was surrounded by creative types. "My great uncle was a painter, and my great aunt played every instrument," she says. "It [creativity] just goes so far back." With this being said, she's been told her aura as an artist is similar to that of her godmother.
"She passed away before I could even truly get to meet her, but my parents tell me all the time that I make music that's so similar to her vibe," Victoria says. "[They tell me] that my tone is so similar to hers and that how I compose resembles her. I feel like I remember her more musically, which is so powerful to me."
After going to a few open mics in the city, Victoria really got plugged in to Indy's music community, with help from people like multi-talented artist Tony Styxx. "Tony Styxx is the host of Vibe On Wednesday," she says. "He became a big brother and mentor as far as artistry goes." After only performing a few open mics, Victoria was granted an early opportunity to showcase her talent, performing at the ribbon-cutting ceremony for the Julia M. Carson Transit Center.
"Initially, the first person I ever performed with was Yadin Kol," she says. "That [ribbon-cutting ceremony] was actually our first professional gig that we got. Things literally took off from there."
Along the way, Victoria has also received help and support from several other notable figures in Indy's music community, including Diop, Mandog, Mariah Ivey, Milton Keys, and Willis. Since emerging on the scene in 2016, she has been booked by Doug Morris on several Old Soul Entertainment events as well.
"Doug Morris took me under his wing and truly put me on every event that might represent something I can bring to life," Victoria says. "He was like, 'Okay. We've got a Lauryn Hill tribute. Call Allison. Michael Jackson tribute? Call Allison.' He kept me busy."
Over time, Victoria has amassed a catalog of original work. Songs like "Beneath the Dust," "Let Go," "Sweet Love," and "The Cure" can be heard in the Small Studio Session she recorded with WFYI. Fans of Victoria can likely expect to hear some more recordings from the budding soul artist on the horizon as well, considering she has been approved for a Fourth Sunday studio session in 2019.
In addition to her own work, Victoria has also been featured on tracks with local artists like Baby Ebony, Diop, James Daytona, Karte Carter, Willis, and Woogie, "Right now, I'm focused on giving people teasers by being featured on a lot of other people's projects that I truly believe in," she says. When it comes to her live sound, she now has a network of musicians that perform in her band.
"At this moment, I have such a huge musician family pot," Victoria says. "Whenever I have shows, I have all these people that are just there [to perform with me]. It's a blessing to be connected."
As for Art & Soul, she's excited to be one of the featured artists in 2019.
"I'm really honored because this event specifically sheds light on the beauty of Black history. To represent that and be able to have a platform is a blessing."