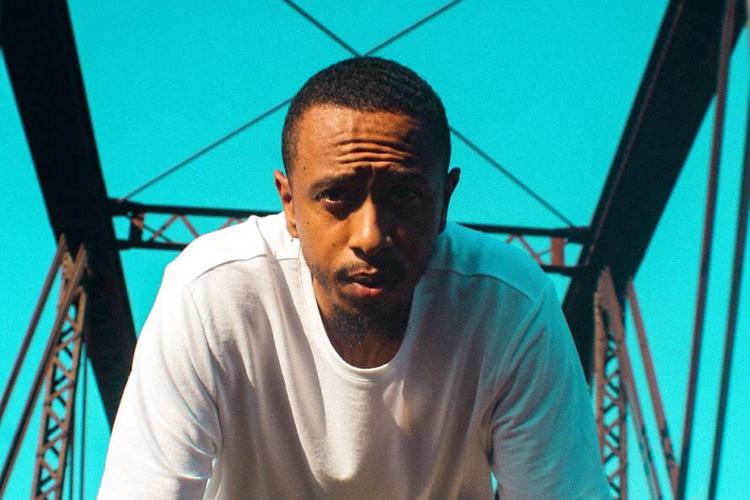 In recent years, Diop Adisa has become a staple of the local hip-hop scene, even landing a song on Spike Lee's She's Gotta Have It Netflix series. After chatting with him for just a few minutes, though, one will quickly realize that the Indianapolis native is much more than just a rapper.
"I use the art as a way to build community and impact people," he says. "I use critical conversation as a way to build community and empower community. All of these are just different tools and mediums grounded in what I'm passionate about."
After dropping his Flow Flexin' project in 2017, Adisa (who releases music under his first name) returns this October with his most all-encompassing effort to date. With guest appearances from Allison Victoria, Baby Ebony, Kid, and Willis, Still Shinin' is an album rooted in Adisa's commitment to his community. Unlike previous projects, Still Shinin' also features production work from Adisa, rather than longtime production partner Mandog. This being said, every track on Still Shinin' was made entirely by Diop, from the beats to the rhymes.
With roots in Indy's Near Northside, Adisa grew up off of 25th and Boulevard, in between Ivy Tech and Watkins Park. Although his parents were both electrical engineers, they chose to raise Adisa and his sister in a predominantly Black community instead of relocating to a more affluent suburb.
"My parents weren't always the same type of parents as some of the peers in my neighborhood," Adisa says. "They were heavy into Pan-Africanism and Black nationalism. So when me and my sister were born, they gave us African names to culturally reflect us and provide us with meaning and identity because they wanted us to know where we came from."
From an early age, Adisa learned the importance of community through his parents, witnessing cooperative living and working models firsthand. For this reason, he's still passionate about his community today—a theme heard throughout the lyrics on Still Shinin'.
"My parents don't believe in the separation between I and we, so there's nothing you do that doesn't impact the broader community," says Adisa, who has long been involved with Indianapolis' Kheprw Institute. "Moving through life knowing that everything is interconnected just makes you understand why it's important to always be there for the community and always be a resource."
Adisa originally started rapping during his freshman year at Broad Ripple High School. "I was always good with talking and being verbose, so I figured I'd give it a try," he recalls. Several years later, he would connect with Mandog—a previous winner of the Jay Brookinz Beat Battle who now serves as Diop's primary collaborator.
"To this day, Mandog has stretched me artistically more than any other creative partner I've had on the music side because he pushes the envelope when it comes to creating a soundscape," Adisa says. "He takes risks. He does things to samples that you just don't hear other people do."
Not surprisingly, Mandog was responsible for the production on "Lowkey Lowkey"—the track featured in Spike Lee's She's Gotta Have It Netflix series. In looking back, Adisa and Mandog will always see their teaming with Lee as a life-changing accomplishment.
"While it was happening, it was kind of hard to believe," Adisa says. "Mandog and I knew we made good music. But when someone of Spike Lee's stature says, 'Your art is great,' it gives you a different sense of confidence because that's on an international scale. It makes you want to continue, even when you sometimes get frustrated."
With his recent foray into production, Adisa admits that Mandog has been crucial in encouraging him along the way. "I didn't intend to put out a beat or anything for about a year because I figured it wouldn't be good enough," says Adisa, who only started producing in April. "But two weeks in, Mandog was like, 'Man, this is actually pretty good.'" With this encouragement, Adisa gradually began collecting his standout production works and putting raps over them. Eventually, he had an album's worth of material, choosing to call it Still Shinin'.
"It's titled Still Shinin' because the more we pour into ourselves and turn ourselves into a resource, the more we put ourselves in a position to shine today, tomorrow, and the day after," Adisa says. "That is essentially what this album is about."
A distinct collection of nine radio-ready rap tracks, Still Shinin' also features Adisa exploring new vocal territory. "In terms of sound, I think it's a lot more soulful and a lot more melodic than any of my other projects," Adisa says. All in all, the album serves as an excellent opening statement to Adisa's next chapter as an artist.
"I look at this project as my ability to stretch myself—my ability to grow and stay true to my fundamentals but also reinvent myself and be willing to grow," Adisa says.