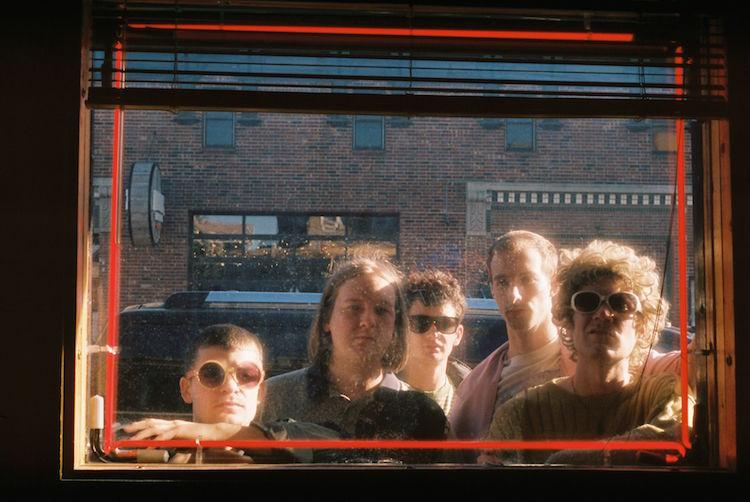 The Cowboys' frontman Keith Harman is over the lo-fi rock 'n' roll sound.
"We definitely got started off in a lo-fi territory, which I don't think was ever really the intention," Harman says.  "It was just because we could do it, and it was cheap. Now, I'm like, 'Fuck lo-fi.' Especially with this new album."
Recorded with Mike Bridavsky at Russian Recording, The Bottom of a Rotten Flower marks the Bloomington band's fourth full-length album overall. Following a headlining show at the Bishop on Thursday, Feb. 21 with Service and Heaven Honey, The Cowboys will embark on an East Coast tour in support of the release, hitting cities like Boston, Philadelphia, and New York City.
The Cowboys' roots can be traced back several years, when hometown friends Keith Harman and Jordan Tarantino first moved to Bloomington to attend IU. "We moved to Bloomington for school, and we just wanted to put a band together," Harman says. "We toiled for a year or two, but we found Zack [Worcel] and Mark [McWhirter] while there." Harman particularly remembers the first time he met McWhirter.
"I met him in line for the bathroom at a party after Culture Shock," Harman recalls. "We just started talking, and I thought he was weird. More than anything, it just seemed like he was a good personality."
In its earliest days, the band played a rather bizarre hodge podge of covers, including everything from "Jumpin' Jack Flash" by the Rolling Stones to "Hello Skinny" by The Residents. "It was just a thing where we all had lots of different focuses, but we all shared the same love of rock music in general," Worcel says. When they began assembling their own songs, McWhirter became the band's de facto recording engineer.
"Mark already had a history of doing his solo stuff under the Dr. Ray moniker on Musical Family Tree," Worcell says. "So that's how it started off with the recording. He just took charge of the 4-track and the producer role."
Having accrued several releases over the years, The Cowboys' catalog is a bit perplexing at first glance. "The discography is pretty fucked up," Harman says. "It's hard to follow." According to Worcel, the listings for some of their releases aren't even listed correctly Discogs. "You don't think about this shit when you first start," Harman says. "You just start putting out tapes, and then it all becomes confusing when you try to go back and organize it."
As a beginner's guide, however, the band's first and third full-lengths are both in the lo-fi vein, with the second and fourth full-lengths leaning more in the hi-fi direction. The most recent of these, of course, is The Bottom of a Rotten Flower, which features guitar work from recent Cowboys addition Chris Twist (Nobunny/Slushy).
"It's an impressive climb," says Gizmos legend Eddie Flowers of the album. "For anybody into garage-rock or power-pop, this has gotta be an instant classic."