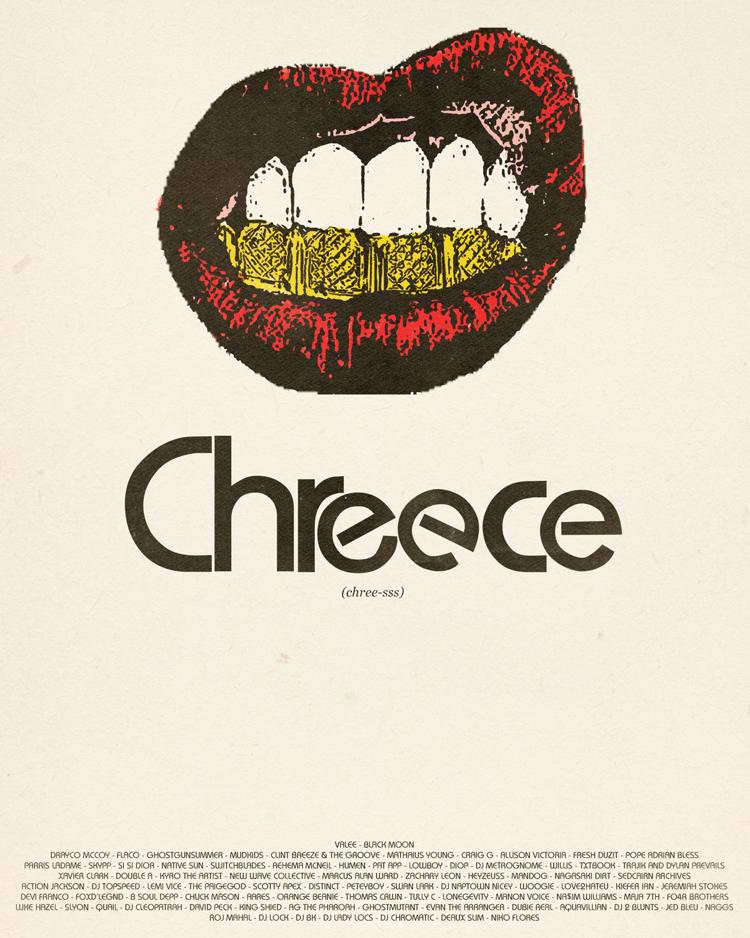 Over the weekend, the lineup for Chreece 4 was announced, and boy oh boy, is it dope as hell.
Originally founded by Indianapolis champion Oreo Jones, the one-day festival has grown organically since its start in 2015 while also serving as a catalyst for the growth of Indy hip-hop. Now in its fourth year, the hip-hop fest will again take place in Fountain Square this year on Saturday, Aug. 25. Boasting its most impressive lineup yet, Chreece 4 will feature 50-plus emcees and collectives, tons of DJs and producers, and all the Cheers and Peace your heart could possibly desire.
Having recently signed to Kanye West's GOOD Music record label, Chicago rapper Valee will make his way to Indianapolis for Chreece 4. Earlier this year, Valee teamed up with fellow Chi-town native Jeremih on the irresistible track "Womp Womp."
"We are very excited about having added GOOD Music's Valee to this year's show, as we all feel he is this year's emerging Midwestern hip-hop act," says Ron "DJ Indiana Jones" Miner, head of business development for Chreece. "At Chreece, we will be identifying a new artist from the Midwest to target each year as someone to watch, and we hope to make it so that those artists want to perform at Chreece as well."
Additionally, underground hip-hop heroes Black Moon will also make an appearance at this year's Chreece. Hailing from Brooklyn, New York, Black Moon (which stands for Brothers who Lyrically Act and Combine Kickin Music Out On Nations) emerged in the early '90s, scoring a massive underground hit with their debut album Enta da Stage.
"Secondly, we added a dash of OG flavor to this year's festival so that the over-30 crowd has something to get them involved," Miner says. "Black Moon has been indie from day one and laid the blueprint for all indie hip-hop in the early '90s."
Of course, the festival is jam-packed with local hip-hop talent as well, including Drayco McCoy, Flaco, Mathaius Young, Clint Breeze and the Groove, Skypp, Parris Ladame, Ghost Gun Summer, Allison Victoria, Mudkids, Switchblades, and much, much more. In keeping with Chreece tradition, the festival will showcase all lanes of Indy hip-hop, from trap to boom bap, offering up a little bit of something for everyone.
"We used the same philosophy booking our Indiana-based acts, like Drayco, Mudkids, Parris Ladame, and others," Miner says. "Chreece is hip-hop cradle to the grave, and we wanted to have something for all hip-hop fans."
Like previous years, Chreece will take place across several Fountain Square locations. This year, participating venues include HI-FI (21+), White Rabbit Cabaret (21+), Pioneer (21+), Thunderbird (21+), Hoosier Dome (all ages), Square Cat Vinyl (all ages), and the Fountain Square Plaza (all ages).
The Chreece crew has also shared news of an exciting partnership they've started with Live Nation. While attending the Music Cities Forum in April, Live Nation's Dan Kemer and Chreece Presents (Oreo Jones, J. Brookinz, and Ron "DJ Indiana Jones" Miner) got together to discuss ideas on how to further develop Indy's live hip-hop music scene. From these discussions, Chreece Presents was born.
Find the Chreece Presents gang out at the A$AP Ferg show on July 16 at the Egyptian Room and also be sure to get your advanced tickets to this banner year of Chreece.