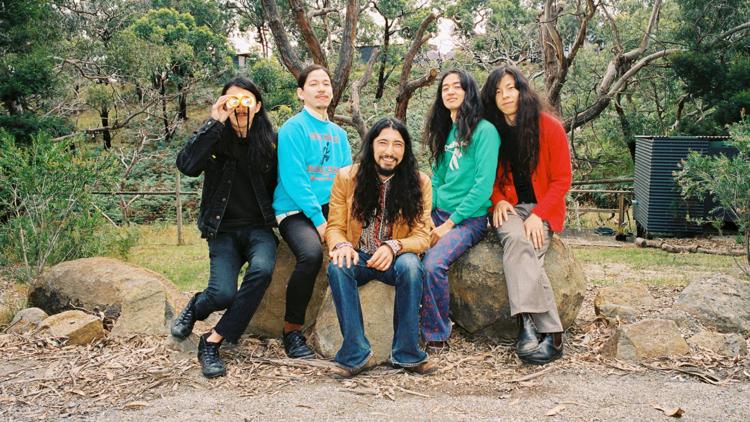 Japanese psych-rock band Kikagaku Moyo didn't have the easiest of starts in their home country. It wasn't until the band toured westward, in fact, that they really began finding success.
"I knew our kind of music had a scene in the West, but it was not a thing in Japan," says drummer/vocalist Go Kurosawa. "So it made sense to go play where the people wanted us."
Out in support of their 2018 album Masana Temple, Kikagaku Moyo visits HI-FI on Tuesday, Feb. 26 as part of their latest U.S. tour. Ahead of the show, our Seth Johnson caught up with Kurosawa, discussing how the band reached the point they're at today.
NUVO: Give me a little background on your family and where you grew up.
GO KUROSAWA: I grew up in Tokyo. My mom was a music teacher, so I grew up listening to music and hearing my mother play piano.
NUVO: How many siblings did you have?
KUROSAWA: Two, a brother and a little sister.
NUVO: Your brother Ryu is in Kikagaku Moyo as well. Because of your mother, was music a big part of your upbringing?
KUROSAWA: Yeah.
NUVO: What music did you grow up on?
KUROSAWA: Old '70s classic rock, classical music, and Japanese pop.
NUVO: When you say '70s classic rock, what are some examples?
KUROSAWA: Led Zeppelin, Black Sabbath, Deep Purple, and stuff like that.
NUVO: When did you first start playing music then?
KUROSAWA: My first instrument was piano when I was like 4 or 5. I also played horn in school but not for a long time. I then started playing bass, and then I played drums for this band.
NUVO: How did Kikagaku Moyo originally start?
KUROSAWA: Tomo and I met, and we wanted to play music that was free, where anyone could join. Kind of like a music collective. People could just bring a guitar and play in the band. That was the idea, but we then found out we didn't know anyone who played music. So we started looking for people.
We started playing shows, but the venues in Tokyo made us pay to play. So we started playing on the street.
NUVO: How did things progress from playing on the street? Were your street performances received well?
KUROSAWA: No, not at all. [laughs] Nobody cared.
NUVO: When did you and Tomo eventually link up with the other guys in Kikagaku Moyo then?
KUROSAWA: After six or seven months.
NUVO: When the band became an official unit, where would you play shows?
KUROSAWA: In Tokyo, at punk venues.
NUVO: What led you to tour outside of Japan?
KUROSAWA: We played several shows in Tokyo, and nobody cared. No one came. We had to pay to play, and we wanted to change the system. Because the whole system there is very different from the U.S. So that was our intention.
After that, we tried one year of doing our own events and organizing some tours with different bands. But then, we realized, "Let's just get out."
NUVO: Was getting connected in the West difficult for you at all?
KUROSAWA: Not really. It was always better. It was more difficult to connect while playing in Tokyo. When we went to the West, we were more easily connected.
NUVO: For your latest album, Masana Temples, you went to Lisbon to work with jazz musician and producer Bruno Pernadas. Why did you choose to work with him?
KUROSAWA: We just discovered his music one day and kept listening to it. We felt like he had the ability to mix up different genres. He's a jazz musician, but when I heard his music, I could hear his influences. Like space age music, soundtracks, hip-hop, rock, and different kinds of rhythms and melodies. I really like someone who mixes different things to make a new thing. We thought, "Maybe he can pull off something with our songs."
NUVO: Were you happy with the effect he had on your music?
KUROSAWA: Yes. I was very happy.
NUVO: Lastly, I'm curious to hear what artists you've really been excited about lately.
KUROSAWA: Right now, [I'm excited about] this band Khana Bierbood. They've released from our label [Guruguru Brain], and they just toured in Europe for the first time. If you're interested in music from Asia, you should check them out.