Durand Jones remembers exactly the first time he ever received praise for his singing voice.
"I always was singing at home, and my grandmother got tired of it," recalls the small-town Louisiana native. "So she was like, 'I want you to sing in the choir at church.'
"The very first couple of months being in the choir, I was so nervous — I didn't know how to sing with people. But once I got really comfortable, the choir director heard my voice and made me sing a solo, and the whole church flipped out.
"People were handing me money afterwards."
It'd be years before Jones would finally make the most of this talent, however. Classical saxophone studies led him to Bloomington, Indiana, where he still lives. Once a member of Indiana University's esteemed Kenari Quartet, Jones didn't put his voice to work again until he was asked to sing in the IU Soul Revue.
"I had an assistantship at the IU Soul Revue, and my job was to write horn parts," Jones says. "The director at the time asked me if I would sing with the band, to which I reluctantly said yes. I was like, 'Man, I'm not singing anymore. I want to be a saxophone player.'"
Although he didn't know it at the time, this fateful opportunity is what led to the start of his current soul band, Durand Jones and the Indications. Having now played all around the U.S., Durand Jones and the Indications features all four members of much-loved Bloomington rock band Charlie Patton's War — one of whom happened to be a sound engineer for the Soul Revue.
"Blake Rhein (guitarist of the Indications and Charlie Patton's War) approached me and was like, 'Yo, I write some soul tunes with my friends, and if you ever wanna hang out, that'd be really cool,'" Jones remembers. "I didn't have any friends at the time, so I thought it was a really good opportunity to make some friends. So I said. 'Yeah!' "
Drummer-vocalist Aaron Frazer — also of the Indications and Charlie Patton's War — was eventually invited to join.
"I got a phone call from Blake [saying], 'Hey. Come down to the studio and meet this dude. He's a great singer. Let's write some songs together,'" Frazer says. These hangouts came to be called Soul Sundays.
"We'd always hang out on Sunday nights," Jones says. "Someone would come up with a riff or a melody or some chords, and we would just go off of it. It was so organic."
Eventually, the Soul Sunday crew decided it was time to play a show as Durand Jones and the Indications, so they asked promoter Dan Coleman at the Bishop about a date.
"We were only supposed to play one show and just be done," Jones says. "But, it just went so well. The room was packed out, and people were really excited about it." After this experience, they decided it'd be in their best interest to continue on.
The next step for Durand Jones and the Indications was to release some music. From their low-key recording sessions, the band already had amassed a collection of tracks. "We would just meet weekly, listen to records, and then just head down to the basement and record, jam and just mess around with ideas," Frazer says. "I think what made the recording process really special for me was there was no expectations at all. There weren't really aspirations behind it. We were just making music to make music, which I think is a really healthy thing to do at any level."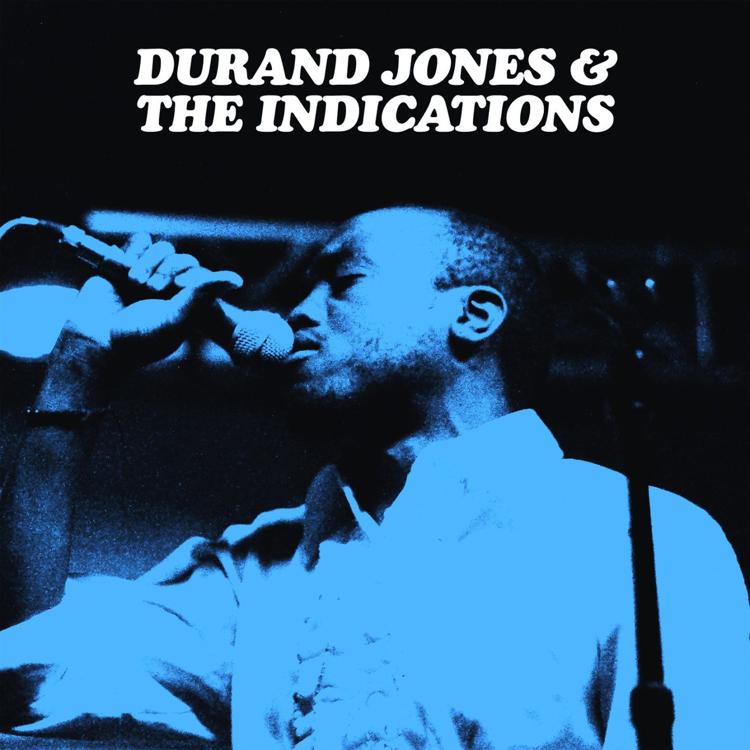 "Terry Cole [founder of Ohio-based funk and soul label Colemine Records] was the one who was really pushing for this to be a project that was going to be released," Frazer says. "When we were recording the songs, we were just doing it for fun. He was the one who was like, You know, I think there's something here. Let's put it out.'"
As expected, Cole had little trouble selling the debut full-length from Durand Jones and the Indications, especially to independent record stores.
"Digitally, there was no traction because the band really wasn't touring," Cole says. "But in the independent record store, we sold out the day of the first run, and that almost drove the hype."
Since the success of the record, Durand Jones and the Indications have risen to national notoriety, playing shows all across the country.
"I'm from the middle of nowhere, the poorest of the poor, so for me to be on the road traveling and seeing all these different things that I know no one in my immediate family has seen…I feel blessed," Jones says. "I didn't expect that anything like this would happen when I moved up to Indiana."
"When we did this first album, we did it because it was something that we enjoyed doing and it made us feel good," Jones says. "I think I can speak for the rest of the dudes when I say that that's all we want with the next album as well."