Over the course of 15 years, the Dallas-based psychedelic doom band Wo Fat has put out five studio albums and a live album, and played festivals throughout the United States and Europe. And now, they'll be returning to Indianapolis, where they played last summer, to headline the first day of the Doomed and Stoned Fest.
Lead singer and guitarist Kent Stump spoke with NUVO about the festival, album art and the Texas music scene.
Breanna Cooper: You work at Crystal Clear Sound (recording studio in Texas). How do you balance being a headlining act in festivals as well as working the studio?
Kent Stump: It's definitely a bit of a balancing act. Myself and the drummer, Michael (Walter) own the studio, and it's our main livelihood. And so, because of that, it's hard for us to be away for very long and still keep the business up. We try to be very strategic about shows that we play and try to do shows like this one, I think it'll be really cool. We do limited touring, we have to find the balance between doing the band and working in the studio. There's also a great benefit to having a studio, because we can record our own albums and work kind of on our own schedule.
Breanna: How does being a sound engineer impact your ability to jam in the studio? Are you always on the lookout for something that sounds off, or are you able to tune that out when you're playing live?
After expanding the space's stage area in the spring of 2016, the local brewery could accommodate bigger events and bands, something that they have wanted to do from the start. 
Kent: That's a hard process, because I'm wearing multiple hats, trying to perform the music as well as produce and be aware of things sonically from an engineer's standpoint. I think it helps me in a lot of ways in the sense that a lot of our songs have sections that are pretty open ended and improvisational. When we record, we don't really know how those are going to come out until we actually do them. Being an engineer and knowing the capabilities, I can have a vision of how we can edit things down if we need to, or change things depending on how the jam turns out. It helps me to know the technical side of things when it comes to what we can do.
Breanna: Wo Fat's live album Live JuJu hits the racks the same day as the festival. Will you have physical copies available at the gig?
Kent: We will have, at the very least, CD copies, and I'm hoping vinyl copies, too.
Breanna: Speaking of vinyl, you've said before that album art is important, and vinyl is your preferred format for it. How important is the connection between music and visual art?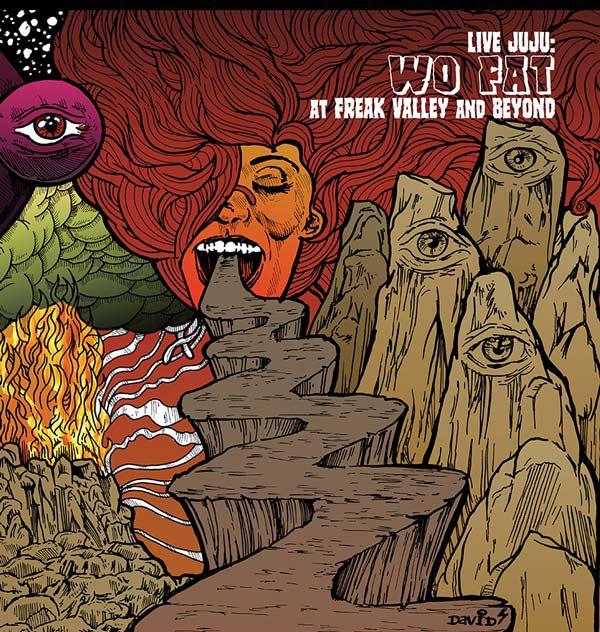 Kent: I think they go hand-in-hand. Whenever we're doing artwork for an album, we try and pair with great artists and we'll collaborate with them and give them what the vision and concept and vibe of the album is, and let them put their own creative spin on it. To me, it helps set the stage and put the listener in the right place mentally for the music. The cool thing about this genre is that there are a number of really awesome artists that are equally as well known as some of the bands because they are a part of the scene and everyone works together and draws inspiration from each other. One thing that I'm really excited about is The Planet of Doom movie, which is an animated movie without dialogue that has chapters that each use music from a different band and art from different artists, and it's all animated. It's a heavy-metal style movie, and we've got a song that's a part of that.