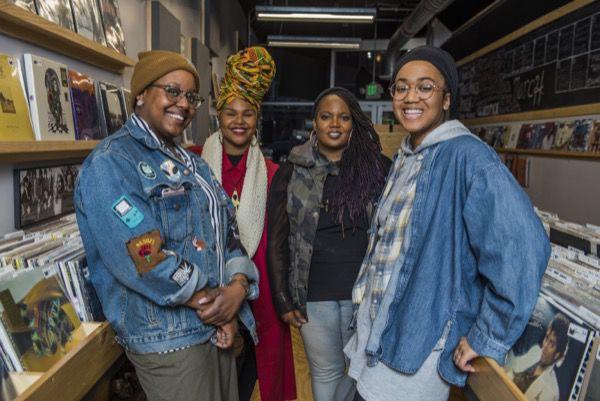 Take a look at today's top music charts, and you will quickly notice that nearly every artist is a hip-hop artist. Take a look again, and you will also notice that nearly all of these hip-hop artists are men. This is something that Indianapolis emcee Manon Voice is entirely aware of.
"There are so many stigmas about the talent of women and the capability of women—what women have to be and how they showcase themselves," Voice says about hip-hop. "It's a very male-dominated and male-opinionated industry."
For this reason, Voice is especially excited to be a featured artist on this Friday's Indy Women in Hip Hop showcase at State Street Pub. Presented by local media platform Face A Face, the show will also feature performances from Allison Victoria, Kiana Flowers, Mariah Ivey, Syd Blaine and Victoria Nickerson, with DJ Cleopatrah on the 1's and 2's.
An Indianapolis native, Voice was introduced to hip-hop at a young age, thanks to her six brothers.
"My parents were ministers," she says. "When they were home, it was gospel. When they left, it was all rap." Even at that age, she remembers feeling like a bit of an oddball because of her love for hip-hop. "All of my friends were listening to R&B because those were the girly love songs," she says. "I was listening to N.W.A., 8Ball; MJG, Scarface, 2Pac, Biggie and Nas. Hip-hop has always been part of the fabric of my life."
After being around it for years, Voice eventually turned to hip-hop as a way of dealing with personal struggles—something she had seen so many others before her do.
"It's 2007, and I have a college degree but can't find a good job," she says, recalling the economic struggles the U.S. was facing at that time. "I'm working three jobs. I was going insane. The only thing that saved me was I picked up a pen and started writing. I was literally writing about the struggles that I was going through being this young 20-something who was rubbing up against the struggles of the world and trying to figure it out. Because I've always known hip-hop to be that creative outlet of people that are in despair, that was what I reached back to."
Indy Women in Hip-Hop Showcase
Hip-hop still serves this purpose for her now, and her hope is that other artists, both male and female, can also learn to use it in this way.
"Even with the challenges in hip-hop, I want to be a person who is a culture bearer, that really teaches about the culture, about the history and where we've come from," Voice says. "Hip-hop was always the voice of the people that came out of despair. It was a creative outlet."
Being a female in hip-hop often means fighting against stigmas and stereotypes. This is something that both Voice and Mariah Ivey have experienced and are very vocal about.
"You're put in this box as a female emcee in terms of branding and imaging, where you are either masculine or you are hyper-sexualized," Ivey says. "Those are typically the two molds that we've seen women emcees fall into or be branded as. One who falls in the middle and is not really either of them doesn't necessarily have the easiest time highlighting her voice."
In general, she has also found the term "female emcee" to be a hindrance in and of itself.
"We want to be recognized as just emcees," Ivey says. "To be completely honest with you, the woman emcees I know in the city can go toe to toe with any of the male emcees I know. So there's that stigma that's put on us, like, 'Oh, she's good for a female emcee.'"
This "female emcee" dilemma is one that Voice also has opinions on. In fact, she argues that the expectations put on women in hip-hop are often higher than they are for men.
"There is a sense that you're not taken as seriously because you are a woman," Voice says. "If you rap well, then it's like, 'Oh, she raps well for a woman.' Some average male rapper can get away with just being decent. But let a woman come through and just be an average rapper, and everybody's like, 'She's wack.' It's like you really have to be three times as good."
As today's top music charts would tend to show, these issues are not exclusive to Indiana or the Midwest either.
"Indianapolis is just a microcosm of the larger culture," Voice says. "That's why more women's voices are needed in hip-hop. We have to challenge that patriarchal culture. We have to say, 'These are our stories. Our stories matter. Who we are matters. We don't have to fit these stereotypes and these stigmas. We're going to be exactly who we are.'"
All of this being said, the hope is that Friday's showcase at State Street Pub can get people thinking about the ways they embrace and support women in hip-hop.
"I want people to look at this show as a whole and begin to question and challenge themselves to step out of whatever boxes or labels they had previously put on us as women, and to respect us and see us for our talent and our ability," Ivey concludes.
Face A Face's Women in Hip Hop showcase is slated for this Friday, March 16, at State Street Pub, with a start time of 9 p.m.