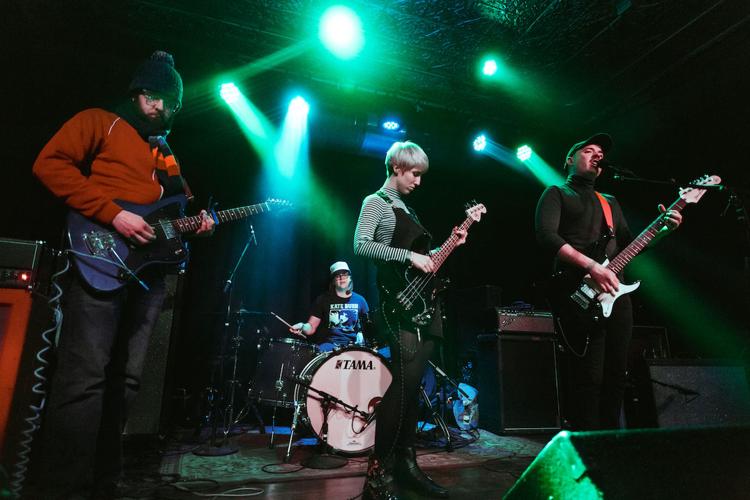 Walls are often built to create isolation. But with Indianapolis noise-pop band Spandrels, walls are built to bring people together. These walls are of the sound variety, of course.
Fronted by vocalist/guitarist Casey No (and his brilliant bellow), the band chats with me ahead of a Friday night headlining set at Pioneer in Fountain Square.
"With this band, I like it because we don't always agree on everything," says drummer Christine Pallon. "We have different ways of approaching things and might disagree, but it always feels healthy when we bring up things. It's like how a family should be. It's definitely a healthy dynamic because, in the end, we all want what's best for this band and for each other."
Long before their days as a four-piece, Spandrels started out as the noise project of No. Thanks to the culture at a local art and performance space/café named PG in his hometown of Evansville, No felt encouraged to push the boundaries of sound. 
"I would get up there with a guitar and just attack it with a butter knife through a bunch of effects pedals," says No, a self-confessed Kim Gordon fanatic. "Over time, I got interested in doing a band, so I paired up with another person. He played bass, I played guitar. We maxed out our Guitar Center credit cards and bought a shit-ton of pedals, and then we started doing improvised, free music."
Eventually, No would hit the road with his two-piece. And as fate would have it, this led to him meeting his future band mates. As members of the LGBTQ+ community, the four current Spandrels members were in the same room together for the first time while attending a benefit for local queer youth in Champaign-Urbana named You Are Not Alone. 
"It was lovely and it was gay and it was very fun," recalls Spandrels' guitarist Isaac Arms, who helped organize the benefit. In addition to an early incarnation of Spandrels and Arms' former band Withershins, You Are Not Alone bolstered a very impressive lineup of nationally known acts as well, including Melkbelly, Palehound and Speedy Ortiz.
"It was pretty well supported, but it more just stands out as the way all four of us first came together," Arms says.
Less than two years later, Arms, No, Pallon and bassist Isabel Skidmore played their first show together, at the Hi-Fi of all places.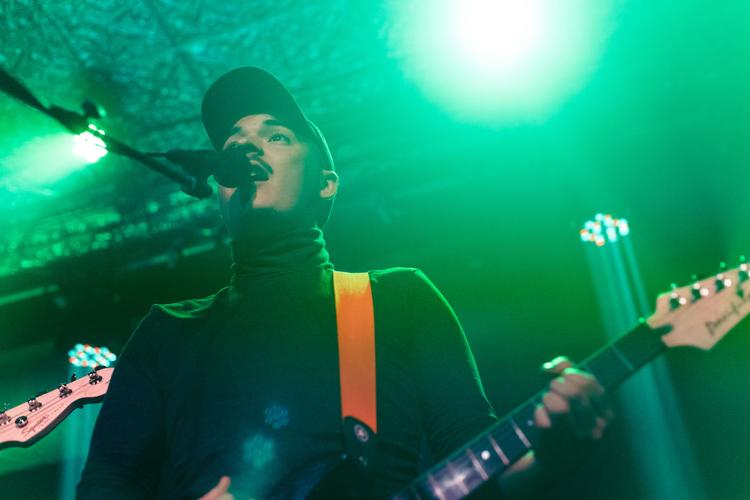 The occasion? Opening up for Palehound.
"I asked them to be in a band with me because I talked to Ellen [of Palehound], and I was like, 'I wanna open for you, but I don't have a band.'" says No. "So I hit them up, and I was like, 'Hey y'all. You wanna just do one show opening for Palehound?'" Much to No's delight, the show went off without a hitch, and the lineup has stuck ever since.
"From my perspective, I had discovered a band that could not only keep up with me in terms of dealing with my bullshit, but they also believed in the music like I did," No says. "I can't speak for them, but what I can say for myself as an artist is that I'm making the most vital music that I've ever made in my life with these people."
This feeling is also reciprocated from his bandmates. "I almost feel a little bit like we're still coasting the same arch of that adrenaline high from the Palehound show, which is strange because it's been half a year," Arms says. 
"That feeling I got playing that Palehound show is one I still get every single time Spandrels plays," Skidmore adds. "I feel excited and honored to be doing it." Since teaming up, the four have begun writing collaboratively, while also putting their own mark on No's previous catalog of songs as well.
"As we've gone on, we've started to write more together, and I think we challenge each other," Arms says. "I have grown so much as a musician and as a person through our songwriting process. It's hard to describe, actually."
With several shows in the Midwest area (including a recent one opening for Bully in Champaign-Urbana) under their belts, Spandrels are embarking on an East Coast tour in March, capping it off with a show at State Street Pub with Hales Corner and Thunder Dreamer. 
No recognizes the unique position Spandrels is in. "The fact that all four members of Spandrels are gay means that our music is inherently political in a climate like this," he says. 
And while he may sometimes make snide comments about the band helping to progress the "gay agenda," No ultimately sees Spandrels as yet another voice in the boisterous world of rock music. "Even though we aren't criticizing the government or whatever overtly, writing a love song as a queer person is in itself political (and personal)."