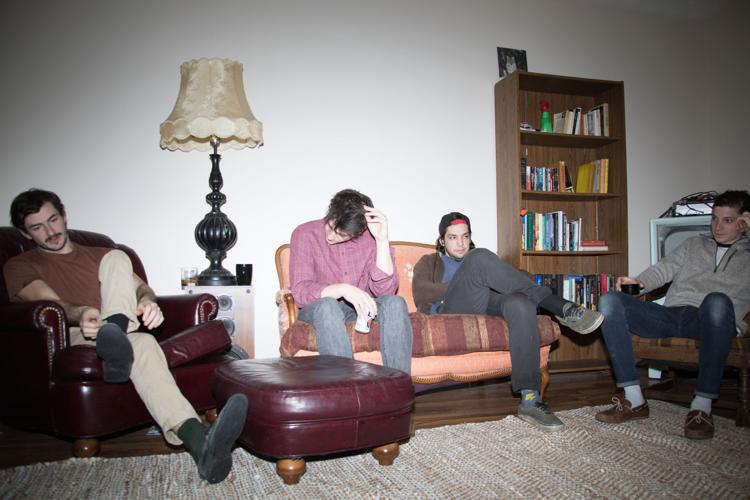 Summer is heating up, and with it, we have a slew of local album releases to look forward to.
This includes the sophomore, self-titled full-length from Indianapolis band Hales Corner, which is slated for release via Darling Recordings on June 15. After finding success with 2016's Garden View, the self-described "dusty sunshine rock" band returns with yet another impressive outing, marked by guitar interplay and introspective lyricism.
Stream "Welcome," the album's debut single, below, and also, be sure to make it out to their album release shows in Indianapolis (at Pioneer on June 15) and Bloomington (at Blockhouse on June 23).
NUVO: Tell me about the making of this record. When was it written and where did you record it?
Wes Cook:  When Garden View came out in 2016, Caleb and I were sitting on a few songs that were either not fully formed or didn't quite sit right with the other songs on that record. Once we moved into a house in Indianapolis, we started reforming those "leftovers" and writing new songs all throughout that fall and winter. By the late spring of 2017, we had a pretty hefty collection of  songs ready to record.
I met Cortland of Melt Audio around that time. We hit it off and recorded in his studio, putting in full days on weekends or whenever the other members of the band could make the trip (at that time our bassist, Ben Craig, was living in Louisville, and our drummer, Earl Keith, was living in Bloomington). We also did some auxiliary recordings of clarinets, backup vocals, and keyboards in our house.
NUVO: I know we've talked in the past about how a lot of the songs on this record are heavy emotionally. Tell me about the headspace you were in while writing these songs. How did that affect the record?
Cook: 2016 was a real garbage disposal of a year for me. My girlfriend of five years and I broke up, I was really unhappy at a job and felt aggravatingly stagnant but without direction. Lyrically at least, a lot of the songs on the new record are both about accepting a predicament like that and trying to position oneself in a way so as to grow out of it.
NUVO: Hales has taken on somewhat of a new life since moving to Indianapolis. How would you say your time in the city has affected the project, for better or worse?
Cook: It's hard to talk in terms of better or worse; it's definitely different.
We've once again found ourselves with a new drummer and new bass player—even since the recording of the new album. Caleb and I moved to Indy so we could dig our heels in and do some work while avoiding the financial burden that comes with living in a bigger city. And it's been really good in that way. Our sound is still changing a lot, to a degree definitely affected by the music that's happening here in Indianapolis, and I personally really like where it seems to be going.
NUVO: Going forward from this record, what is on the horizon for both Hales and yourself?
Cook: Hales has a batch of four songs that we self-recorded right before Earl moved to Boston, and we'd like to release that as an EP before too long. Other than that, we plan on doing some small-run tours, aiming for an East Coast run in the fall.
As for myself, I've been working on a side project called Marmelade, for which I have an EP nearly finished. The hope is to release that along with a music video or two before the summer's out.
Pre-order the band's upcoming self-titled album here.