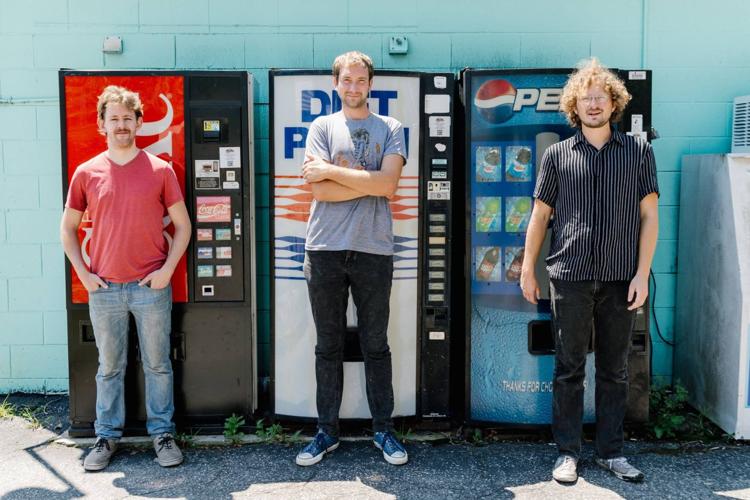 "It's True," is the 33-second track that opens Sleeping Bag's fourth official full-length album, Wet, and it's a harmonizing vocal track. It's just Dave Segedy's voice and your ears. There's a unique and honest appeal to what Segedy has done over the years that represents childhood nostalgia of growing up in Indiana. With Wet there's a little less light, and the band's sound is more expansive and realized than ever.
After singing about playing basketball after school (and losing) because he's "got nothing to lose" the second track "Mummy" hits familiarly hard with comforting fuzz guitar and a solid hook. "Doin' It Alone" is the standout first single and incessantly catchy. Though it's a seemingly sunny pop rock track on the surface, "Doin' It Alone" sets a darker tone for Sleeping Bag. The mixture of lyrics and slow-building tracks like "5th Floor" make this one of the most intimate sounding records that Segedy has put out.
Rozwell Kid's Jordan Hudkins and Sleeping Bag's Dave Segedy are best pals for life. To prove this, I set them up with an interview in the style of The Newlywed Game, where they have to guess each other's answers.
The sense of longing, tiredness, and a Midwestern slice-of-life is evident, but what stands out most is how effective the pacing and placement of the tracks is overall. Previous albums maintained an early '90s rock vibe of Pavement and Lou Barlow and, though the feeling is still here on Wet, there's also some of The Cure, The Replacements, and '80s synth pop spread efficiently throughout. For example, "The Storm" and "Instrumental #2" don't exploit a retro rhythm that isn't authentic and still Sleeping Bag at its core.
By the time the tail end of the album is reached, "Affection" sounds like nothing the band has produced before. It's jarring, but at the same time refreshing to hear Segedy take risks and expand upon the feel-good minimalism that has made Sleeping Bag a favorite among Indiana music lovers.
There's no noticeable pain for Segedy continuing to soak in his Hoosier roots. There's no sense of being stuck as a musician in a place where small gems can often be obscured. If anything, the youthful innocence of past songs isn't entirely stripped away, but there's a lot of adultness to be found on Wet.
Dave Segedy's project has evolved from various recording and touring members, but throughout the years Sleeping Bag has remained succinctly Segedy's unique voice. From his days with Muncie's Arrah and the Ferns to his solo effort as Whoa Bro Awesome (later becoming Sleeping Bag), we've seen Segedy get his toes wet, wade around, make a big splash, and now Sleeping Bag is certainly wet. Not soaked. Not oversaturated. But a community staple. Something great. Something relatable. Wet evokes us, and it'll soon become a part of you and your everyday life.