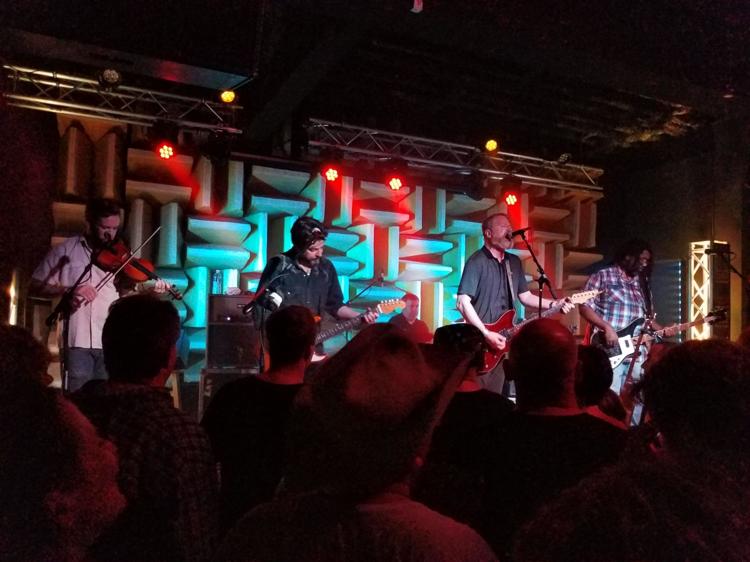 The first song that Cracker played at the Hi-Fi on Wednesday night was "King of Bakersfield." It demonstrated that the band had long-ago evolved from alt-rock-radio-station-ready hits like "Low" and "Get Off This" to become an alt-country/rock hybrid.  
The aforementioned song's basically about a Central Valley newbie who's had it with L.A. traffic, who has set up near a Merlot orchard in a double-wide.
Despite Cracker lead singer David Lowery's exhortation to lead guitarist Johnny Hickman to "play it weird, it ain't Nashville,"  "King of Bakersfield" sounded more oldtime Nashville than 99.9 percent of Garth Brooks' output.
Cracker, on this night, was certainly set up like a country band. Alongside the two frontmen were pedal steel guitar player Matt Stoessel, fiddle player Rurik Nunan, bassist Bryan Howard and drummer Carlton "Coco" Owens.
But modern country music isn't so much about the sound these days as it is about copping a certain red state attitude. Your typical Cracker song would go over on modern country radio about as well as a song titled "Yes We Can." That is to say, Cracker's overall vibe of world weary cynicism (in both lyrics and vocal delivery) would make Cracker unwelcome on most, if not all, mainstream country stations.
But you can still hear them on FM radio. Their old hits are still played occasionally on Bloomington-based WTTS (a radio station that plays just about the widest variety of rock music that a commercial station can get away with). And that might have something to do with why the Hi-Fi crowd was at capacity for this show.  
The second song of their set was "Seven Days" which contains the lyric snippet So we were standing/like the last rock band on the planet.  When this song was released in the late 1998 they must have felt like the last rock band on the planet. The high tide of alt-rock had long passed by then. Boy bands and Britney Spears were leaping up the charts like kudzu on a trellis. By then, it seemed, it didn't really matter much at all if you could even play an instrument (or even carry a tune.)  And, just think, in the late '90s American Idol hadn't yet arrived to spoil the American musical palette seemingly forever with its pantheon of bloated over-emoters.
Considering all of this, it's something of a blessing that Cracker has survived the past couple of decades.
My only criticism of Cracker is a mild one: I wish frontmen Lowery and Hickman would give a little more space to their rhythm section and their pedal steel guitar player to show off their skills.
The band swerved back and forth between the old chestnuts (WTTS, how come I haven't heard "King of Bakersfield" on your station, huh?) and the newer twangier stuff. On more than a couple of songs, Hickman was the lead vocalist, including on "California Country Boy."
It  kinda sounded like an alt version of Alan Jackson's "Gone Country."
The audience seemed to like it well enough during such songs, especially when Hickman showed off his virtuoso guitar chops—sounding like a cross between Chet Atkins and Chuck Berry—or when violinist Rurik Nunan was invited to play on an instrumental break.  
The venue went nuts when they played their biggest all-time hit Low, with its insanely infectious Middle-Eastern-type melody.The audience en masse lifted up their smartphones to record the occasion, and they sounded no worse for wear than when I first heard them on the radio in January, 1994.
I don't doubt nostalgia—the title of a Cracker song that they didn't play on this occasion—had something to do with why so many 40-somethings and 50-somethings came to the Hi-Fi on this evening. Not, as Seinfeld would say, that there's nothing wrong with that. The audience was good enough to show appreciation for their newer work, and the band was good enough to crank out the hits.