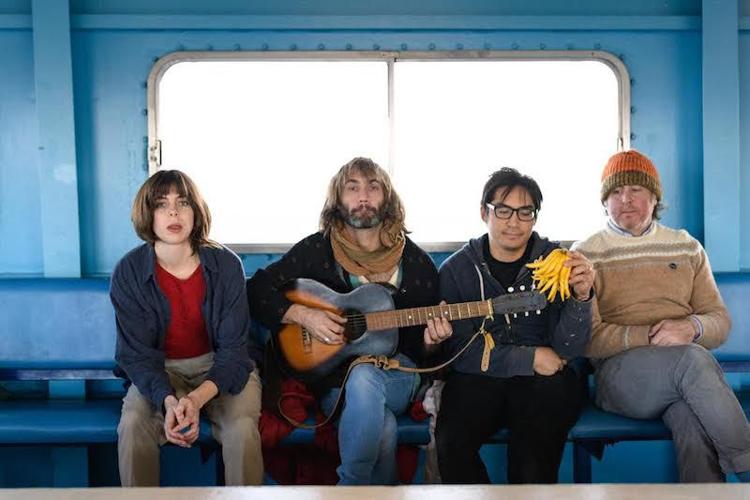 The Low Anthem are ready to tour again following a serious car accident in 2016 the band was extremely lucky to walk away from. Their latest record, The Salt Doll Went To Measure The Depth of The Sea, was released on Indianapolis-based Joyful Noise Recordings in February and they've recently begun touring in support of it with a stop at the Hi-Fi Lounge on Tuesday, April 3rd.
Formed by Ben Knox Miller and Jeff Prystowsky after meeting as DJs on an overnight college radio jazz show, they recorded their first two releases themselves, then hand-made 600 numbered copies, silkscreening the artwork on dumpster-salvaged cereal boxes. Together, these independent releases would sell over 100,000 copies in total. Within a year of signing to a major label they completed a headlining tour of the states including performances at Bonnaroo, Lollapalooza, and Austin City Limits.
The band's third album, Smart Flesh (2010), was recorded in an abandoned Porino's pasta sauce factory and mixed by Mike Mogis of Bright Eyes, seemingly all the ingredients necessary for the perfect record. The band toured in support of the album with Emmylou Harris, Iron & Wine, City and Colour and even opened for Bruce Springsteen and the E Street Band at the Moody Theatre at SXSW.
Despite all of the early success, The Low Anthem announced plans for a hiatus from touring in April of 2012. "We know the Darwin/Smart Flesh material inside and out ... we've decided that this upcoming tour will be the last tour of the chapter. The last tour devoted to this material, this incarnation," the band said in a Facebook post. They'd become disenchanted by the "folk-revival" scene they'd been reluctantly associated with, and started feeling less like musicians and more like robots.
The Low Anthem spent the next several years building their dream recording studio in an old vaudeville-era theatre while simultaneously crafting their fourth full-length concept album. Both were named Eyeland, and were announced along with tour dates in 2016 to an eager, awaiting audience.
Then tragedy struck. Just four shows into tour, The Low Anthem van found itself wrapped around a telephone pole, on fire, after being hit by another car. Luckily the wreck only scattered instruments and gear across the road, but tour was put on hold as the band recovered from their injuries. In a note posted online the band said "traveling around to share music is risky business, but so is cliff jumping. so is riding your bike to the tea shop. it's an amazing privilege, and we are lucky."
Miller rented a box truck to drive what was left of the band's equipment back home from Washington, D.C. and spent the next sixteen days recording abstract soundscapes alone in his bedroom on his 8-track tape machine. Using sandpaper and a needle, he had physically cut circles into the center loops of old dollar-bin vinyl records, producing strange sounds, beats and rhythms that would loop infinitely. With turntables running nonstop for days through a signal chain with crossovers, guitar pedals, and filters, he filled the room with a continuous, hypnotic sound.  Around this same time, he discovered the fable of the Salt Doll.
"The story goes that the Salt Doll tries to measure the depth of the sea," Miller explained in an NPR interview. " But it inherently can't measure the sea and come back to share its measurements because it will dissolve. It's a nice, concise account of the comedy of trying."
If The Low Anthem was figuratively throwing every wild idea at the wall during the recording of Eyeland, then what stuck would be Salt Doll… Gentle acoustic guitar punctuated by electronic sonar blips blend each of the albums songs into a concise masterpiece.
Trimmed of all excess, the songs don't overstay their welcome, most of them only a little over two minutes long. Although brief, the thematic simplicity and hypnotizing pulse of the record skips give each song a vague cinematic atmosphere that's suddenly over before you know it.
Upon completion, The Salt Doll Went To Measure The Depth of The Sea found its way to the pile of submissions on the desk of Karl Hofstetter, owner of Joyful Noise Recordings. He says although The Low Anthem admittedly seemed like they wouldn't be his usual musical cup of tea, he gave it a listen and was immediately intrigued.
"I couldn't get over how these songs could sound so organic while also being highly conceptual. It almost seemed contradictory, but the band were somehow able to achieve this balance — conceptual without being contrived," says Hofstetter.
After coming to know the band, he felt their career trajectory and subsequent ideals as artists would be right at home on the label, and they released The Salt Doll Went To Measure The Depth of The Sea in February of this year on Joyful Noise Recordings (available here).