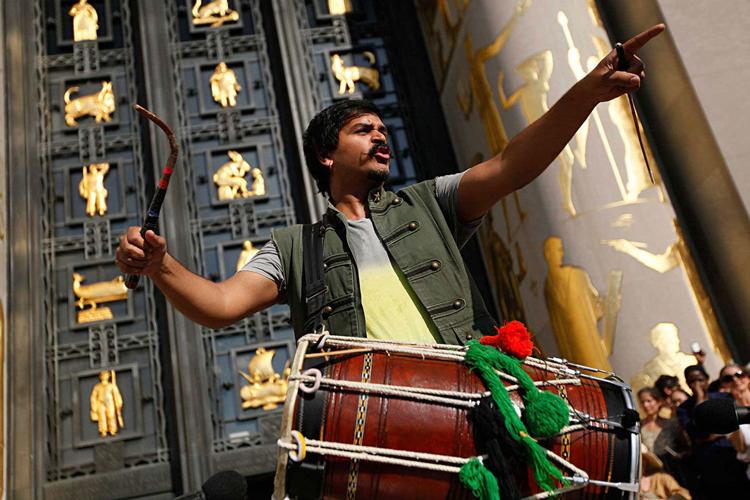 There are few sounds in music as exciting as the thundering rhythm of the dhol—the double-headed drum that fuels the raucous North Indian Punjabi folk music known as bhangra. Red Baraat leader Sunny Jain has played a large role in introducing the drum to American audiences. His hard-hitting dhol provides the foundation for Red Baraat's brass-based celebration of Indian music. Jain holds down a busy touring schedule with Red Baraat, hitting dozens of jazz clubs, dance halls, and festivals around the United States every year.
Jain founded Red Baraat in 2008 with the intent of merging the South Asian music his family enjoyed at home with the jazz, rock, and funk he grew up hearing and playing in Rochester, New York. I spoke with Jain via phone to learn more about his work in music. Jain will bring Red Baraat to the Newfields' Amphitheater on Saturday, Aug. 18. You can visit DiscoverNewfields.org for more information.
NUVO: Red Baraat is truly a one-of-a-kind band. I'm curious what led you to form the group?
SUNNY JAIN: I was coming primarily from a jazz background playing drum set. Some years previous to that, I had jumped into the dhol and really fell in love with the instrument. I grew up with Panjabi folk music and bhangra music, along with classic Bollywood tracks from the '60s, '70s, and '80s. But I was wanting to form something that was a throwback to these Indian brass bands I remember seeing on summer vacations to India as a child. I didn't want to just replicate those brass bands. I wanted to bring in the influences of what New York was, and the musicians I play with there, whether it be jazz, funk, or go-go. I wanted to bring in that whole collage of sound to Red Baraat.
In the first year together, at every show we played we would get another gig at the end of the show. Someone would come up and say, "What are you doing next month? Can you play my festival?" So that was happening consistently here in New York for a year. From there, everything steamrolled into traveling 150 days a year for the last few years and playing shows all over the world.
NUVO: I've read that prior to starting Red Baraat you played percussion for the Pakistani rock band Junoon?
JAIN: Right. I joined Junoon in 2006. It was when the original band broke up with Salman Ahmad and Ali Azmat. Ali stayed in Karachi, and Salman moved to New York. Salman was the lead guitarist and writer for the group. I joined Salman in what continued to be Junoon. I played mostly drum set and occasionally dhol on some of the shows. The tabla player in the group was Samir Chatterjee who used to be my guruji. Samir was the one who first called me up to play with Junoon.
It's funny because I remember hearing Junoon's Azadi tape in 1998 when I was visiting my family in India. I was asking my cousin for different types of music other than Bollywood, and he gave me this tape from a Paskistani band called Junoon. I listened to it, and eight years later, I get a call from Samir Chatterjee and he mentioned a band called Junoon. I said, "Is it the same band that sang 'Sayonee' and 'Dosti'?" I had no idea they were around still, so it was exciting to jump in and play with them.
NUVO: Jazz is a huge part of the Red Baraat sound. Jazz and Indian music have carried on a strong relationship going back to the 1950s, if not earlier. Do you keep up with the jazz scene in India?
JAIN: I did for a long time. I have a great drummer friend named Adrian D'souza, who lives in Mumbai. There are so many great jazz musicians who live in Mumbai, Delhi, Bangalore, Goa, and all over. But I haven't kept up with the scene since probably the mid-2000s, which is when I stopped touring over there with my jazz groups. But it was flourishing and there were so many great musicians we came across when we were traveling there. It was really cool.
I asked Sunny Jain to share three of his favorite Red Baraat tunes with NUVO readers. Check them out below along with Jain's comments on each track.
"Gaadi of Truth"
"Gaadi in Hindi means a train or car to travel in. It was a commentary on how much traveling the band was doing, and the various conversations, communities, and people we would encounter from super-positive and awesome, to negative, stereotype remarks coming at us. We're a very eclectic looking and diverse band. It's a bit of a commentary on that, but [it's] also talking about having a multiplicity of viewpoints."
"Tunak Tunak Tan"
"This is a famous song by Daler Mehndi, a Punjabi pop star. The video went viral several years ago. It's a pretty wild video. Our version is energetic and high velocity. We take the tempo way up, and it's a fun bhangra number for us to play."
"Zindabad"
"This song talks about individuality, responsibility, revolution, and rebellion. It's paying homage to relationships and companionships and saying long live the voice of the heart. But at the same time long live agitation, and long live revolution and rebellion to push the boundaries so there's justice for all.

There are original lyrics written by a good friend Ali Meer. But there are  also some lyrics we took from 'Sathi Haath Badhana,' a song from a 1957 Hindi film that was intended to be a nationalistic song about the partition between India and Pakistan. We kind of twisted it on its head and talked about the universality of everyone helping one another and taking responsibility. The lyrics translate as 'Friends and comrades lend your hands to help. If by ourselves, everyone will get tired. But together we can lift the weight and take the responsibility.'"