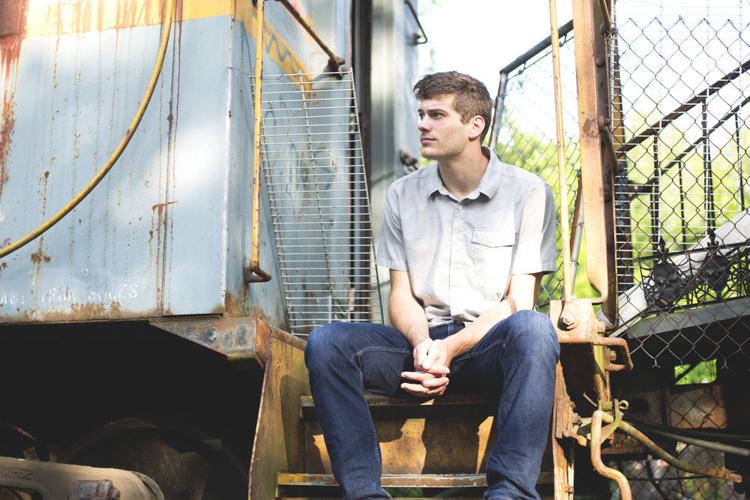 Peter Oren could use a pick-me-up.
Despite a brand new album, Anthropocene, produced by Ken Coomer of Wilco and Uncle Tupelo fame and released this month on Western Vinyl, the singer-songwriter says he's not very hopeful these days. The heaviness of Trump's presidency, and all.
"To be honest, I don't have very much hope these days," say Oren, a native of Columbus, Indiana. "The more recent songs have a more ominous feel because I can really struggle to find hope. Sometimes I find hope in remembering that the younger generations are more inclined to see change that the world needs and to be less set in their way. I hope for change in that regard, but the way that power works and is transferred by wealth from one generation to the next puts a bit of fear in me."
Fortunately, Oren isn't sitting idly by, content to watch the world burn. Instead he's wielding his poetic talent as a weapon against climate change in the form of the beautiful new album, Anthropocene. Oren's baritone is an arresting one, informing and engaging the listener with unsettling questions about the state of things here and yet coming.
Distilling down such complex issues can be a difficult exercise within the constraints of an editorial, let alone a three-minute acoustic number, but Oren's practice with poetry, — he fell in love with the form as a teenager — taught him to communicate succinctly from deeper wells.
"That's one of the aspects of poetry and songwriting that I really love. It can say so little but so much," says Oren. "My father doesn't say a lot, but when he does, there's a lot of weight to it. I've always grown up trying to be direct and to cut to the chase. Essays and that sort of thing could be more useful vehicles for really digging into something, but sometimes you can capture the feeling you're going for without so many words. I find a lot of value in that.
"It also allows the listener or reader to apply his or her own lens to it," he continues. "The opportunity for metaphor allows people to fit their own ideas into that metaphor. It really becomes more personalized when everyone can look at the same painting but feel different things, so to speak. I think that same idea applies to my songwriting."
In Living By The Light there remains a single perspective tying all of these songs together: a sense of a voice connected to a real person who has seen so much of America and is reporting back to his listeners.
Lest you mistake Oren as an activist-turned-musician, the reality is that he's not. Anthropocene is a focused affair, for sure, but it was birthed from a longing to be responsible to the present moment more than anything. In other words, Oren insists he's got plenty of love songs as well.
When presented with the chance to put out an album with Coomer as producer, Oren said he decided to go all-in on the subject — to be responsible and create a musical moment.
"I knew I would make a record this last summer with Ken Coomer, and I thought that would make people pay more attention than normal," he says. "I figured it'd be more of a platform because he's worked with Uncle Tupelo and Wilco. Given that and my sense of urgency about the state of things and truly revolutionary ambition, I felt like I couldn't take that opportunity not to be as direct as possible."
Oren had already started penning songs grieving the state of the world around him, an observer asking questions and seeking answers in lyrical form. From there, the album coalesced around the topic, save for a single love song thrown in for good measure at the label's request.
"I was living with a couple garden designers who had sustainability and ecological perspectives in mind, and one of them wondered where to find songs about climate change," says Oren. "Maybe he's not listening to the right people? But either way. I felt a nudge that maybe I should contribute to the conversation. It was intended to be a cohesive record about what an individual is to do when faced with climate change and it feels overwhelming."
And about those love songs: Oren says he's got plenty more on the way. In fact, the powers-that-be at Western Vinyl already loves one song that Oren has yet to record. It was a purposeful move on Oren's part in the hopes that it might help them decide to also put out his next record. Until then, however, the songwriter hopes his new album asks the right questions to move awareness forward into action.
"I hope that people find a bit of hope, and find that fairly clear message that we've got to work together and struggle together to find that bit of solidarity," says Oren. "We have to work toward a better future. I hope people have more hope than I do and have the energy necessary to put in the effort to make some change."