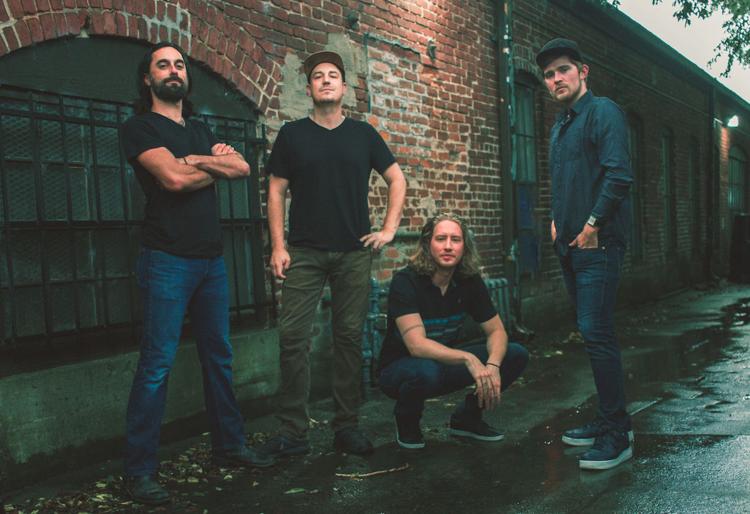 It'd been a long time since New York-based band Particle released an album. 14 years in fact.
"We've been joking around that we just wanted to beat Guns N' Roses for how long it took them to make Chinese Democracy," says Particle keyboardist Steve Molitz.
Released in September, Accelerator marks the follow-up to their influential debut Launchpad. Hailed as pioneers of the livetronica sound, Particle visits the Mousetrap on Wednesday, Oct. 17 in support of their long-awaited album. Ahead of the show, we caught up with Molitz to talk about Accelerator, as well as the band's recent composition work for video games.
NUVO: Talk to me about the role electronic music has played in Particle's sound.
STEVE MOLITZ: Electronic music was always a part of the band's sound. It's something I was doing before I even played in Particle. I was listening to a lot of that kind of music, and I was playing on a lot of vintage analog synthesizers. So I was making sounds that you hear on electronic records, especially in the early days of Particle.
We were really one of the first bands to play what you'd call livetronica or jamtronica, which, as it implies, really just means a live band playing electronic music. That's something that we all really love. Electronic music has a lot of the same properties and usages that other ancient styles of music have. It kind of allows you to get into that tribal trance that harkens back to African drumming where you have a large group of people all centered around this rhythm losing themselves in the moment. It's a different tool, but we're still accessing that same release.
NUVO: Your latest album Accelerator is your first in 14 years. Why is that?
MOLITZ: We were really busy touring, and all the band members do a lot of different things within music. We've been recording a lot of music as a band for video games. We've probably recorded six albums worth of material for these video games. We were all in the studio mindset [with this album] and could feel that the time was right to record.
The seed for the album was planted years ago. Everything blossoms in its own time. But as soon as we got into the studio and started to work together, things started to happen really quickly and naturally. We had a great time recording the album, and we're actually already starting to talk about songs for the next album. So we won't make you wait another 14 years.
NUVO: Obviously, a lot can change in 14 years. How is this record representative of who Particle is in 2018?
MOLITZ: It's funny because the same classic Particle sound is definitely on this album, but it's updated with modern production and songwriting. So it's kind of the best of both worlds. It has that old school Particle feel, but it definitely feels fresh. A lot of times artists evolve to where their earlier work is unrecognizable. But with most bands, including Particle, you sort of build on your foundation, and you're always growing, evolving, and breaking new ground, while the core essence of what defines the band always remains.
NUVO: Over all of your years as a band, how have you learned to translate live free-form jams into a studio record?
MOLITZ: Because we're the type of band that improvises so much, we'll discover grooves and melodies that are the foundations for new songs all the time. It's always a great feeling when you're improvising, you get into uncharted territory, and you discover this great new groove or melody. You make a mental note of it, like, "Wow, this would be a really cool song." You go back and listen, and you realize that it's something you can work with and develop. That's something we'll definitely look forward to doing on this tour.
We also have some demos of new songs that aren't fully formed yet, but we have the basic structure of them. So we'll just take those out and let them come to life on tour. We'll play them, using the foundation as a roadmap. We'll just play it differently each night, and we'll record all the shows. At the end of the tour, the songs will have found their voice and developed their identity. Then, we can take them into the studio and shape them up into new songs. It's always an exciting thing to watch a song evolve on tour.
NUVO: Tell me more about the band's forays into video game music.
MOLITZ: It's something that I've been doing since 2006. I started including the other Particle guys, and it was such a natural fit and such a fun thing for us to do that it's taken on a life of its own. Now it's something that we do pretty regularly.
NUVO: How is writing songs for a video game different than writing songs for a record?
MOLITZ: You have to have more of an economy of notes and convey the emotion in a shorter amount of time. When we play live, some of our songs are 10 to 20 minutes long. But if we're recording for an album or for a video game soundtrack, you might only have 90 seconds to say what you want to say. So it really makes you trim the fat and realize what the most important parts of the song are. Keep it lean and mean. [laughs]
NUVO: In addition to NBA Playgrounds, what other games of note is your work featured in?
MOLITZ: We have another one coming out in a couple weeks called NBA 2K Playgrounds 2. There's a game that just came out called Spintires: Mudrunner. There's another one called Shaq Fu: A Legend Reborn.
NUVO: What memories do you have of playing in Indianapolis over the years?
MOLITZ: We just feel like we've had great shows there with great crowds. It's always a fun place to play because people really cut loose and get into the music. They really let themselves go there, and it's just always really fun to play for crowds who do that.