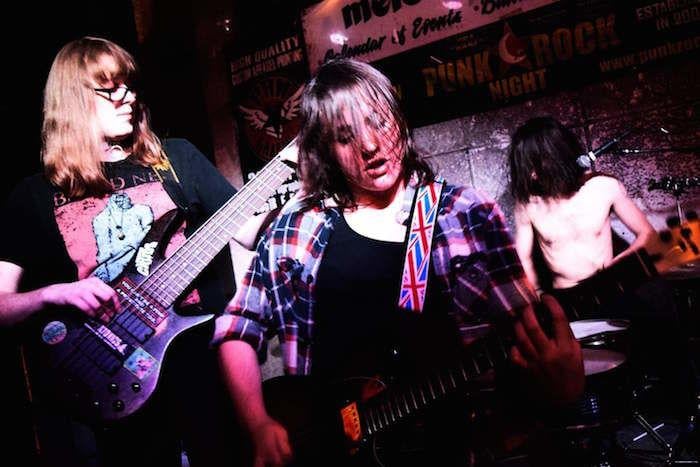 The Orchard Keepers have always had a love for all things spooky.
"We're really into old horror b-movies," says vocalist/guitarist Ayanna Miller. "They've always been a fascination and inspiration I guess."
On Saturday, Jan. 19, the band will headline Punk Rock Night at the Melody Inn, topping a bill that also includes the Katatonics, Lousy Sue, and Reuther. This headlining show marks yet another impressive gig for the Orchard Keepers, who have also opened up for acts like the Coathangers, Skating Polly, and Thelma and the Sleaze within the last year.
For Miller and bassist Ella Roberts, playing music together has been a part of life for over a decade. "Ella and I have been in bands together since we were kids," Miller says. In fact, the two founding Orchard Keepers' members originally met through their teenage music instructor, eventually meeting drummer Nick Underwood years later.
"There's a music shop in Beech Grove where we both took lessons, and we literally just bumped into each other," Miller says. "She played bass, I played guitar, and the guy who was giving us lessons was like, 'Let's put this together.'"
The longtime collaborators decided on the name Orchard Keepers because of their shared love for author Cormac McCarthy. "The Orchard Keeper is a Cormac McCarthy book, and we thought that was really cool," Miller says. In keeping with this darkly tinged theme, the Orchard Keepers have always written songs that center around ominous topics. "When we first started writing songs, it was a lot of stories about murder and dark stuff, just because I feel like that makes a good song," Miller says.
In addition to 2017's Stick Face, the Orchard Keepers also released a four-act EP titled Freudian Slip on Halloween of 2018, which tells a tantalizing tale as well. "I'm really interested in how mental institutions and psychology worked back in the day," Miller says. "Freudian Slip is like Rosemary's Baby but weirder." With their newer material, however, Miller has tried to stick to content that's a little more relatable.
"We have a song called 'Transorbital Lobotomy,'" Miller says. "It's just a big metaphor for what having a panic attack is like. That's the direction I'm going with the newer stuff."
She continues, "A lot of it is about depression and anxiety. I'm just writing honestly. So many people struggle with that, and it's nice to feel somebody else struggling and be able to relate."
Being a band with two females, the Orchard Keepers are certainly passionate about equal gender representation in the local music scene. In recent years, they believe Indianapolis has improved as far as this is concerned.
"I think Indy is better than people give it credit for," Miller says. "I've seen more bands recently with females in them, which is really awesome. A couple years ago, I wouldn't so much say it was that way."
As a member of Indy's LGBTQ community, Roberts has also seen some improvement.
"It's nice that there are other trans musicians that I've met," Roberts says. "I think there's a cultural wall that's slowly gotten torn down, and it's happened in Indy with the music and arts scene."
She continues, "There are a lot of people on all the binaries of the spectrum. I've met a lot of artists who are non-binary, greygender, and transgender, and then there are more cis female musicians. So it's not quite the boys club that it was five or six years ago."
In addition to playing marquee shows in Indy, the Orchard Keepers have consistently toured throughout the Midwest, hitting cities like Dayton, Louisville, and more. "We used to play a lot in town, but it's just happened where we keep getting asked for out-of-town shows," Roberts says. Going forward, the plan is to continue doing more of the same, while also working on songs for a new album.
"It [our new material] feels more together, mature, and direct," Miller says. "We're gonna take our time with it though."