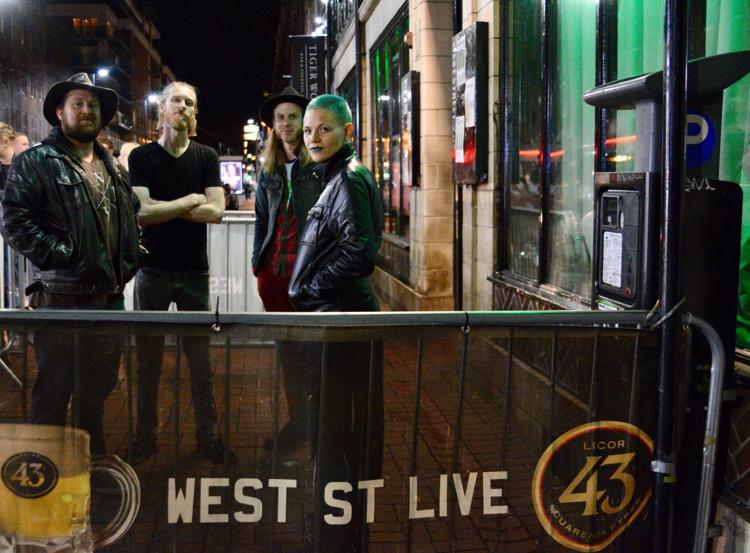 Indy four-piece Veseria hit the UK for their first overseas tour earlier this month. NUVO asked them to keep journal entries during their Spark Joy Indie Invasion tour so our readers could experience a wee bit of that UK magic, too.
October 10, Liverpool
We arrived at Liverpool today at 2:00 p.m. Checking into the hotel, we met with our local promoter and all-around Swiss army knife of a tour manager Olga Bogdanova. Olga's positivity is unwavering and unstoppable. Combining her energy with the rest of our support staff — Indianapolis-based photographer and UK driving all-star, Tim McLaughlin and Mama-Bear to us all, Katelyn Chovanec — we had a team assembled that would handle anything that came our way.
Studio2, like the name may suggest, was originally a recording studio. Built by Phil Collins in the '70s to capture the drum sounds for future Genesis records it was the location where Coldplay recorded their first three albums as well as other giants such as Black Sabbath, Moby and Bjork. The control room now hosts a full bar and the resonance room, a stage and dance floor. It was here that Veseria would play our first show in the United Kingdom.
Our local support for this show, Seegulls, is a five-piece rock band from Chester, England. While still very young, the skill with which they perform their live show is more reminiscent of the veterans of the Seattle psych rock revivals of the '90s. In recent years, so much of the excitement we've felt in this band has been based around industry contacts we've made or show-turnouts but tonight we felt the inescapable thrill of pure, incendiary live rock and roll. They were absolutely incredible.
On Day 2, we spent the afternoon in Liverpool. We traveled through its metropolitan city center to find the legendary Cavern Club. Here on Mathew Street is the only place you find the scattered landmarks of rock and roll's greatest manifestation, The Beatles. While the Beatles may be the only thing we knew about Liverpool coming into this town, it seemed to be only a footnote to the locals. This place proudly recognizes itself as the city the Beatles came from, not the city that came from the Beatles. Entering the club, we ran our fingers against the graffitied stone walls. Just four musicians dreaming big. Like that's never happened before in this space.
October 11, Sheffield
Sheffield is a college town first and foremost. On a Wednesday night there was a sea of people stumbling from club to club and back. It was a shitshow in the most endearing sense. Drag queens, women in fox-hunting coats, and drunks pissing and vomiting on our van were all on full display. It was in this field of chaos that we took the stage for the second time at West Street Live.
Local promoter, Mat Hume grabbed a microphone and wails, "...this is a night where you can plot a murder or start a religion but no one really cares about that because this is the time to listen to live music! ladies and gentlemen, please go absolutely off-your-tits crazy foooor veserriiaaa!!!"
After the show, WSL turned into a raucous party. We met young people thirsty for music and experience. They were the kindest and most generous fans we've ever known. As we closed down the bar, students and young adults filtered into cabs and trolleys to venture home having lived a little larger for a night.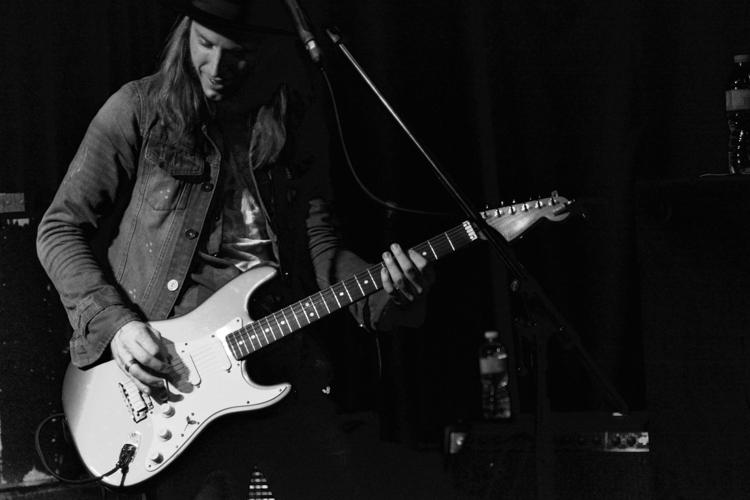 October 12, Glasgow
The drive from England to Glasgow is the most inspiring drive I've ever taken. The rolling hills and grazing fields of highland cows make a four-hour drive feel as if it were a quick trek up the road. For the first time, our van was silent in a quiet awe of this new land. No life stories shared on this drive like so many others. We were writing ours together silently.
Our show tonight was at a bar called Slouche in the basement of a late 19th century building in the heart of the city. While we were instrumentally stripped down for this set, Glasgow was our rowdiest and wildest night yet. As our set progressed we began pulling out bigger and more ambitious songs from our catalog and the crowd dove deeper and deeper in. After our show, we secluded ourselves to a booth to drink and eat some much needed comfort food. It took no time for us each to be sucked into various groups of locals in conversation and merriment. It would be nearly morning before we found each other again.
October 13, Northwich
Every time on this trip we told someone we were playing in Northwich, they responded with absolute confidence, "You mean Norwich."
We did not.
For reference, it would be like a British band coming to the states and saying, "We're playing Friday night in Pittsboro."
"Oh, you mean Pittsburgh"
"No. I mean Pittsboro."
In Northwich, we would be sharing a bill with the death folk trio The King's Pistol at The Salty Dog. As far as we could tell, it was the only business open in town after 9:00 p.m. Naturally, as dusk fell the locals instinctively spilled in and the bartenders began their familiar ritual of pouring beer after beer.
The raw aggression of the King's Pistol sent a wave of boot-stomping energy through the crowd. It's always intimidating following an act like that — especially on their home turf. As they ended their set with a wall of sound that more closely resembled the final note of a Metallica concert than what you would expect from a folk trio, my stomach grew uneasy.
By the end of our second song, "Let's Burn Some Bridges," there was almost no chance of knowing where the band ended and the audience began. We pushed harder and they returned our fury tenfold. By the end of our final song, the air was thick with sweat and smelled of musk and beer. As a rock musician, this is everything you hope for in a show: a band, not of four, but of a hundred. For a moment they were no longer spectators, but active participants. Tomorrow will be our final day in this country. Our spirits are high and our hearts are full.
October 14, Doncaster
At local radio station SINE FM today, we exchanged greetings with local DJ Mark Kelly. Mark has the biggest personality and warmest heart of anyone I've met. We laughed as we recounted stories from the tour and shared the joys of living in Indianapolis. At the end of the interview, he guided us to a room full of meat pies and local treats. Our bellies and souls were full making our way to our final stop on this tour: Doncaster's Vintage Rockbar.
Upon arriving to the venue, we were met with a perfect storm of logistical issues. By the time we loaded on stage, we were over an hour behind when we were supposed to have started our set. We finished a rushed line check and the engineer said, "Welp. Whenever you're ready".
We looked across an empty, silent room; defeated in what our final show would be. It was in this moment that Kyle did what Kyle does best.
"What's the first song?"
"Under the Influence."
"K. Hold an E chord until the room packs in. We'll start when the rest of the show gets here."
The thunder shook the dust from the ceiling. We held that note for only a matter of seconds until the doors swung open and they arrived. Our band was complete and the show could go on. It was the perfect end to the most imperfect tour.
October 15, Manchester Airport
This tour was so much more for us than any others we have embarked on. Of course it was exciting and fresh but also familiar. We met people from other parts of the world who were bound together by the common thread that only loud, wild rock shows can pull out into the light. The sound of an electric guitar knows no language or cultural barriers in these spaces. The passion of song has no nationality or citizenship. Every night villages were created before our own eyes. And we knew what it was to not own our music but to share in it equally with our sisters and brothers of this world.