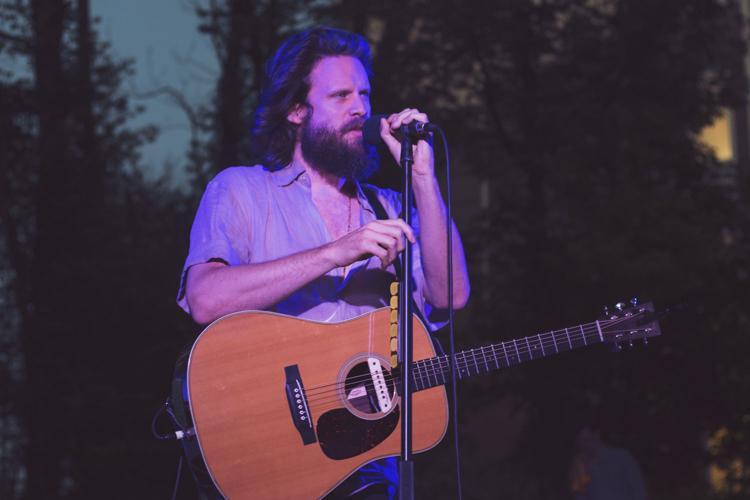 Kurt Vonnegut was no stranger to blurring genre lines and pushing artistic boundaries.
Much like the Indianapolis native, the first Granfalloon festival reflected this same spirit, being equal parts symposium, exhibit, performance, and music. In particular, I can truly say that the festival's music lineup was one that would have likely made Vonnegut himself smile.
Prior to his Friday night performance at Granfalloon, I caught up with esteemed songwriter and Secretly Canadian artist Damien Jurado for a quick interview. Later in the evening, Jurado would open for longtime friend Josh Tillman. Of course, some of our conversation focused on the camaraderie between him and the man better known as Father John Misty.
"He [Tillman] tells this story, and it's true, of driving from Maryland all the way to Seattle in hopes to meet me," Jurado said. "He knew someone that I knew in Seattle, and I think he ended up staying with this guy I knew. This guy we knew was having a party of some sort, and that's where I met Josh. He gave me a CD-R, and I fell in love with it."
Tillman would eventually become the drummer in Jurado's live band for a while—a percussive role that predates his time in Fleet Foxes. "I've not been on more tours with another musician in my life than [I have with] Josh," Jurado said. This made their show at Upland on Friday night rather special. In fact, Jurado pointed out that the show marked his first time on a bill with Tillman in 10 years. Unlike his close friend, however, Jurado comically explained that he is not remotely familiar with the work of Vonnegut—and for good reason.
"Honestly, I've never read Vonnegut, and I don't know anything about Vonnegut," Jurado said. "I actually am not a fan of fiction, believe it or not, and I write fiction [laughs]. I grew up [with] and still have severe dyslexia, so I don't read ever. So it's kind of funny that I'm at this literary thing. I'm honored, but I don't know anything about Vonnegut."
Granfalloon 2018
Bands including Damien Jurado, Father John Misty, Amy Om, and Shabazz Palaces perform at Granfalloon: A Kurt Vonnegut Convergence.
Following Jurado's set later on in the evening, Tillman took the stage for a rare acoustic performance. In between songs, he repeatedly made sure to acknowledge his friend and songwriting inspiration. "I'm so fucking happy to be playing with Damien Jurado," he said. "If you don't like this, you can blame him." More known for his love of Vonnegut, Tillman shared with the crowd that his favorite book from the author is the 1976 novel Slapstick.
After a night outdoors, the festival's music portion shifted to indoor Bloomington venues on Saturday evening. Again, I was able to catch up with a few of the artists performing ahead of their sets. Prior to her appearance at The Bishop opening for Waxahatchee, Bloomington standout Amy O shared with me the personal connection she has to Vonnegut.
"My grandpa on my dad's side was on the school newspaper with him in college at Cornell," she said. "He didn't know him very well. Apparently, Vonnegut was a senior, and my grandpa found him intimidating."
Much like many of the other artists performing, Amy O expressed her appreciation for Vonnegut and his work. "I really love Vonnegut," she said. "In high school, for my senior literature class, I did my final author project on Vonnegut."
With an album due out next month via Bayonet Records, Indiana-based songwriter Kevin Krauter shared a similar sentiment.
"The style of his writing is something I'm really into," said Krauter, who also performed at The Bishop with Waxahatchee and Amy O. "I think [Haruki] Murakami is a pretty comparable writer stylistically. Same with Thomas Pynchon, who's another favorite of mine. So he [Vonnegut] is not someone I've dug heavily into, but it's a voice that I'm familiar with and really appreciate."
In addition to performances at The Bishop, Rhino's and The Bluebird were also host to stellar lineups of live music on Saturday. Having teamed up with fellow electronic masterminds such as Daedelus and Flying Lotus over the years, Baths rattled Rhino's with glitched-out grooves before giving way to an absolutely stunning set from Chicago rapper Noname. Backed by an all-star band, Noname performed selections from her 2016 debut Telefone, while also giving fans a taste of some new material as well. We can only hope this means another album is on the way from her soon.
Over at The Bluebird, Indianapolis Afropunk supergroup White Moms kicked things off, impressing the packed house on hand. Oreo Jones and company were then followed up by cult hip-hop favorite Shabazz Palaces, who gave fans all that they wanted and more with their very rare Indiana appearance. To close out the night, John Dwyer and the Oh Sees proved why they are one of the best live bands in America, ripping through one song after the next with reckless abandon. Before the band's set, Dwyer addressed the crowd with a statement that served as a great closing remark for the festival. "Thank you for making Kurt Vonnegut possible," he told the room of Hoosiers. Sure thing, Mr. Dwyer.