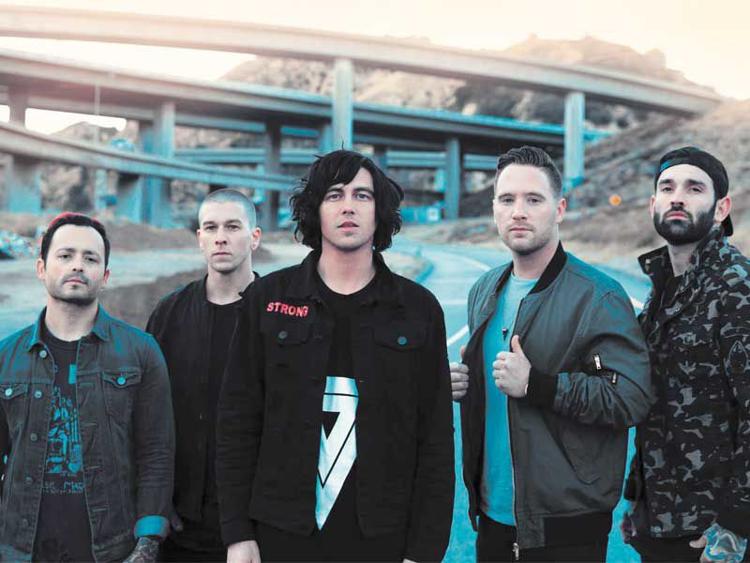 Kellin Quinn is growing up. You can hear that on Gossip, the latest album from his band, Sleeping With Sirens. It's also noticed during live shows, when he turns loose his impressive, now well-cared for voice.
Cresting 30 and becoming a father has impacted Quinn's songwriting. That's clear from the lyrics of the Gossip songs, which are more reflective and, well, grown up, than the odes to teenage liberation of the band's first four albums.
"With the songwriting, I feel like I was maturing, growing," Quinn says. "I feel like I've come into my own on this record. I think it's practice and just growing up and getting older. I wanted to write a record that feels like my age.
"I'm 31 now. I think there are bands out there in the world that are like 'I'm 19 forever.' That's not believable to me," he says. "The things I have to sing, have to be my age, I think I amplified that on this record."
Quinn realizes that mature viewpoint may turn off some of the teenagers that have made Sleeping With Sirens one of the top alternative rock bands of the 2010s.
Since its 2010 debut, With Ears to See and Eyes to Hear, SWS has sold more than 1.5 million albums, generated more than 400 million Spotify streams and more than 350 million YouTube views and has played multiple festival main stages, including Warped Tour.
"My growing up has been as a musician and living this alternative lifestyle, which isn't always conducive to growing up," Quinn says. "Then you're watching your kid grow up in front of you, literally in the blink of an eye.
"For me, it been the ongoing battle of who are you and what are you doing? Maybe the 19-year-old kid won't understand that. But listen to it at 25, 26 and it could change your life."
Getting older has also impacted Quinn's voice.
"I definitely have to take care of it, especially as I get older," Quinn says. "When I was 23, 24, after the show I could go out to the bar and scream and yell over the music. Not anymore.
"As I've gotten older, I have to be more cautious and careful with it. As a tour settles in, it's fine. If I'm going to lose my voice, it will be at the very beginning of the tour and then it comes back."
His vocal changes are heard across Gossip, an album that's a dramatic move away from the band's post-hardcore origins toward pop. Quinn intentionally tames his wild, high singing.
"I think my voice is my voice and it's what I can do," he says. "This record, I definitely sang a bit lower than I have on previous recordings. It's definitely a consideration my producers have thought of. I can go high up there all day."
He's been able to "go high" since he discovered he was meant to be a singer at age four.
"I started singing when I was really little," Quinn says. ""Kokomo," the Beach Boys song, was the first song I learned. I would sing it to my family members and they'd give me cash for singing. I thought maybe I could do something with it."
He's been doing something with his voice for more than a decade, and with the release of Gossip, he's found some new Sleeping With Sirens listeners.
"I've noticed that it's generated more popularity with older people, more my age, and really little kids. Like my daughter really likes the record when she couldn't have cared less before," he says.
While Gossip has pop hooks, riffs, melodies and some ballads, it's still a rock record and Sleeping With Sirens remains a rock band.
That, as the recent rock-free Grammy Awards broadcast indicated, puts Sleeping With Sirens outside the current musical mainstream — which is just fine with Quinn.
"For me, what kept me doing music is I heard something different than what was on the radio that related to me," Quinn says.
"I think for people, rock does that now. It's what they relate to. It's more underground today. But there are bands like Foo Fighters and Green Day and, younger bands, like Twenty-One Pilots, that are still big. And bands like Twenty-One Pilots can lead kids to our band."
The Foo Fighters and Green Day, Quinn says, serve as a model for Sleeping With Sirens. Not so much musically, but as bands that have had the hits needed to build an arena-level following and enduring, multi-decade careers.
"I don't know if we'll ever be a band like that, where we can play forever doing our music," Quinn says. "But I want to play it for as long as I can."
Sleeping with Sirens plays the Deluxe at Old National Centre Fri., Feb. 16 at 7:30 p.m.