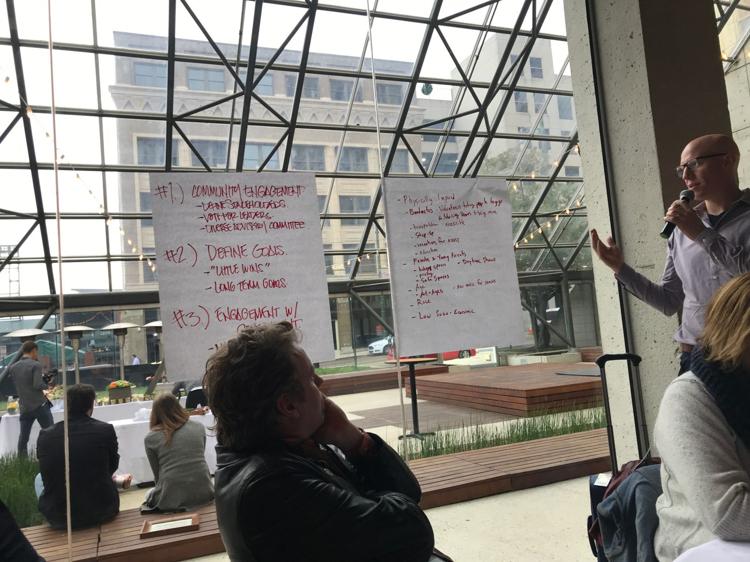 As the city of Indianapolis continues to grow and develop, it's important to consider how music will play a part in all of that.
With this in mind, Sound Diplomacy and Indy Chamber will present the first U.S. Music Cities Forum on Tuesday, May 8 at HI-FI in Indianapolis. Similar to the international series of Music Cities Conventions, this one-day event will focus on developing a music strategy for Indianapolis through panel discussions and guest speakers, with net proceeds benefiting local music nonprofit Musical Family Tree.
"Music impacts a city, and specifically bridges art and entrepreneurship, like few things in life," said Indy Chamber president and CEO Michael Huber. "As Indianapolis continues to build momentum in a 21st century economy, it needs a talented, creative workforce to support future growth. Music and the creative class help us build a more diverse and inclusive community that challenges convention and encourages innovation. Indy's rich musical roots, from jazz legend Freddie Hubbard to Kenneth "Babyface" Edmonds, are a reminder of how Indy's talented individuals can reach audiences across the world by simply sharing their passion."
Attendees and guest speakers will collaborate on ideas and learn from the best practices and success stories of Denver, Austin, Memphis, and Atlanta. To date, 22 guest speakers have been been confirmed and include a strategic geographical sampling from across the United States and England. These industry experts have been selected to provide insight based on their experiences across multiple sectors of the music industry and local government. Confirmed panelists include:
Tammy Hurt, Georgia Music Partners (Atlanta)
Alex Mann, Music Venue Trust (London)
Chris Gahl, Visit Indy (Indianapolis)
Lisa Gedgaudas, City and County of Denver (Denver)
Thomas Cook, City of Indianapolis (Indianapolis)
Steve Sternschein, Prism /Red River Merchants Assoc. (Austin, Texas)
Katie Carlson, Walk The Moon (Indianapolis)
Sean Starowitz, City of Bloomington (Bloomington, Ind.)
Sarah Myer, Indianapolis Symphony Orchestra (Indianapolis)
Jim Rawlinson, Develop Indy (Indianapolis)
Jeb Banner, Boardable (Indianapolis)
Karl Hofstetter, Joyful Noise Recordings (Indianapolis)
Shain Shapiro, PhD - Sound Diplomacy (London)
Oreo Jones - Chreece Festival/Artists (Indianapolis)
Jennie DeVoe, Artist (Indianapolis)
Elizabeth Cawein, Memphis Music Export (Memphis, Tenn.)
Linda Broadfoot, Indy Parks (Indianapolis)
Robert S. Meitus, Meitus Gelbert Rose (Indianapolis)
"We've been impressed with the direction that Indianapolis is heading since we became aware of the work of MOKB Presents, Indy Chamber and others," adds Shain Shapiro, CEO of London-based Sound Diplomacy. "We're thrilled to bring our Music Cities Forum to Indianapolis to jump-start the discussion that we hope will lead to the city creating global leading music policies to support artists, businesses, and everyone in Indianapolis." 
For a complete list of confirmed speakers, visit the Music Cities official website. Tickets are on sale now. Space is limited with only 100 registrations available to the public. Registration is $60 in advance and $75 day of the event. Tickets can be purchased via Ticketfly and the HI-FI website.