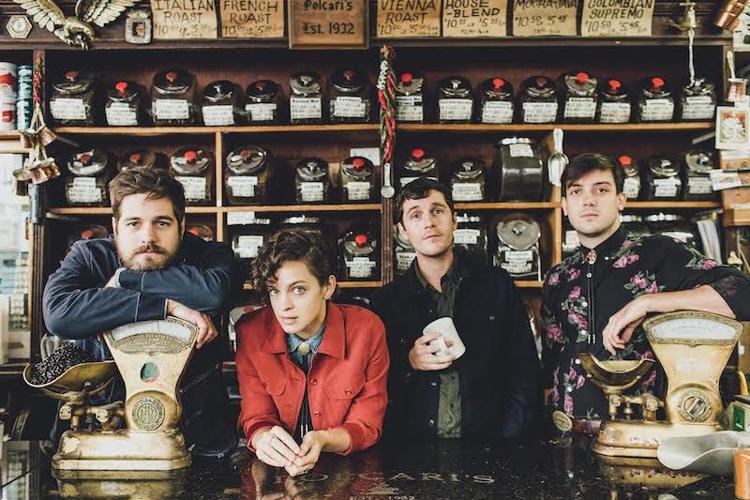 At one point or another, all of us have wondered how to land a gig playing the Macy's Thanksgiving Day Parade on a float sponsored by Kentucky Fried Chicken.
For the North Carolina band Mipso, there isn't any great secret to how it happened.
"That is a great question, and a question that we still kind of ask ourselves," said Mipso mandolin player Jacob Sharp, who recalls getting a call out of the blue from the parade's talent booker. Sharp and his bandmates, who were on tour at the time, soon were deliberating whether you could really stay true to your art while rolling through the streets of Manhattan in a holiday procession led by Mariah Carey and the Pillsbury Doughboy.
"Once we realized that we did think that was possible, it became this really fun and freeing opportunity to take part in what I think is one of America's most absurd traditions," said the singer and mandolin player of the annual ritual that draws an audience of some 50 million television viewers. "We were literally 15 feet above the streets of Manhattan on a flying bucket of chicken with Colonel Sanders and his minions alongside us."
Sharp also has vivid memories of 50-foot-tall cartoon-character balloons hovering above them.
"The nearest balloon to us was one of the Angry Birds — it was this menacing-looking pigeon — and, you know, the whole day was just, on every level, so absurd," he said. "Like they shut down a portion of Central Park that morning for the performers, and we shared a dressing room with Pat Benatar and Questlove. So yeah, for a young string band, it was a different set of circumstances than what we're used to out on the road."
That was three years ago, back when Mipso was still transitioning from its original acoustic-string-band sound toward a more singer-songwriter alt-country approach. In many ways, it's a natural progression for Sharp and his bandmates — fiddler Libby Rodenbough, guitarist Joseph Terrell, and bassist Wood Robinson — who began playing together six-plus years ago as classmates at UNC-Chapel Hill.
I asked Sharp how it feels to step away from bluegrass and to play music that's less than 120-plus beats per minute.
"It's great," he said of the band's newfound freedom. "Our first album came out right after we had formed, and we had never been in a band before and were just starting to write our own music. Being from North Carolina, the history of string-band music and bluegrass was what we were most interested in at the time. But all of our shared favorite records are Laurel Canyon stuff from the '60s and '70s. And so, as we've matured and become more confident as songwriters, we've felt that bluegrass — although it was an important foundation for us to have understood initially — wasn't necessarily the best tone for some of these songs now."
Ten years ago Kentucky native Ben Sollee came to prominence singing Sam Cooke while playing the cello. The NPR sensation was not a backwoods n…
Mipso's change in direction is immediately apparent on the band's recently released Coming Down the Mountain album. Highlights include the Rodenbough-penned ballad "Cry Like Somebody," her voice reminiscent of Emmylou Harris as she sings, "You cry like somebody with nothing to cry about / Tears running down to your open mouth / Moaning like a dog that wants out."
The album also brings together some stellar session players. On the opening title track, guest pedal-steel player Eric Heywood — who's best known for his work with Son Volt and Ray LaMontagne — helps the band recreate the sound of Harvest-era Neil Young.
"That was certainly a direction that we let him know we were hoping we'd find together," said Sharp. "He's pretty amazing, and he recently moved to North Carolina, so we're lucky to have him as part of our community."
As for other album influences, Sharp says Jackson Browne also ranked high.
"We were listening to a lot of live recordings by him and his band at that point," he said. "And when it comes to more modern stuff, Rick Mills is one of our favorite songwriters and guitar players and producers, and then also Anaïs Mitchell. So those were kind of the different places we were pulling from. What's so cool about that Laurel Canyon community, at that moment in time, was how these bands with really distinct and separate personalities all came together. They were living together and making these really dynamic records, both from a production and songwriting perspective, and that kind of became the driving force for what we were trying to do with this album."
In fact, Sharp feels like the Chapel Hill area has the same kind of musical camaraderie that helped make L.A.'s Laurel Canyon sound what it was.
"Of course, part of this is just because it's where we're from and it's what we know best, but I think the triangle of North Carolina — which is Chapel Hill, Durham, and Raleigh — has as strong and diverse a music community and scene as anywhere in the country right now," said the musician, citing hometown artists such as Mandolin Orange, Steep Canyon Rangers, and Hiss Golden Messenger, as well as influential labels such as Merge Records and Yep Roc Records.
The one obstacle is that in order to make a living, those bands spend much of their time touring far from home. Mipso has racked up more than 300 shows out on the road, but the band members feel the musicians from their neck of North Carolina maintain their connections with each other.
"It's unfortunate that although we have so many musicians living within five miles of each other, we're generally hundreds of miles apart, out touring at the same time," says Sharp. "But if you look at any of the album credits from bands around here, you'll see a lot of overlap when it comes to who's playing on whose record. And that's a really cool and amazing thing."