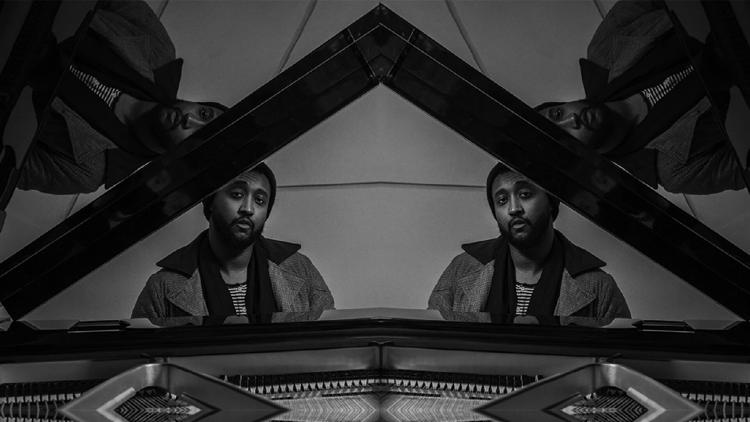 Louie Louie frontman Henok Netabai has always felt a strong connection to Little Richard.
"I think the first thing I listened to that I liked was Little Richard," Netabai says of his earliest musical inspiration. "I especially liked seeing the Black influences in rock 'n' roll since I didn't know very much about it."
"I assumed it was pretty much just Caucasian males, so it was really refreshing to see all that," Netabai says. "It motivated me to feel like I wasn't being too much of an outsider doing this."
After performing around the city for a few years, Louie Louie celebrated the release of their debut 7-inch record this past Friday at Pioneer. The band headlined a bill that also featured Chives and Radar Gold. Recorded by Adam Gross (S.M. Wolf) at his home studio (The Cola Cult), the Indianapolis funk band has more releases in store, including a full-length coming this spring.
For Netabai, music exploration began at a fairly early age. In high school, he crossed paths with several musicians, including several of the current Louie Louie members. "I was around a lot of [people from] the bands around Indy today, like The Icks," Netabai remembers of his high school years. Eventually, this led to the start of the Constants—a self-described "bubblefuzz" band.
"We were in love with this movie called Backbeat. It was a Beatles biopic," Netabai says. "Everybody was dressed in black. So that's what we aimed for, and that's all we did until we got into college."
While in college at Indiana University, the Constants performed at various venues around Bloomington.
"Ty Segall was popular at that time, so we just fell into that [sound]," Netabai says.
Upon moving back to Indy, however, the group of longtime collaborators went an entirely new direction.
"I just basically fell in love with James Brown, Marvin Gaye, Al Green, and music of that era, and me and my friends wanted to do that," Netabai says.
Aptly named Louie Louie, the band started out playing long, drawn-out funk songs, regularly extending stanzas in their own unique way. "We kind of just wanted to do a psych/funk/pop thing where it was as rudimentary as possible," Netabai says. "[We'd] just have drums and bass, and then I'd play keys. It was sort of droney."
Over time, the band continued down this extended funk route, while sharpening up their approach along the way.
"We've hammered in these songs pretty tightly over the years," Netabai says. "We kind of know them like the back of our hands now. It's a little sad because we kind of lost that freestyle element. But it's a natural progression I guess."
As for Louie Louie's studio recordings, Netabai recommends finding an engineer like Adam Gross who really jives with your creative outlook.
"He's like a lost member in my book," Netabai says. "Whatever you need, he'll figure out how to do it. He's sort of like a dream counselor."
In addition to their forthcoming album, the exuberant Indianapolis band has plenty more in store as well.
"We're focusing on writing more," Netabai says. "We have about two albums that we can pretty much get done after this one."