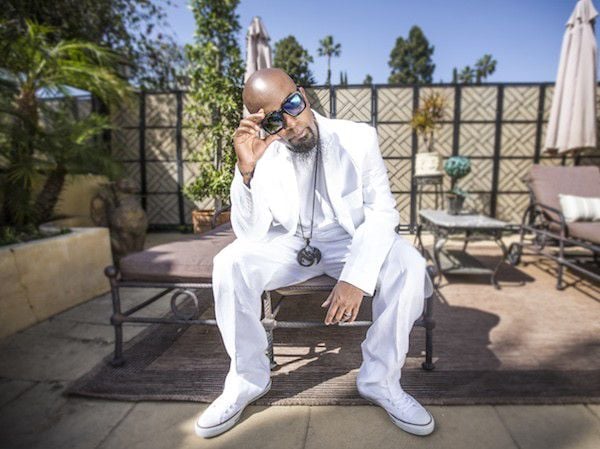 Tech N9ne released his 15th studio album Special Effects last week on Strange Music, the independent label he co-founded back in 1999. NUVO spoke with him via phone before his show Friday at the Old National Centre with Strange Music's latest addition Murs and longtime friend Krizz Kaliko as well as Chris Webby, King 810, and Bulletproof & the Fool.
NUVO: One week since the release of Special Effects, what's the overall reaction from the hip-hop community and fans?
Tech N9ne: It's such a wonderful feeling to know that almost every fan feels the same exact way that I knew they would. I said "this will be my best work to date" and everybody agrees — the majority agrees. You can think you're dope all you want to but when (agreement) happens that means it's a reality.
For Eminem to agree to do a song with me said, Tech you're dope. For Corey Taylor of Slipknot to agree to do a song with me said, Tech you're fucking dope. For Hopsin to do "Psycho Bitch III" with me says, Tech, you're dope. For Excision to do "Roadkill" with me, Tech, you're dope. It goes on and on and on. For T.I to do it, for 2 Chainz, Wayne, Yo Gotti and Audio Push. It's like, WOW, man. All these people agreed and now the fans are agreeing, not because of the features only but the sound of the music, and the content, and the structure, and the artwork, and the coin, and the DVD — everything that comes with it. It's so wonderful to feel that the majority is saying YES.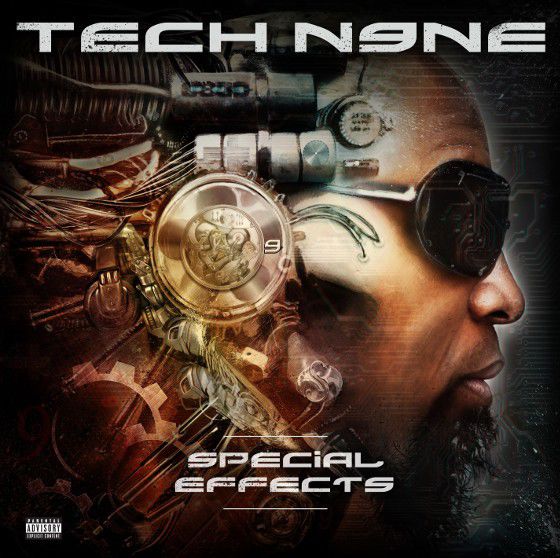 NUVO: This album is all over the place, all the features, the different beats, the genres of music, is this your most complete work yet?
Tech: I think so man. I've always done it but sometimes to make people get it you have to get the people they listen to. I've always done the metal thing in my music, since the beginning. On Anghellic, the first song is called "Tormented," "Riot Maker" in 2006 is rock and metal. It goes on forever. Sometimes for people to get it they have to say "Woah, Corey Taylor's in a song with Tech N9ne, let me listen to this, maybe he's the real thing." DUDE I'VE BEEN THE REAL THING. It just took Corey Taylor for you to even want to listen — that's beautiful. This body of work is validation from all my peers like "fuck yes Tech".
NUVO: Special Effects is your 15th studio album, how have you changed from your first album to now?
Tech: Only thing that I can say that's changed is that I've got more crisp with the lyrics, I'm more polished. But it's the same theme, good and bad, Anghellic, All 6's and 7's, E.B.A.H: Evil Brain Angel Heart, "Worldly Angel." It's the same theme, I have not changed anything. I haven't changed my face paint, nor my scrub pants and tops. I'm still same but more polished and more experienced.
NUVO: The long awaited Tech/Em collab has arrived, why'd you choose this album to enlist Eminem on WWC2?
Tech: I just think the time was right man. I tried a million times before to get Eminem on a song but this time the time was right.
NUVO: When it comes to features, does timing play a huge role?
Tech: Yes, artists are the hardest to get because of timing. But the stars aligned on this album. You can't control that. You can't just say "I'm going to get these people on this album." It was hard. It was hard to get the time for everybody to come through before mastering. The Eminem verse came when the album was already two days into mastering. I was on pins and needles. So did the T.I. verse — pins and needles. Corey Taylor — pins and needles. It was the day before he took his group to Europe and he did it, he sent the song. Woah, if he would've went to Europe before doing it wouldn't have went down.
NUVO: Are last minute verses common?
Tech: Not usually. Sometimes yes, but with this caliber of artist, yeah. These are the artists at the top of their game, they're busy man. It was harder this time. Only thing that didn't come in was Jay-Z.
NUVO: There was a Jay-Z verse on this album?
Tech: Yeah he was going to do "Give it All," the one with Audio Push. It was beautiful but he just didn't have time to do it. Childish Gambino didn't have time to do it either.
NUVO: What track was Gambino going to be on?
Tech: I was going to put him on the same one as Jay. That's a mashup: Tech N9ne, Childish Gambino and Jay-Z, WHAT. And guess who was going to sing the chorus first. Lenny Kravitz. That was my idea.
So the next album I'm going to try these guys again. If the music says try these guys that's what I'll do. I just can't put 'em on anything. Hopefully the next album say Jay-Z.
NUVO: It really sounded like Special Effects was broken down into parts, was that something you were going for?
Tech: Yes man, I had to break it down throughout the week — Sunday to Sunday. As a matter of fact I can't front, there's gospel music on my album. We've got gospel on here, we've got metal on here, we've got R&B on here, we've got EDM on here, we've got hip-hop on here, we've got trap on here. We've got everything man. WE'VE GOT EVERYTHING. I did this to say man created genres because of culture. Just because you have a certain culture doesn't mean that you have to stay boxed up in that genre of culture. What I'm trying to say with this album is "fuck all the genres, we can do beautiful music together. We can mix these so-called genres and make beautiful music." Like me and Krizz Kalico and Excision did "Roadkill" on the EDM side.
Why not get together and make beautiful music no matter what the race, no matter what section you came up in, who's to say you can't venture off and explore and make beautiful music. I'm trying to say to the human race "we need each other man, to give each other a leg up."
NUVO: "A Certain Comfort" stuck with me as a I was listening to the album, is there a deeper meaning to this song?
Tech: It's a sentimental song and a song that is talking about my family members turning on me because of money. I'm telling people that I have a certain comfort now with the darkness. I've had it for so long it's like "I'm cool. I'm chilling in hell and hot water sitting on my couch, fool." It's nothing for them to give me hell now because I've been given hell for the majority of my life. It's nothing to me, it's like I have a certain comfort with this now. I shouldn't, but I do and I'm fine with it. Bring it on.
It's real. There's people listening to it that it's about that really don't like that song because it's about them. They know.
NUVO: You enlisted Rob Prior for the album's cover art, what's the basis behind it?
Tech: Rob Prior knows that Travis and all my fans call me a robot so what's going on inside Tech's brain? It's all these mechanisms and shit. "How can he do all this music and keep getting better" and "wow can he do all these tours and not break down," "He's a machine." That's what the album art is saying. Tech the machine - the musical, the physical, the crazy, machine. That's what you get from the cover. There's not a brain in there. Look at all those mechanisms, wires, doohickey's.
NUVO: You've managed to stay independent throughout your whole career, what are the keys to that success?
Tech: Touring and merchandise: it's top notch.
NUVO: Catering to the fans? Fans want to see Tech, hear Tech?
Tech: It's a blessing that they want to hear me. It's a blessing that after all this time that they still want to hear Tech N9ne. And the crowds are growing now. It's crazy to me to look out into the crowd and see it growing right before my eyes.
NUVO: It seems like you're bridged that gap between one generation and the next generation.
Tech: Totally man. You've got the parents bringing their kids.
NUVO: Is the music making process hindered by artists sticking to one genre and not branching out?
I think a lot of people fall by the wayside because they don't explore with music and they stay in that one thing, and it eventually dies. This will never die. Music will never die, it will live on — It always does. Why not make beautiful music and let your legacy live on forever?
If I keep mixing it up and making it even better with these mashups — can you imagine what Gary Clark Jr. and I are going to make on the next album? I've never met him, he's never met me but I'm going after that guy. He's a talent and I can't wait to see what he has to offer me in Strangeland. I can't wait to see what he'll bring forth out of me. I can't wait to see what Lana Del Rey is going to bring forth out of Tech N9ne and what Tech N9ne is going to bring out of her.
NUVO: Has there been one artist throughout your career that you can pinpoint as the most interesting to work with?
Tech: Roger Troutman, rest his soul. We did a song on my Anghellic LP in 2001, the song called "Twisted." We got to work right alongside him as he came up with the rifts and everything with his talkbox. It was incredible to work with him like that. Out of everybody, and I've worked with a lot of people. He didn't drink, he didn't smoke, he just loved the life, loved the women. We were going to have a wonderful work relationship and friendship and then his brother killed him. Wow, I wish he was still here man.
NUVO: Do you have a favorite restaurant in Indianapolis?
NUVO: Do you still regularly drink Caribou Lou?
Tech: Yes I do. I still make it at my house when I'm writing. It makes me feel like an alcoholic because I'll make a big pitcher of it and I'll add the new ingredient which is pineapple slices so it's Caribou Lou Plus. I make Caribou Lou Plus at my house still and when people come over I'll ask 'em if they want Caribou Lou or do you want a margherita and they'll say Caribou Lou. It's wonderful man, I keep it in my home.
NUVO: These interviews feature a lot of the same questions but a guy like you has a lot to say, anything you want to get off your chest?
Tech: Everybody that's saying they knew [Sunday] was going to be a hard day for me because it would be my first Mother's Day without my mother. No. It wasn't my first Mother's Day without my mother. She was right here with me. She was with me yesterday. Don't say that. Next year don't say "I know this is hard for you because your mother is not here." No, she's right here with me, in my chest. Know that. When you approach me like "how's your momma doing?" She's fucking wonderful. She's on tour everywhere I go with me. This is the happiness I feel in my chest. I am not without my mother. She is with me. Stop saying "I know it's hard for you that your spending Mother's day without your mom." I don't want to hear that shit. I don't want to think about that shit. She's right here. How you saying I'm without her and she with me? Know that she's with me everywhere I go now. Say "how's your momma doing?" SHE'S FUCKING WONDERFUL.
That's what I have to say.