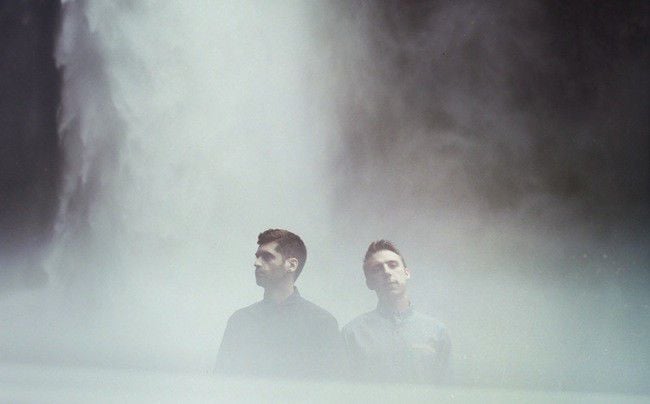 ODESZA is an indie-electronic duo born in 2012 when Western Washington University students Harrison Mills and Clayton Knight combined their solo projects. Since then they've managed to top the Hype Machine charts more than ten times, release two full-length albums, and sell out venues across the country. NUVO spoke with one half of the duo before their show Saturday, Feb 28th at the Bluebird in Bloomington.
NUVO: So the tour is selling out like hot cakes.
Knight: We're incredibly humbled to see all the support. It's always a good feeling to see tickets going quickly and people having a good time.
NUVO: Anything crazy happen on tour like those people having sex on your monitor?
Knight: So you heard that one. No, that hasn't happened on tour yet but we did an after party last spring where I did my first crowd surf so that was fun. Definitely no full blown sex story yet, but there's plenty of tour left.
NUVO: Is there a meaning behind the recently released "All We Need" video?
Knight: There's really no meaning but it was so weird; basically the director had this kind of vision and we got a bunch of chiming in and it was all corny stuff, your basic Pearl Jam on the beach thing, and we didn't want to do that so we went the opposite direction. The song has a bright feel and then you see this dark video, it was all about giving it contrast.
NUVO: How do you go about commissioning artists to remix your songs?
Knight: Most of them are ones we're big fans of what they've been doing for a long time and we love their music. So we reach out on a personal level and say, "hey, love to have you loop this track or do something unique with it." People we love listening to and love what they do – that's the basic criteria.
NUVO: Favorite remix you've done?
Knight: A favorite? That's a good question. I really like the Slow Magic one, I think that one came together pretty cool. The Sia one turned out pretty well. We tried to make it as different as possible from the original. We try to do that quite often, but that one definitely, I don't think we even used a verse from her top line.
NUVO: Is getting as far away from the original the main goal for your remixes?
Knight: Yeah that's how we approach them. We want to make something that's very different. The original is there to be original but I get remixes that take the top line and put a beat under it. We don't like to do that. We like to pretty much start some scratch, then listen to the individual stems that they send us – the vocals isolated, the strums isolated etc. You can hear what pieces you want to use from those and that's how we go about – take a tiny piece that we want to work with, highlight that and run with it.
NUVO: Do you prefer remixing songs or making originals?
Knight: I really like producing original tracks. You can make some really cool stuff, especially working with other artists and plus it's yours; it's your music.
NUVO: Back in your dorm room who inspired you to get you here today?
Knight: Well yeah it was actually in college that I got introduced to a lot of weird music. A lot of newer music would be a better way of putting it. I had some roommates that were into some different stuff. I got introduced to M83, Animal Collective and Four Tet. Those kinds of artists were the ones that I really connected with and loved there sound. That is what got me into producing and making my own sounds.
NUVO: If you could pick the brain of any artist and get a lesson, who would you chose?
Knight: Whew, that's a tough one. I'd have to go Flying Lotus. I'd just love to watch him sit in the studio and see what he does because some of his stuff is outrageous. I'm a big fan of his work and have a huge amount of respect (for him). I'd love to see how the process goes down.
NUVO: What are the advantages to having a partner in crime like Harrison?
Knight: You've got twice the ability to get stuff done and you can split up the workload. But also you have someone to bounce ideas off of, that's probably the most important piece. A lot of the time when you're writing you get in these ruts where you don't know where to take it or you don't know how it sounded, or if it's good at all. You can get pretty frustrated. So it's nice to have another set of ears to take a listen and give you ideas, and their opinion – it really helps.
NUVO: Which festival are you looking forward to playing the most this summer?
Knight: Well Coachella of course but there's a festival in Washington called Sasquatch that takes place at The Gorge, which is this huge amphitheatre. It's one of the prettier settings I've ever seen. That and Red Rocks are probably one of the cooler setups I've ever been too. I used to go every year when I was in high school and all throughout college so I'm pumped to be playing that one.
NUVO: You've got a night off, no show, no studio time, what are you doing?
Knight: I would definitely have to go out for a nice dinner, try to take the girlfriend somewhere pretty decent, then maybe see a movie – pretty boring stuff. I love to decompress. We're on the road so much that I do my fair share of partying, so when I get the chance to decompress and hangout it's pretty nice.
NUVO: Favorite restaurant?
Knight: There's a couple in Seattle that I really like. There's a place called the Metropolitan Bar and Grill that's one of my favorite. I get an old-school steak there that's so good. There's also a morning breakfast place, this little hole-in-the-wall joint called Morsel that makes these incredible hand-made biscuits with this amazing gravy. It's probably the best thing out here you can possibly have but you'll definitely need a nap after it.
Now I'm not only hungry for the show but biscuits and gravy too.