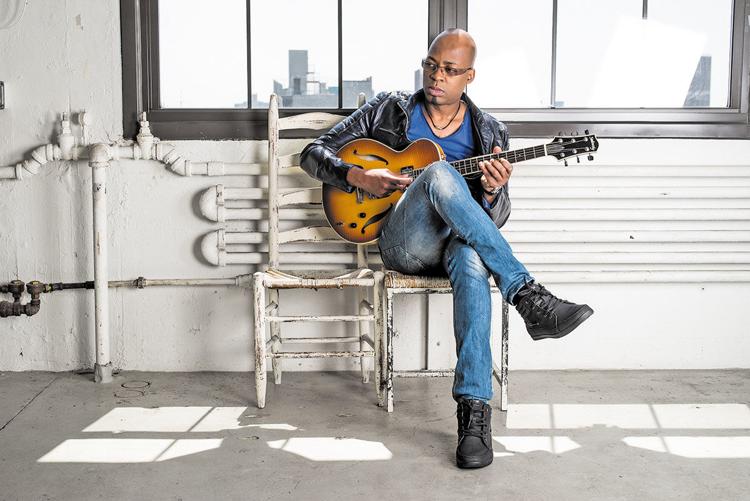 Benin's Lionel Loueke has blazed a unique trail on two musical fronts. Loueke is one of the most revolutionary guitarists to emerge from West Africa in modern history while also holding rank as an iconoclastic master of contemporary jazz guitar.
Loueke's playing merges these two worlds in an unprecedented fashion, and his sound has been embraced by American jazz legends, including Wayne Shorter and Herbie Hancock. Indianapolis fans of jazz and African music will have a chance to experience Loueke's music at The Jazz Kitchen on April 11.
NUVO: West Africa is a region that is rich with extraordinary guitar players. Was there a particular guitarist you heard back home that first hooked you on the sound of the instrument?
Loueke: Yes, there was a very great guitar player back in Benin named Papillon. He played with the group T.P. Orchestre Poly-Rythmo De Cotonou. I was also checking out Ali Farka Touré, and Congolese players like Tabu Ley, Franco, and Diblo Dibala.
NUVO: I'm speaking to you from Indianapolis, and I understand our hometown hero Wes Montgomery played a large role in your musical evolution.
Loueke: The first jazz guitarist I listened to was George Benson, and I wanted to go back and learn where he was coming from musically. That's how I discovered Wes Montgomery. For me, Wes is still the best of all time. He's my favorite guitar player ever. Though I don't sound anything like him because I can't. Wes is not like one of those musicians who went to music school. I've been to many music schools, but I think the best way to learn is by ear. Of course, you need some advanced harmony concepts, but I don't think it's completely necessary to go to school to play this music. Jazz is music that really connects with the heart. School is great, but you have to keep the heart first. That's what I hear from Wes; his music is all from the heart.
NUVO: You often accompany your work on guitar with a unique style of vocalization that sounds very reminiscent of South African music. Tell me how you developed this sound.
Loueke: When I was younger, around the same time I discovered Wes, I was listening a lot to Miriam Makeba from South Africa. She was from the Xhosa culture, and in that language they speak with a click sound. I don't speak Xhosa, but I was inspired by the sound, and I used to imitate her. Later on when I got more into jazz, I totally forgot about it. But one day I was at a gig with my trio, and after the gig they asked me, "Man, what was that thing you did tonight?" I didn't realize it, but I was singing with the click in unison with some of the guitar lines I played. From that point, I started developing that sound, and now it's really part of what I do. I use the click as a rhythmic approach to what I'm doing. It has nothing to do with the Xhosa language because I don't speak it. (laughs)
NUVO: I partially bring that question up to reference your 2008 recording of the classic standard "Skylark." That song was written by the beloved Indiana composer Hoagy Carmichael. Your version of "Skylark" is one of the most unique interpretations I've ever heard, and to my ears, it incorporates a strong South African feeling. I'm curious how you approached arranging "Skylark" for your group.
Loueke: I like to experiment and play standards in a nonstandard way. In other words, I like to put my stamp on a song. That's what I did with "Skylark." It was a double challenge because I think we played it in 7/4 time and the original is 4/4. In Africa, there's a few places where you can hear 7/4 time, but not too many places. Most music on the African continent is 4/4 with all the variations on 4 like 12/8 or 6/8. But I like odd meters. I listen to a lot of music from Eastern Europe where they have a lot of different meters that I like. I think I was just messing around with my guitar, and the melody just fit naturally with 7/4 time. The guitar on the intro and coda is typical of West Africa and the guitar heroes I had growing up with like Franco. So that part is definitely more Congolese. It's a combination of a few things.
NUVO: So your "Skylark" represents South Africa, West Africa, Eastern Europe, and Indiana?
Loueke: Exactly! (laughs)