Disclaimer: No, I don't think my pictures turned out well. Get off my back and read my article to find out why. Pls...
INCUBUS IS COMING TO INDY AGAIN?!? I was so stoked when I heard the news. The first time Incubus performed in Indy was in 1997 at the Pepsi Coliseum. Since then, Incubus has had a long history of playing large venues here in town. Venues like Klipsch Music Center (2012, 2017), the Lawn (2007, 2009, 2015), and Verizon Wireless Music Center (2003, 2004, 2011). The smallest venues they've played were the Egyptian Room in 2001 and IU Auditorium in 2004. With this said, it's been some time since Incubus has given their Hoosier fanbase an intimate show. 
The Murat Theatre at Old National Center seemed like the perfect venue for Incubus to return to Indy for the "20 Years of Make Yourself and Beyond" tour. Dreams of Brandon Boyd singing "A Certain Shade of Green" and "Warning" filled my thoughts. Brandon Boyd... LIVE, IN PERSON, ON STAGE. Where you're so close to him you can see the sweat dripping down his face. Let me explain.
Incubus was one of those bands that I listened to during my "angsty" teen years. They were one of those bands that made me feel a little more normal throughout the day — one of those bands that when you revisit their music, it floods your ears with a million memories. So, of course, I wanted to attend.
I started looking at ticket prices ranging from $49 to $149. I felt that was a fair price for a band with that much history here in Indy. Although I would've love to pay those prices, I figured I would first check to see if someone had already requested photo credentials through NUVO. Thankfully no one had, thus I requested the biggest photo gig of my life. I've taken pictures at smaller venues like Square Cat Vinyl, White Rabbit Cabaret, Dugout... you know, the Fountain Square music scene. Nothing like the Old National Center. (Shit! I've only taken pictures where there were no rules!) 
If you're curious... When NUVO gets press credentials, we're given a schedule for a show, where to meet, and what songs you're allowed to photograph. You may or may not be allowed in the pit. In this case, we were only allowed to shoot from the aisles. Looking at the task at hand, especially for a new photographer, I didn't have the right equipment at all. The lenses I own are a 50mm and "the pancake" 24mm lens. Both are great if you're close to the band, and not so useful from far away.
Thankfully, NUVO requested two passes, so I quickly asked my friend Steph if she would join me. I knew she was interested in photography and learning her camera. She had two lenses (an EF75-300mm and an EF-S17-85mm), and she seemed interested in Incubus. I naively told her she should bring her camera along, which ended up being "against the rules." We tried anyway and got it in. She had fun dabbling around with it and getting in her own confrontations with security (since she didn't technically have a photo pass...whoops). I'm also super thankful that she let me borrow her EF75-300mm during the show.
SHOW

Le Butcherettes
Le Butcherettes opened for Incubus. A garage-punk band founded in Mexico, their music was chaotic for sure. To explain what I mean by chaotic, the lead singer's name is Teri Gender Bender — a name that explains exactly how she wiggled up on stage. Accompanying her was drummer Alejandra Luna Robles, guitarist Rikardo Rodriguez-Lopez, and keyboardist Marcel Rodriguez-Lopez. I'll give it to them — the stage was certainly alive with some weird feminist chanting. If you're into that sort of thing, you should check them out.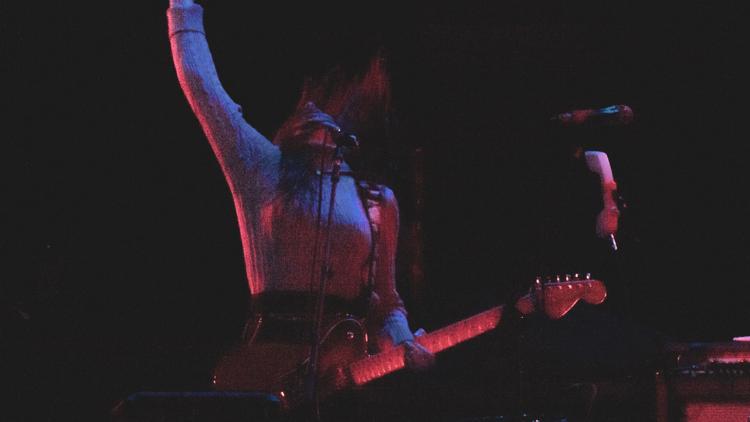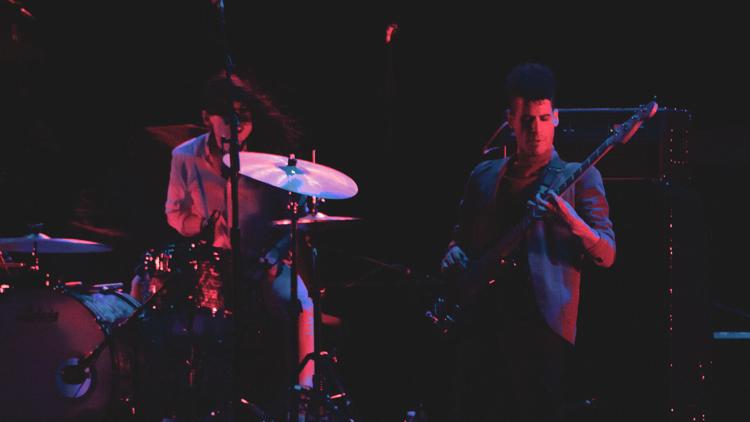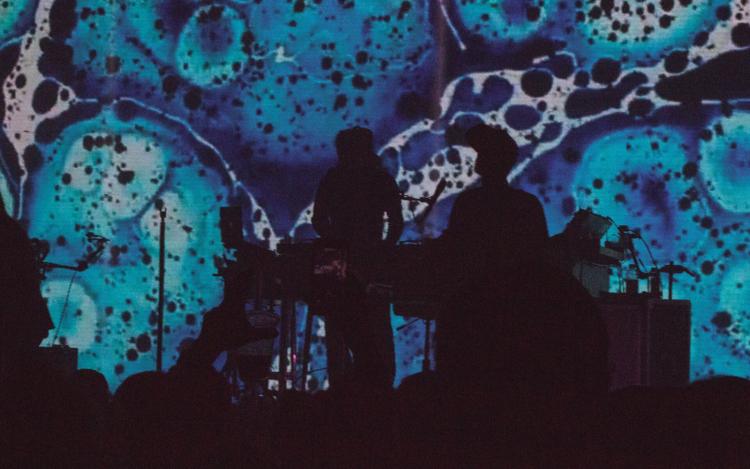 Incubus
When Incubus took the stage, the crowd was full and everyone was amped up for the show. It began with a heartfelt video of the band. Then Incubus opened with "Privilege" and "Nowhere Fast". The atmosphere was good. Smells of buddha filled the room, and everyone was wiggling and singing along. Just like I expected, the Old National Center's Murat Theatre was the perfect venue to experience Incubus. 
From a photography standpoint
This is when the rush took full force. Knowing I'd only have three songs to take pictures, I was eager. I took a few pics and was quickly reminded of the photo rules. I was honestly just trying to get my settings right because I hadn't used the 75-300mm before. The Old National Center staff was nice about it and even showed me the show line-up to remind me when I could take pictures. At this point, we were on song three, which was Consequence. Better get ready...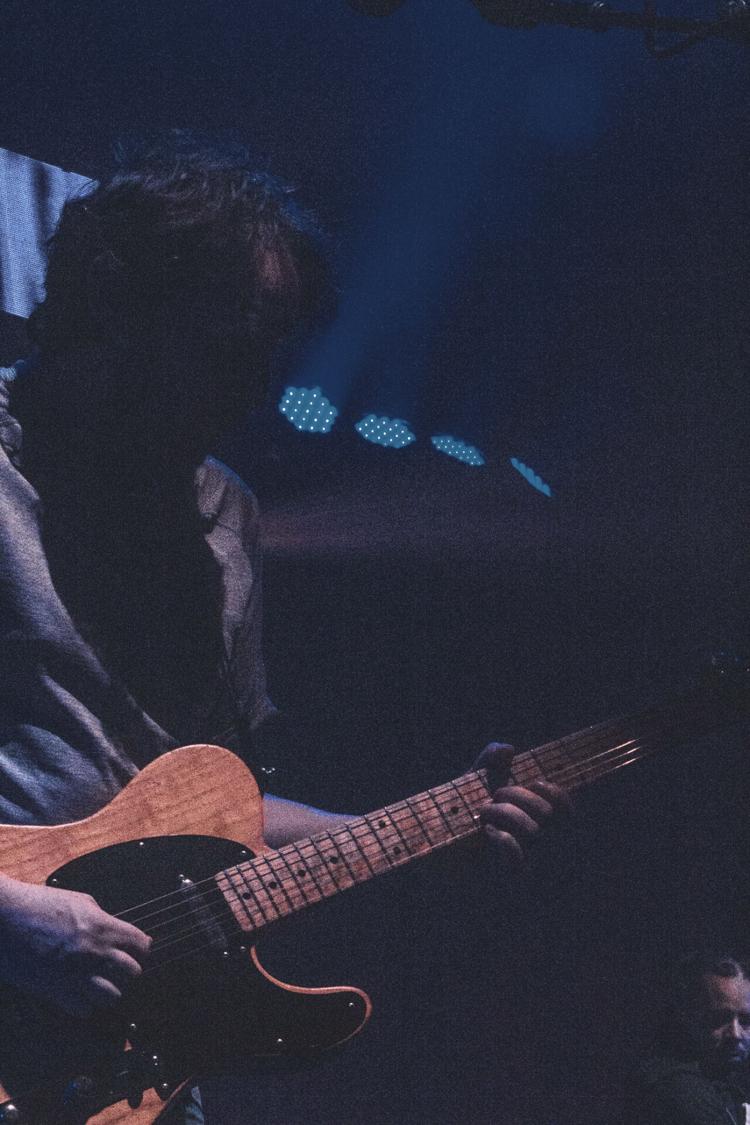 Song 4 - Stellar
Ok...GO. It was a rush, especially with the sounds of "Stellar" floating through the air. I took off down the left-center aisle. The plan was to spend 1.5 songs on the right side and 1.5 songs on the left. The fans were happy to let me in the front row. I honestly thought I got some good pictures of Alex Katunich and Brandon Boyd, but my settings were off all night (haha). :(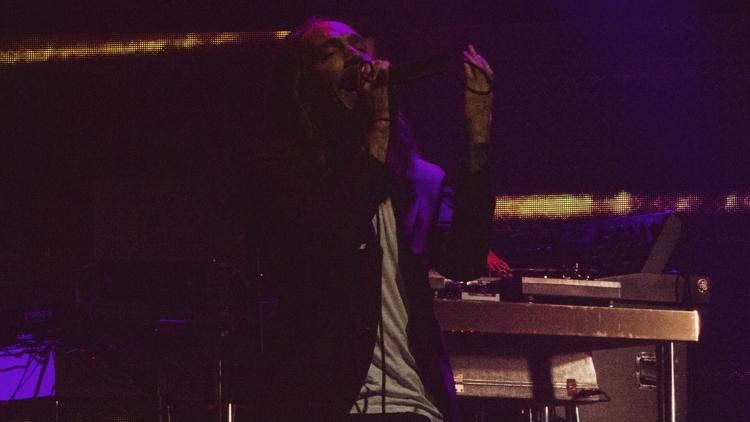 Song 5 - Make Yourself
When "Make Yourself" came on, I started making my way to the left side, and this was when I realized some security guards are way more strict than others. I walked up and started taking pictures next to another photographer when a security guard told me I wasn't allowed to take pictures there. After wasting almost an entire song telling him that I was told I could shoot from any aisle, he let me take a few pictures while he asked his boss if I could stay there. 
Song 6 - Drive
When the security guard returned, he asked me to move to the side aisles, so I happily moved. Thinking I got the pictures I wanted up there anyway, I moved to the side aisle. The rest of Drive was fantastic. The crowd was in nostalgic daydreaming heaven listening to Brandon Boyd sing, "Whatever tomorrow brings, I'll be there with open arms and open eyes." 
We were able to stay for the rest of the concert, which was nice of the Old National Center to allow. Overall, the whole experience was such a rush, even though my pictures turned out looking like shit and I was scolded for not following rules. (Sorry, Old National Center! I'll follow the rules next time.)
Technically speaking, I know that next big show I need to drop my F Stop down and keep my ISO as low as possible. Mentally, I learned how it feels to have that rush, and I'm eager to improve my photography skills. As upsetting as it is that I got zero decent pictures during my first major gig, I have to remind myself that I am a beginner photographer. One day, I'll hopefully be a pro and look back at this giggling at my noob mistakes.
Photos and story by Beth Darragh