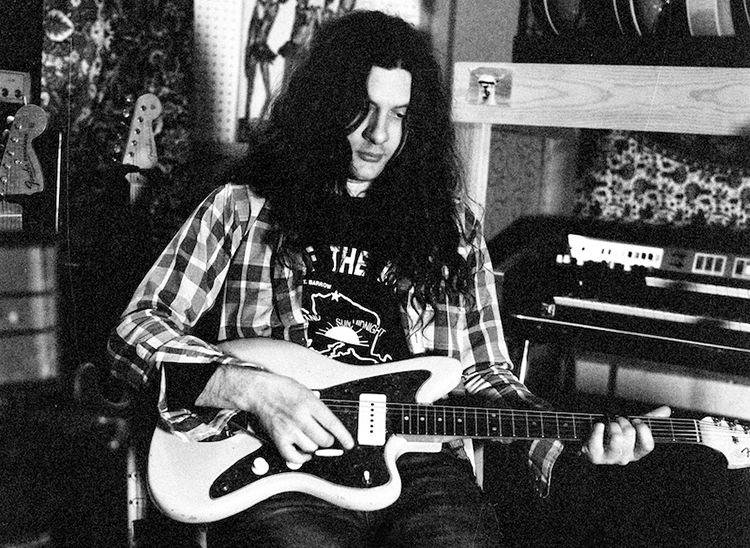 Kurt Vile remembers the first time he ever dove into a Kurt Vonnegut book.
"At the brewery where I used to work, in maybe 2005 or 2006, there was a copy of Slaughterhouse-Five," Vile says. "I picked it up and was surprised how it sucked you in right away. Obviously, he's got that weird style, but you can't put it down."
On Thursday, Feb. 21, Kurt Vile and the Violators will headline a show at the Vogue, receiving opening support from longstanding Canadian band The Sadies.
Beforehand, our Seth Johnson caught up with Vile for a phone interview, discussing Courtney Barnett, Kim Gordon, Kurt Vonnegut, and more.
NUVO: You mentioned your first time reading Vonnegut. What about his work do you like?
KURT VILE: I liked how he developed his own style, and he's not hard to understand at all. He's kind of cocky, and almost punk rock, to throw symbols in there and things like that. He kind of throws it in your face, but in such a great way that you like it. [laughs]
NUVO: Your first record, Constant Hitmaker, came out on Gulcher Records, which started out in Bloomington, Ind. Were you a fan of any previous Gulcher bands?
VILE: I respect a lot of the stuff on the label to be honest, like the Gizmos. Bill McCarter has got a song called "I Hear The Blue Sky Sing." It's an early lo-fi home recording. You've gotta check it out. There's other great stuff too.
NUVO: Shifting gears, what have you enjoyed about working with Courtney Barnett?
VILE: I just love her as a person, and I love her voice. We didn't know what was going to happen. I just wanted to do one song with her, but we hit it off as people. We almost became like brother and sister, but we could harmonize really well together too. If either one of us was in doubt, the other just had to reassure within two seconds.We got things done so fast.
I can't wait to do it again. There are no plans to do so, but I know it's inevitable at some point in our lives. Even if it was just for one moment, we developed a special relationship that nobody else can really touch in quite the same way. Then we went on tour, and it was even more special. I haven't seen her since. [laughs]
NUVO: Kim Gordon appears on your latest record, Bottle It In. Do you remember the first time you ever heard Sonic Youth?
VILE: My manager lent me this book on the Lollapalooza of 1995, which Sonic Youth headlined. I was there, and that's the first time I honestly heard Sonic Youth. I was going to see bands like Beck and Pavement. I had heard good things about Sonic Youth. I liked their album covers, but I hadn't heard 'em yet. That was a crazy way to see 'em. Most of the bands that were on that Lollapalooza have become my favorite bands in various ways.
Then, I got Sonic Youth's Dirty. I honestly didn't love it right away because they were a little more arty and abrasive. But then, I learned to love it. "The Diamond Sea" (which they ended with that night at Lollapalooza) hit me hard. I think that [Washing Machine] was the second album I got from them. Basically, I got deep into it a few years later.
NUVO: How did you and Kim Gordon end up working together on your latest record?
VILE: She became a big fan of Childish Prodigy [Vile's 2009 album] at the same time that J Mascis did. Dinosaur Jr. took us on tour for a few shows back in 2009. It was crazy. I just saw her at the merch table.
Then, I was working on a record [Smoke Ring for My Halo] with John Agnello. I knew John Agnello had worked with Sonic Youth and Dinosaur Jr., so that wasn't lost on me. Kim just became a big fan and wrote John Agnello an email while I was over there. She was like, "I loved Childish Prodigy so much. You better not fuck this record up. The pressure's on." She was sort of joking but sort of serious.
Then, towards the end of Sonic Youth's touring, I got to play shows with them. In fact, I think we opened their last show in America, and Kim and me became friends. [With the track we worked on together], I just happened to see her in L.A. the night before I went in to record with Shawn Everett for the first time. I went to see my friend Steve Gunn, and Kim was there in the audience. She said, "Let me know if you want some acoustic guitar feedback on this record," and I said, "Sure."
NUVO: You worked with other collaborators on Bottle It In as well. Did those teamings come organically too?
VILE: I would say so. This is the first record where I've worked in L.A., at least a little. Early on, like with Wakin on a Pretty Daze, I definitely had to ask people ahead of time. But by the time I got to this record, I knew enough people in L.A. where I would just ask people a day or so before if they would be around, if that.
For instance, Joe Kennedy is a great keyboard player. I hadn't played with him before, but he plays with Ariel Pink and I really wanted to jam with him. So I asked him ahead of time, but not even that far ahead of time. With Cass McCombs, we literally were just in the studio, heard he was around, and asked him to come in. There were a lot of times where we just saw who was around that day. [laughs]
NUVO: I know you and Dean Ween worked on some material together. Talk to me about that experience.
VILE: I recorded multiple songs with Dean Ween, and I haven't seen them since last winter, more or less. I can't wait to work on them again. We were really going at it, and I would hope we'll put something out one day. The stuff we did is really cool. I can't wait to do more, but I don't know when that's going to be. I've just been so busy, but hopefully he's still into the idea of working together one day.