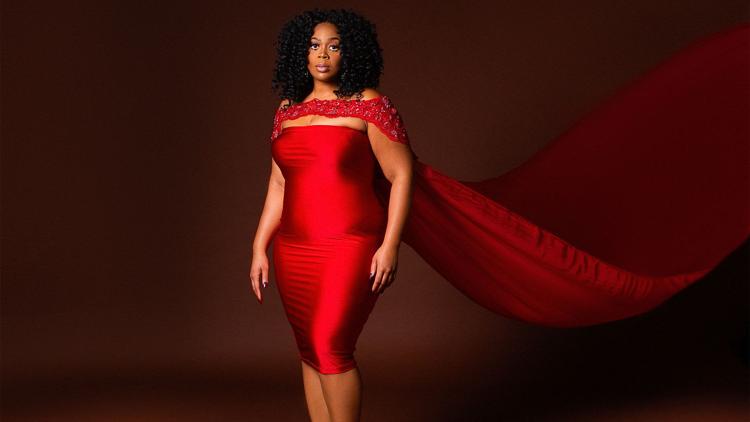 Growing up, Keiana Whatley often found herself getting into a lot of trouble. While attending Ben Davis High School, however, the multi-talented artist received some words of encouragement from an English teacher, forever sending her down the positive path she's on today.
"We had some kind of creative writing assignment, and I just started writing," Whatley recalls. "[My teacher] was just like, 'You have a beautiful gift.'"
"She told me to stay after school and be a part of the speech team," Whatley continues. "Speech was definitely an influence to what I'm doing now."
Whatley now makes soul music under the moniker of Keke Songbird, while also working as an actress, motivational speaker, and more. On March 22, Whatley will be releasing her second musical project titled Luminous, following that up with a release concert billed as "The Luminous Experience" on May 4 at Theater at the Fort.
As a youngster, Whatley was primarily involved with music through church.
"i used to sing in the church choir," she says. "When I was young, I remember how music would move me."
While attending Ben Davis High School, she was discouraged by how little recognition Black History Month was getting. Rather than letting it go, she decided to be proactive.
"I went to the adviser, and I was just like, 'I want to do a Black History Month play. Because I feel like you guys are not celebrating us the way we need to be celebrated,'" Whatley says.
With a natural knack for writing, Whatley quickly got to work, putting a production together all on her own.
"We ended up having a snow storm, and we were out of school for like three days," Whatley says. "In three days, I wrote an entire production. I could not eat. I could not sleep. I was so captivated and inspired because I knew that I would be inspiring other Black students in my school."
Members of the Ben Davis staff eventually got involved, and most of the student body wound up viewing the production.
"Every English class from sophomore to senior years in Ben Davis High School was required to come see my play, and it went all the way until the end of March," Whatley says.
After moving on from Ben Davis High School, Whatley continued to blossom creatively, releasing her debut music project Diamond in the Rough in 2016.
"I would say Diamond in the Rough was my first baby," Whatley says. "It was my first time being in a professional studio and actually branding myself as a singer. Diamond in the Rough was basically my gift to the world, saying, 'I'm about to be this great artist. Just give me time. I have not even arrived.'"
Whatley then went on to release the song "Queen" in 2018, bringing on Mariah Ivey and Uzuri Asad as guest contributors. This was followed by the "Queen" remix, which features guest verses from Allison Victoria, Manon Voice, and Syd Blane.
"'Queen' is about women empowerment, and specifically Black women empowerment," Whatley says. "I just felt like it was necessary. I just wanted to give back to the women who are a part of my life."
"I wanted young girls to look up to something that doesn't overly sexualize them. [I want them] just to be powerful, beautiful, elegant, and royal. That's how 'Queen' came about, and the song speaks for itself."
All in all, Whatley's message to Indianapolis is one of empowerment.
"Every time somebody sees me perform, I hope there's an awakening inside of them," she says. "Whatever it is you want to do in life, you can do it."