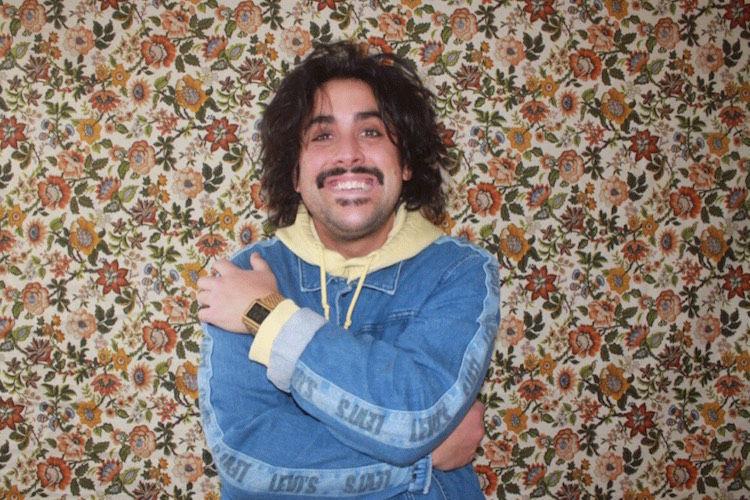 John Stamps has toured the U.S. in a jam-packed church van. When push came to shove, the Indianapolis rapper and his former Ghost Gun Summer partners would even camp in a park rather than booking the night at a hotel, just to save money.
With all this being said, Stamps will often take a step back, reflecting on where he's been and where he'd like to go.
"Going into work, I'll drive by HI-FI and see a giant tour bus parked out back," Stamps says. "I'll fucking drive down and check that thing out. I'll think about how nuts that would be. I don't think it's anything that's unattainable or far away either. It builds character."
Recently, Stamps unveiled his latest studio project titled Dark Age. The follow-up to 2017's House Plants, the eight-song EP was co-produced by KNags and Jordan Moody, and features the thumping single "Like That." On Saturday, March 16, Stamps will celebrate the release of Dark Age with an intimate show at Grand Union Tattoo, located at 421 Massachusetts Ave.
Long before his days headlining bills all across the city, Stamps could be seen performing shows at the ES Jungle in Broad Ripple—an all-ages, Piradical Productions venue that no longer exists today.
"I started actually doing shows at the ES Jungle, and that was mainly because of Sirius Blvck," Stamps says. "That's how I was introduced into the actual music scene here. Everything I had done up to that point had just been me going off of high school and college fan bases, and that wasn't even an actual scene or anything."
In addition to the ES Jungle, Stamps would take gigs wherever he could find them. Oftentimes, this meant performing alongside acts he did not sound like at all.
"It's still a pretty common occurrence now to have a multi-genre show," Stamps says. "But at that point, it just seemed like it was out of necessity because that was the only show that we could really get on before we were 21 and could fill those rooms. There's not really a lot of options other than that and house shows."
"Every once and a while, we'd get to play somewhere [that was 21+], but you'd go up, you'd perform, and then you'd leave," he continues. "Even with that, if you can't bring people out, they're not gonna book you. So I think that's why there were so many house shows and shit like that back then. Because there wasn't really any other option."
Stamps would eventually become a part of Sirius Blvck's Ghost Town Collective, which also featured fellow Indianapolis rappers like Grxzz and Peteyboy. Over time, Stamps and Sirius eventually cross paths with Freddie Bunz, Grey Granite, and Oreo Jones, going on to form the hip-hop supergroup Ghost Gun Summer.
"My dad was always like, 'Look at your five closest friends because that's who you'll end up being like.'" Stamps says of Ghost Gun Summer, which has since disbanded on good terms. "With them and KNags, it was a very good group of five people to surround myself with."
While a part of Ghost Gun Summer, Stamps learned several valuable lessons, including the ins and outs of touring.
"If you know the bartender's name and you have a good repertoire with them, then the month leading up to your show, they're telling everybody that walks in about you," Stamps says. "It's just little shit like that."
In his opinion, there is only so much you can know about touring without actually going out and doing it.
"I don't know if it's something that other people [in Indianapolis] are missing, as much it's something we [Ghost Gun Summer] have gained and acquired," says Stamps of his DIY touring know-how. "It can't be bought. You can skip that step, but you're not going to be better off for it."
As for his latest Dark Age EP, Stamps says he has never put more effort into one single release.
"KNags and Jordan Moody [the producers] sent some tracks back and forth to each other 20 to 30 times," Stamps says. "And, then, they'd come back to me, and I'd be like, 'Well now that you did that, this would actually sound tighter.' We really put hours and hours into tracks just because we were really stoked on 'em."
In reflecting on the EP's overall themes, Stamps says Dark Age touches on some of the recent struggles he's faced in life.
"The past couple years, I felt like I'd been in a rut," he says. "I feel like I'm finally coming out of it and in a positive headspace. It's just a reflection on that."
Looking ahead, the Indianapolis rapper says we can expect more releases from him before the end of 2019.
"My goal is to drop two more projects by the end of the summer," he says. "I just plan on being a lot more active. I've got my momentum going."