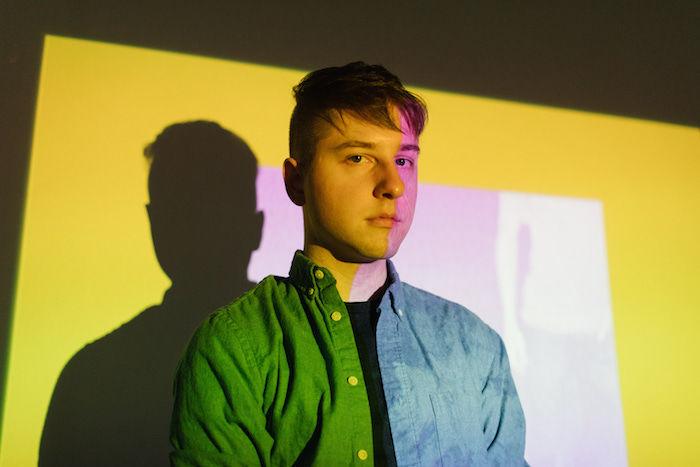 Indy native Joey Walker writes songs for the obsessive music listener.
"I'll often do this thing where I'll find a song that I really like, and I will listen to it on repeat for like 12 hours straight," Walker says. "I guess I make music for the type of person who does that sort of thing."
After releasing his album Queer in 2017 via Darling Recordings, the openly gay singer-songwriter returned on Friday, Jan. 18 with another Darling release titled Supersoft. Written and recorded in Walker's bedroom, the follow-up effort is both simple and shimmering, with a raw vulnerability that's strung through each of its nine tracks.
Born and raised in Speedway, Walker admits he's always been a little subversive in nature. "I was just always a weird kid that looked normal from the outside," says the self-proclaimed "twink rock" artist. "When I was in kindergarten, I really, really loved Marilyn Manson. [laughs] My childhood name for him was The Evil Princess because there was a music video of him where he was wearing a wedding dress." After playing in school band for a bit, Walker eventually decided to start putting his own songs together as a teenager.
"I think music really started to become a more serious thing for me freshman year of high school," he says. "That's really when I started branching out and listening to different music, and also realizing that it was something I could do myself."
After moving to Bloomington for college, Walker eventually linked up with Nick Faidley of Darling Recordings through fellow singer-songwriter Stone Irr. "I actually made a record back in 2012 under a different name," Walker says. "When I met Nick, he told me he really liked it, and we went from there." This eventually led to the Darling Recordings release of Queer in 2017.
"That album was first time I really decided, 'I'm going to write songs that interact with sexuality, be it mine or something fictionalized,'" Walker says. "I needed to title the album that to get in the mindset of starting to understand my work as a queer person, or as someone deviating from 'normal.'"
Contrastingly, Supersoft is simply a title inspired by the video game Final Fantasy IX. Nevertheless, the album still carries weight to it.
"I don't want to depoliticize what I'm doing because I think there's inherently a political bent to it," Walker says. "I don't think it's possible to erase that. Listening to the music and knowing who I am, it's pretty clear where I stand on the battlefield in the political atmosphere."
On Monday, Feb. 18, Walker will make a rare live appearance at the Blockhouse Bar in Bloomington, performing alongside fellow Indiana-based singer-songwriter Peter Oren. For more information on the show, be sure to visit the Blockhouse Bar's official Facebook page.