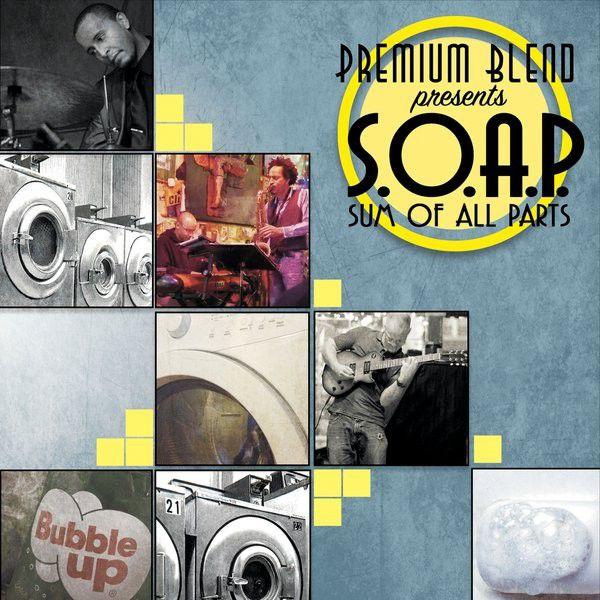 Saxophonist Jared Thompson is a leading light of the Indianapolis jazz scene. Jared's group Premium Blend has been a fixture at spots like The Jazz Kitchen and Chatterbox for nearly a decade. As national acts like Robert Glasper and Kamasi Washington have grabbed headlines for expanding the boundaries of jazz to include influences from hip-hop and neosoul, Premium Blend has been exploring similar territory on the local scene. So, it made a lot of sense when Jared signed on as a member of Clint Breeze and The Groove.
Kyle: I know you have an important new album release coming up soon with Premium Blend. At a time when your focusing on moving forward with your own band, what drew you into becoming a member of The Groove? 
Jared: Clint Breeze and The Groove started about a year and three months ago. It started as something where Carrington was trying to get a collective of musicians together to actually play his beats live. 
Carrington was a guy who would come to the Chatterbox when Premium Blend was playing. He would come and hang out and sit in and learn from us. It started out as a mentorship thing. Then he started putting the pieces together to form his own band and I wanted to help. Having been a sort-of teacher to him, I wanted to help him achieve what he was going after.
Kyle: Have you noticed any significant crossover between the audiences of hip-hop and jazz in Indianapolis since you started playing with The Groove? 
Jared: I think even in the most basic sense, younger MCs are starting to realize their genre owes a lot to the jazz and funk genres that preceded hip-hop, even if they're not getting the full history of how jazz came about. They're understanding that jazz is truly in the fiber of this country's development, and they're able to get bits and pieces of the history. They're meeting people at the shows who are students and disciples of this music and its history. They're able to take it in little by little and it's opening up that rabbit hole for them. Now they have an authentic and genuine point of reference to jazz. Even if it's not something they're going to latch on to and totally be about, they're understanding the importance of jazz in the music they're trying to create themselves. 
Kyle: How did you feel about Carrington using the Nappy Head album to make a statement about racial oppression in the United States? 
Jared: Carrington is a young Black man that is coming in to his own in this society, whether he's playing music or not. He's noticing things that many of those before us have always noticed. He wanted to make a very "this is the Black experience through my eyes" kind of record. 
Some of the musicians in the band, and some of the musicians on the record notice the same things. There are some white members of the band that also agree that the Black experience is not equal to the white existence. When we put all these things together, we can recognize without alienating. This is a very pro-Black record, but it's not anti-white, and it doesn't mean that if you're not white you can't get anything from it. It's not an exclusive record. It can be an educational tool for people who are not Black. It can be a tool of affirmation for those that aren't Black to learn how to understand what we're going through in this country. 
Specifically, "Blood Splatter" touches on everything exploitative. That can go from Blackness, to homosexuality. I'm an openly gay Black male. That line "fuck your gayness, unless it's exploitative," I appreciate that a straight Black man [Too Black] will put that in such a strong and thought-out poem, because it is important. I find myself at the crossroads of many different intersections. I'm a musician. I'm Black. I'm gay. Some of those things just don't jive with people.