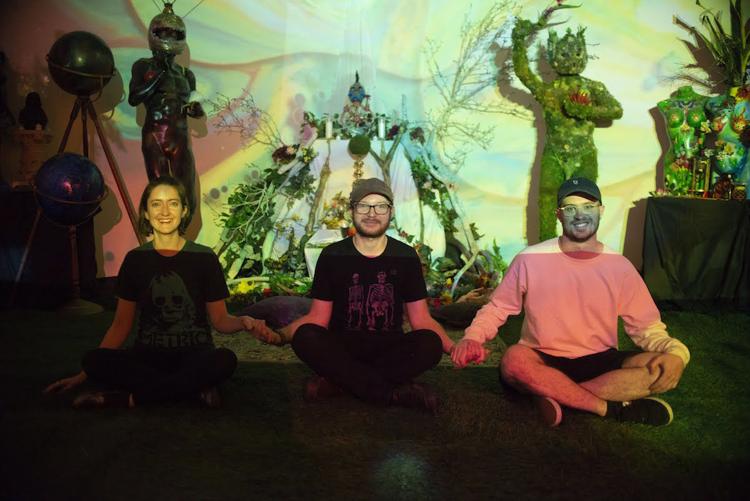 On the outside, a new Indianapolis venue by the name of Healer looks like a regular old strip mall storefront. Take a step inside, however, and you'll find that the southside space is a whole world unto itself.
Located at the corner of Bethel and Raymond, Healer is equal parts arcade, bar, music venue, and art space. Having hosted local and regional music acts of all varieties since opening in late September, the venue also features whimsical installations that encourage visitors to explore the art each and every event.
"Everything is meant to be a fully interactive play space," says Healer art director and co-founder Matt Panfil. "We really encourage people to play with stuff. If it can be as transportive as possible, then I'm happy."
Long before its days as Healer, the once Health Net billings office served as a practice space for the now-defunct Indianapolis band Dog Brother. "We did that for three years until we realized this space was being wasted," says Ben Sutphin, who founded Healer with Panfil and former Dog Brother bandmate Colin Oakley. "[We figured] we ought to be throwing shows here because the location is perfect for that." Rather than creating a traditional DIY music venue, it was decided that Panfil would instead turn the place into a play space filled with immersive art.
"Installation art has the capacity to unite many different art forms and be something that is immersive and experience-driven, rather than making art an observer, spectator-based experience," Panfil says. "I want Healer to be the antithesis of the white cube gallery experience, where you go in and there's a barrier between you and the art."
Upon walking into Healer, visitors will notice that the old office cubicles are still in place. However, each cubicle houses its own otherworldly art installation. "I worked in a cubicle in an office building in Carmel, so it's really nice to subvert that aesthetic," Panfil says. Healer also features a manmade grassy knoll near the venue's stage, constructed out of old Astroturf taken from Lucas Oil Stadium.
"It's cool because you can lounge out while listening to music," says Amber Wolverton, who serves as Healer's organizer of logistics. "When we have shows, you'll see tons of people laying out there."
While exploring Healer's nooks and crannies, visitors also come across a '90s-themed arcade room designed with the ideal slumber party in mind. "There are game systems and movies playing," says Panfil, adding that the room features classic game systems like Super Nintendo. "During shows, you'll have tons of people in there playing all the various games." Those who are 21-and-over can also survey Healer's nautical-themed bar known as The Sink.
With a new album titled PSYCHO/TROPIC due out in December, Indianapolis musician Joshua Powell featured Healer scenery in a music video he released for the song "Arrowheads or Worse." In addition to regularly attending shows at the space, Powell also practices at Healer with his band as well. "Whether it's for simple rehearsal or creating an alien environment beneath lights and projections, the space feels like a safe and natural place to explore the weirder elements of your creativity," Powell says.
As someone who regularly performs all over the city, Powell is especially excited that Healer is an all-ages venue.
"I love that there's another hip all-ages space for shows," Powell says. "Other all-ages rooms often don't live up to their potential because they get kind of genre pigeon-holed, which hurts the overall unity of the scene I think."
He continues, "I know the intention behind Healer's booking is to be open, diverse, welcoming, and safe. I think that if they maintain the caliber of high quality shit they're booking, it can become an establishment."
Going forward, Healer will continue to throw more shows, with the hope of branching out into other staged mediums such as performance art and theater. In the meantime, Sutphin and company just hope for continued support from Indy's creative community.
"The music community has absolutely loved it," Sutphin says. "We've had a lot of people who play here or show art here and want to help out afterward. It wouldn't exist without their help."