Like most of his basketball heroes, Indianapolis rapper Double A likes a good challenge. With the East Coast-leaning, Wu-Tang-style beat on his latest song, "Luka Freestyle," the local rapper got just that.
"As an emcee, if you don't come with it on a beat like that, you'll get exposed really quickly," says Double A, whose real name is Aaron Marshall. "I respect that, and I like that challenge."
Not surprisingly, Marshall landed on his feet with ease, rhyming "roster" with "Betty Crocker" while also pulling a clever jab or two in the process.
With more heat presumably on the way, Double A caught up with our Seth Johnson for a phone interview, discussing basketball, his thrift shop (Naptown Thrift) and much more. Read their full conversation below.
SETH JOHNSON: Where did you originally grow up, and what role did music play in your upbringing?
DOUBLE A: I originally grew up in Broad Ripple. Music was always played around the house. It was a lot of Michael Jackson, John Mellencamp and stuff like that — it was a wide range. Funny enough, hip-hop really didn't come into play until I was a young kid in grade school. I went through Washington Township, and I was exposed to my friends listening to it. I didn't really know a lot of what they were referring to, so I kind of took it upon myself to get familiar so I could be a part of their conversations and relate to them on a deeper level.
For high school, I actually went to Culver Military Academy up north in Culver, Indiana, which is about two hours north of here. So I spent my high school years two hours away from the city, and then moved back here for college when I started at Butler. So I was right down the street from where I had originally grown up, but there was a whole process of getting reacquainted with the city after being away.
I was still honing in on my hip-hop skills while at boarding school, ya know, practicing recording and getting better at my craft. And then when I came back to Butler, I got a chance to get my feet wet within the local music scene of Indianapolis.
JOHNSON: So when was it that you started rapping?
DOUBLE A: Probably in middle school, maybe in seventh or eighth grade. My dad is actually a guidance counselor, and he's worked in the school system since I can remember. At that time, he was working at Fox Hill Elementary. They had desktop MacBooks but were doing an upgrade, so they just let the faculty members keep the old models. Sure enough, that had GarageBand on it, so he just let me use it to work on music. That let me practice and play around with stuff.
In high school, I had a laptop, which also had GarageBand on it. And then, I was able to get a mic for my birthday during my sophomore year, so I was actually able to professionally record things. Well, as professional as a high school kid can be in his dorm room. [laughs] I got to play around with engineering stuff and really started to hone in on my craft. And then when I came back to Indy, I took that to a whole other level.
JOHNSON: What would you pinpoint as your first release?
DOUBLE A: As far as when I started to get recognized in Indy, I would probably say deLAwhere. That was in 2017, so I was a junior at Butler. In the summer of 2016, I went to L.A. for an internship with HipHopDX. I got to work on interviewing people and transcribed a lot of interviews. So I was doing the dirty work, but was also around Hollywood and people within the industry, which was really cool. I brought that knowledge back to Indy and thought to myself, "How can I apply this to my current situation here in Indianapolis? How can I further my career, at least locally, with what I've seen in L.A.?"
From that came deLAware. I called it that because I grew up on Delaware Street here in Indy, but there's the "LA" in Delaware. So that was the combination of L.A. and home in one project, and it came out in the spring of 2017. Spring of 2017 is also when I had my first show in Fountain Square at GPC [General Public Collective]. From that moment to now, it's just been a waterfall effect.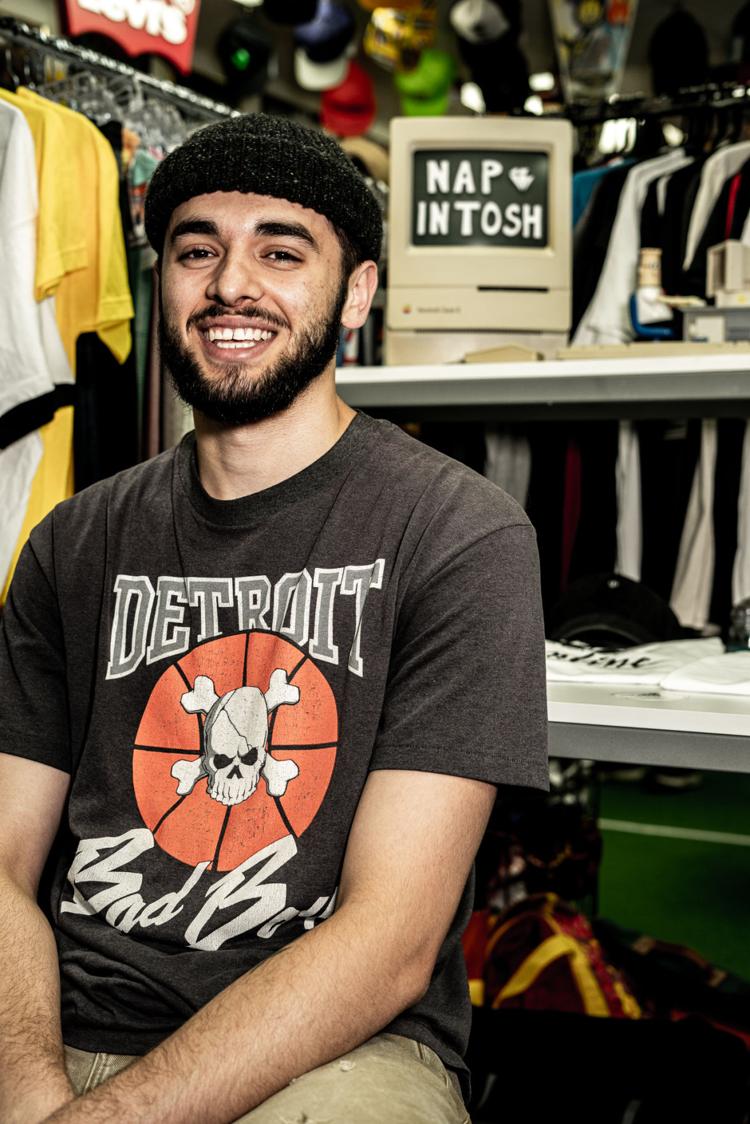 JOHNSON: You mention that GPC show as being a turning point in your career. That being said, who have been some individuals in the local hip-hop community that were crucial to you getting plugged in?
DOUBLE A: That GPC show was actually the resurgence of The Dojo, and Gritty & the Craftsman were the hosts. Funny enough, Gritty got put onto me by my fiancé's dad, who was his mail carrier. He's like the ultimate plug of my music to anybody he comes across and was plugging me everywhere. So I want to say that was the initial connection.
Sirius Blvck may have been at that show and gave me a look for Chreece that coming year. And then, [I met] guys like Diop and Willis, who helped me hone my sound in.
JOHNSON: I've noticed how much you reference basketball in your bars. As a fellow basketball lover, I'd be curious to hear how much basketball has played a part in your life over the years.
DOUBLE A: Basketball is huge in my life and still continues to be — I still play whenever I can. My dad was really into basketball and played in high school. He saw me take an interest in it, so he really worked to improve my skill set. I actually got cut from my seventh grade team but still got to play on a different team, and that whole experience of team building was huge. Further than watching basketball on TV, actually getting to experience that whole team aspect was big in translating to other things, like hip-hop or a local scene. It's like you're a team, and you want to see them win. So I took that basketball mentality and applied that to music as well.
There's also the lore that comes with watching the NBA and college basketball. Being into different players who have different names, and those names rhyme with different things. You just have basketball as this entity that has endless outlets for what you want to do with it. Feeray actually just released a project last year called More Than Enough, and we had a track on there called "Legendary" that's all basketball bars.
JOHNSON: What inspired you to first start Naptown Thrift?
DOUBLE A: This is a good segue because it was really basketball that heavily started my interest in fashion, sportswear and streetwear. I saw what guys were wearing, but also my parents would go thrifting and I'd tag along with them. I'd look for sneakers and jerseys. I was into Michael Jordan and wanted to wear the Jordan gear. As I got older, that taste transitioned to vintage '80s and '90s stuff.
Being at the military school, I didn't really have an opportunity to wear that because I was in a uniform all the time. So when I came back to Indy and was at Butler, we were finding all of this stuff and thrifting heavily my freshman year. I was wearing it around campus, and we started to see that my friends were taking interest in it. And then, we saw shops like Round Two on Instagram that were making a living off of reselling vintage clothing and sneakers. That led me and my parents to take a step back and say, "Hey. This could be profitable."
So we started a little closet-sized storage unit off Keystone and put all our finds in there. I would take my buddies from Butler over in little carloads, and they'd shop our storage unit. We then started the Instagram page for Naptown Thrift in 2015. Once you start posting stuff publicly, more people from around the city find it. So then, I started booking appointments via Instagram with strangers, who just wanted to see our collection and shop. That then grew over the next three years to opening a storefront in the fall of 2018 at 2174 E. 54th Street.
JOHNSON: To my knowledge, there's a community that's grown around Naptown Thrift since you first started the shop. Can you speak to that community and what their support has meant to you?
DOUBLE A: Day in and day out, I say that we have the best customer base — they're people who really look to support us at every turn. That's been from day one, and I think it's because we built up the page and the brand so organically. We weren't trying to gain followers. We weren't trying to gain likes. We were literally just finding stuff, posting it on Instagram for people to see, and people were attracted to it naturally.
From there on out, we were meeting up with people one-on-one and rolling out the red carpet for them from the storage unit. It was a personal shopping experience, like some Rodeo Drive-type shit. [laughs] Even though people were shopping in a storage unit, they felt like they were having their own tailored shopping experience. I think that helped our customer base get to know us as people and not just the clothing.
When we opened in 2018 [on 54th Street], we had a huge opening because it was all those people from Butler, Instagram and wherever that remembered us along the way, loved what we did and showed out for that initial opening. We then had a fire happen next-door to us last fall, and that same base held us up again. Sure enough, we had our reopening this past February, and it was even bigger than our grand opening.
The people we've met have truly made this whole thing worth it. The cool thing, to me, isn't having a cool shirt, as far as what has the most hype or what makes the most money. It's when people come in, and they have a certain memory attached to a shirt. We get to share that exchange in the shop about some crazy t-shirt that only the two of us may know. That kind of sounds corny, but at the same time, you can't pay for shit like that. It's only something you get with a certain crowd and a certain type of inventory.
JOHNSON: You recently released your track "Luka Freestyle" across all streaming platforms. Do you have anything else major in the works right now?
DOUBLE A: I've honestly been doing a lot of features recently. I've also been working with a bunch of local producers and have a bunch of stuff in the stash, so something will likely come [from that]. I've just been knocking out features, too, because a lot of my buddies are dropping projects left and right. And if they want me on the project, I want to make sure I'm there for them, and it'll help us both out.
JOHNSON: You mentioned the Feeray track earlier that you were featured on in 2019. What other local rappers have you teamed up with lately?
DOUBLE A: I just finished up a verse for DisTincT. I just came out with a song with Baby Ebony. I just did a verse for Christian Taelor. I was just writing another verse for a guy by the name of Lando Martian. I just did a feature for Sirius Blvck and Oreo Jones on their new project, and I was pretty hyped about that. It's just been a bunch of different people. It's been kind of crazy.