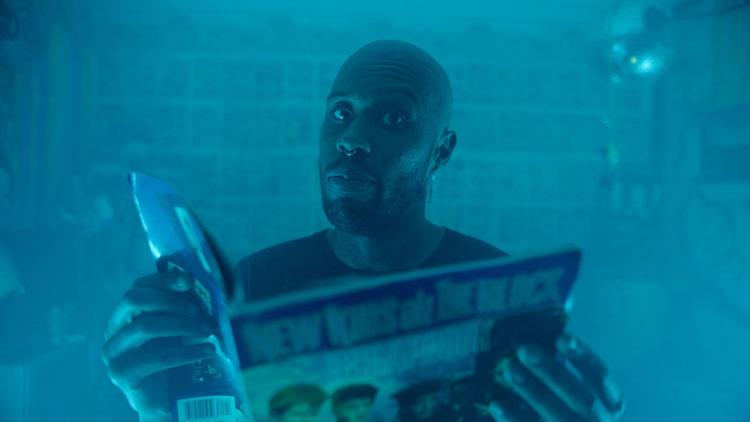 For local videographer Jake Huber, there's no such thing as a lofty idea. From filming Hoops in a public-access television studio to filming Oreo Jones in a moving glass-box truck, the music videographer extraordinaire isn't afraid to test the limits in order to help showcase local talent.
"It's just fun to meet people," Huber says. "If I have a crazy idea, most of the time, people will just say, 'OK, go for it.'"
If you've paid attention to Indiana music in the past year, it's likely you've seen Huber's impressive video work. Recently, he had a hand in an intricately plotted video for local rapper Flaco that involved a lively cast of elderly actors. Within the last year, he's also worked with notable locals such as Baby Ebony (formerly known as Dose), Diop, Double A, and Sonny Paradise, while helping local rapper DisTinct with his cypher series of videos as well. This is in addition to the work he does at Square Cat Vinyl, capturing artists' live sets and posting them to the Square Cat YouTube page.
Born and raised in Indianapolis, Huber originally started out in photography before choosing to go the video route. "Once I branched into video, I wanted to challenge myself, so I started doing some music videos for my friends," he says. "I learned from my mistakes and learned to network better, and finally, I started reaching out to more impressive acts." His first notable breakthrough came while working with Hoops on a video for their song "On Top."
"I found a Christian public-access TV station in Greenwood," Huber remembers. "A week before we were supposed to do this shoot, the people at the network looked up Hoops and saw they were doing a Planned Parenthood benefit show, and they canceled on me. So I spent four days straight calling all the public-access TV places in town, seeing if they had open slots or anything."
He continues, "Without spending thousands of dollars, I found Fort Wayne public-access TV, where if you're a citizen of Fort Wayne and you take a one-hour seminar, you can be a public-access TV producer. So I found a guy online, made him take this course, and he was my producer. I got Hoops to come into this Fort Wayne public-access TV station. It was a hectic time, but it was really good working with those guys."
This experience served as a springboard for Huber. "Through that, I learned to just find the right people to make your crazy ideas come to life," he says.
In addition to his music video work on the side, Huber has also been on the crew of an HGTV show for the past three years. The music videos have certainly served as a refreshing change of pace, he says.
"Just doing that day after day, I was like, 'I need to get out of my normal routine of doing a home renovation show,'" he says.
Over time, he's found other like-minded freelance video companions, such as Alex Faulker, Joe Sailer, and Turner Fair, who have helped make his video visions become reality.
"A lot of people here are kind of on the same boat as me, where they'll shoot sit-down talking-head interviews all day and not be able to go out and do something fun, like putting Oreo Jones in a glass-box truck and driving him around the city," Huber says.
Local artists are certainly grateful for the work of Huber and his counterparts as well. "I just sent him the song and the lyrics, and they did all the location scouting," says Sonny Paradise, who worked with Huber on his "Adlibs in the Street" video. "They did the storyboard. They did everything. I can't thank those guys enough. They did their thing with that video."
According to Baby Ebony, Huber is a lot of fun to work with too. "You can be super comfortable around him," Baby Ebony says. "He's funny as hell, and the energy and creativity he has is very comforting."
Looking forward, Huber's video for the Baby Ebony song "Euphoria" will premiere at a listening party on Aug. 4. And although it has no set release date, the glass-box truck video from Oreo Jones (a video for Jones' Michael Raintree project) is one to keep an eye out for too. From there, expect more of the same music video work from Huber.
"It's just rewarding to see exactly what you had envisioned come to life," Huber says. "I think I'm just addicted to that feeling right now."