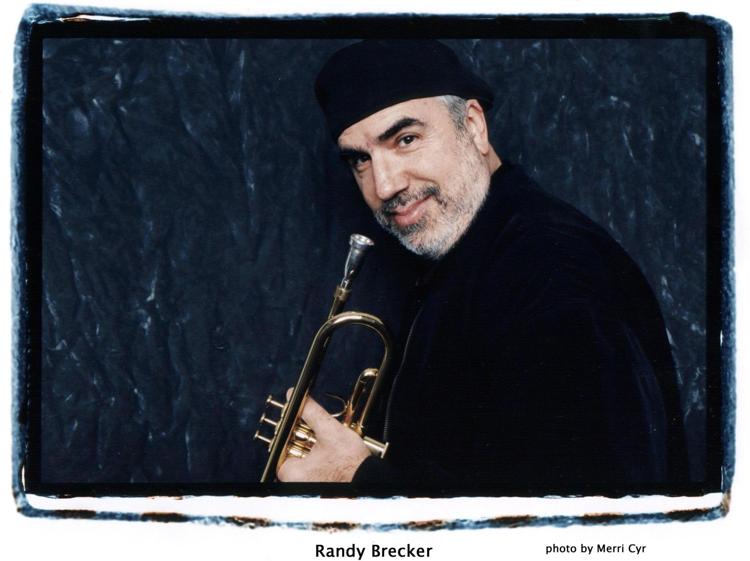 I grew up seeing Randy Brecker's name in the credits of all my favorite records, from monumental rock LPs like Lou Reed's Berlin, and Todd Rundgren's Something/Anything?, to jazz classics from icons like Horace Silver and Yusef Lateef. Eventually I got hip to the Brecker Brothers, Randy's long-running collaboration with his younger sibling Michael. During the 1970s the Brecker Brothers scaled great artistic heights in funky fusion music, and managed to sell a hell of a lot of records while they were at it.
It's nearly impossible to summarize Brecker's vast contributions to music in the scope of one piece. The man has truly carved out one of the most extraordinary careers in modern music – which makes it all the more impressive that a large chunk of Brecker's musical foundation was formed right here in the Hoosier state.
I caught up with Randy Brecker in advance of his Sunday, September 17 date at Indy Jazz Fest. Becker will play an intimate gig at the Jazz Kitchen with a line-up of Indianapolis jazz all-stars.
Kyle Long: I write a lot about the history of Indianapolis jazz and I wanted to ask some questions about your time in Indiana. I know you studied at IU from 1963 to 1966 with Jerry Coker. But I've heard that in addition to your studies at IU, you would travel to Indianapolis once a week to study privately with the great Indianapolis jazz master David Baker. Tell me how you became acquainted with Baker, and the whole process of studying with him. 
Randy Brecker: Well he was very well-known on campus at the time, but he wasn't teaching there. He'd gone to school there and maybe taught a little. But he was living at that time in Indianapolis, so I studied with him there. I had to drive there, you know. It's like an hour or so drive and I'd spend a couple hours every week at his house studying, mostly studying Monk at the time. He liked my playing enough to have me join this group, and I did some gigs with him the whole time I was at IU. Unfortunately he was never at the school. He came later and revitalized the jazz department. But I learned very much with him from day one. 
Baker was a genre-pushing music revolutionary who took Naptown jazz from Indiana Avenue to outer space.
Kyle: Do you remember what kind of gigs you're were playing in Baker's band? 
Randy: It was a quintet. David Lahm, who was at IU at that time was the pianist. Sometimes there was a slightly bigger band, and Pookie, the tenor player, would play.
Kyle: Yeah, Alonzo "Pookie" Johnson. 
Randy: Yeah, he played sometimes. Gee, you know it was such a long time ago that I forget some of the names. There was a bass player who was also in the Indianapolis Philharmonic and went to IU. I can't think of his name right now. Brant McKesson who was in the IU band, I think he did some of the gigs. We played around Indianapolis at various haunts, and I studied with Baker the whole time I was at school until the IU jazz band went on a State Department tour in 1966. 
I got a lot out of my studies with David. He was the only teacher that ever really taught me harmony, and Coker, too, of course. 
Kyle: Did you hang out much on Indiana Avenue? Do you remember checking out any of the clubs?
Randy: Not much really, because I was at school. I really basically just came in and did the gigs with Baker. Then there was a lot of work at school, so I went home. I went back to school. I didn't know that much about Indiana Avenue at the time. I learned about it later. I didn't know a lot of the local cats, I knew some of the names like Al Kiger. I remember hearing about some other guys, I'm just terrible with names. The tenor player who played with George Russell was great. 
Kyle: David Young?
Randy: Yeah, David Young. I heard him somewhere. I remember that, and I probably heard some other guys, but there was just a lot going on back then. 
I don't remember the names of the clubs unfortunately. But I heard Blue Mitchell with Chick Corea and Junior Cook at a club in Indianapolis. I might have heard Roland Kirk somewhere. I don't remember the name of the club, it was a real small joint. [note: the club was Mr. B's Pomp Room]
Kyle: Did you ever cross paths with Freddie Hubbard? I think he'd left town by that time. 
Randy: He was long gone. He was already an idol of mine. He left in the late '50s. He was six or seven years older than I was. I was very familiar with his playing, even when I was in high school. I first heard him on Blues and the Abstract Truth. I think that might have been my first exposure to him, and then I started buying his records. Later I became friendly with him when I moved to New York, also Virgil Jones who I had heard about when I was on the scene at IU. 
Also, I sat in a little with Wes Montgomery once. I gave him my credentials, so he let me play a tune when I was in Philly at a club called Pep's. But I didn't really get to talk to him very much. He was very nice to me.
Kyle: This is an off the wall question, but I wonder if you ever ran into a sax player named Charles Tyler who was also taking private lessons from Baker in the 1960s? He was a somewhat obscure avant grade player living in Indianapolis.
Randy: I recognize the name. I think he was on the New York scene for a while. 
Kyle: Correct.
Randy: I never ran into him or anyone else at the lessons, somehow. I would occasionally run into David Lahm there sometimes. Baker was also a pretty good piano player. So like I said, we'd study Monk tunes and he would sit there and play piano and teach me how to take motifs from the melody, or rhythmic ideas from the melody and try to work them into my solos. 
Kyle: It sounds like your studies with Baker were as meaningful as the education you were getting formally at IU. 
Randy: Yeah, Baker was great. I was at IU during the very beginnings of the jazz program, in fact I was there before the jazz program. What IU did have at the time was two good big bands. But there were no theory programs, and other than the bands there was no jazz. In some parts of the school jazz was even frowned upon. 
During my first year at IU there were two great teachers: Buddy Baker and Roger Pemberton. During my second year Jerry Coker came on the scene. He had a new book out, and he read from that book [note: Improvising Jazz, published in 1964]. But the theory course was still the traditional theory course. So I started getting my jazz theory mainly from Dave Baker, who codified a lot of the things I was already doing by ear. I'd studied some out of George Russell's book [note: Lydian Chromatic Concept of Tonal Organization, published in 1953], but I didn't completely understand it. So Baker helped codify a lot of that. 
Unfortunately the harmonic education I was getting from IU, I have to say there was something wrong with the program because I actually flunked in theory. About thirty percent of the class flunked too. I forget the guy's name. But if that many people don't understand, I think there's something wrong with the program.
Kyle: I understand that you had visited the IU campus in Bloomington before you enrolled at the school. You attended one of Stan Kenton's jazz camps in Bloomington.   
Randy: Yeah, I attended the stage band clinic. His whole band was there. I think it was the summer of 1962 as I remember. Cannonball Adderley's Sextet was there. Donald Byrd was there. So that was incredible. The school was brand new. The round building had just opened, and they had just received funding to try to hire teachers from New York, which they were doing on the classical side. So I really enjoyed my two week stay there. I met people my age like Dave Sanborn and Lou Marini, and Don Grolnic - guys that I would associate myself with for years. I enjoyed the look of the campus, and I liked the whole scene out in the Midwest. So when the time came to go to college, IU was first on my list. 
Kyle: One of the students you studied with during your time at IU was Booker T. Jones of Booker T. & the M.G.'s fame.
Randy: Yeah, how about that? It was just him there, and he started a different version of his band. He was studying music composition at IU. He took a liking to me, and we worked quite a bit those two years. Definitely in the first year, and maybe part of the second year. He was playing trombone in the second band and was studying music composition. But he did a lot of fraternity gigs at the school. That was my introduction to Stax and that music, because honestly I hadn't heard of Booker T. before. He hadn't quite made it to the East Coast yet with "Green Onions".
Our man Wes takes center stage at this year's Indy Jazz Fest.
Kyle: That's amazing. There was so much talent on the campus at that time.
Randy: It was great. I remember he had a white Cadillac convertible. The only time I felt like a big man on campus was when I'd ride in the front seat with him.
Kyle: You mentioned the State Department tour with the IU Jazz Ensemble. I would guess this was this was an amazing experience. In 1966 the band toured several countries throughout South Asia and the Middle East, from India, to Syria, to Iraq. What was that experience like?
Randy: To tell you the truth, I think it was life altering. Number one, this was a four month tour. Imagine that, sixteen weeks constantly on the road through all the Arab countries, and then India, Pakistan, and what was then called Ceylon. We went through all the Arab states: Iran, Iraq, Lebanon, Jordan, Syria, and Egypt. We spent a decent amount of time in each country. So we really got to catch a lot of politically what was going on, spiritually what was going on, and musically going on. It was just life altering. 
Kyle: Obviously, this trip happened around the time of the whole Eastern influence on Western popular music. Coltrane had already been incorporating Indian influences in his music, but rock bands like The Beatles and The Byrds were just starting to incorporate Eastern influences in a way that would profoundly influence Western popular music for the next several years. Were you already tuned into these sounds and influences prior to this trip?
Randy: Sure, I was a Beatles fan. I'd listened to Ravi Shankar records, and we when we were there we listened to as much music as we could. 
Kyle: One member of that IU jazz group I wanted to ask you about was Stan Gage. I just wrote a cover story for this paper about an Indianapolis rock band Stan played with called Masters of Deceit. I wasn't terribly familiar with Stan until recently, but the more I learn about him, the more I'm impressed by his spectacular musicianship.
Randy: Stan was just a wonderful drummer, but he had a few personal problems. He had a tough emotional life. But man, he was a swinging drummer, as good as anybody. He eventually came to New York and did reasonably well for himself. He played with Mose Allison, and a bunch of people. I went to jam sessions with him. He played some with Freddie Hubbard. There's a tape, I think that was actually done in Indianapolis, with Stan, Freddie, and Jamey Aebersold. They're all playing great. 
So Stan, had he lived longer and had he been more focused, I think he would have become a quite well-known player. 
Kyle: A very rare recording from that tour was issued by the State Department. Have you heard that album? 
Randy: Yeah, I have it. It's great. It was recorded in Beirut, Lebanon. We recorded five or six tunes. It came out as an LP, that I guess was distributed throughout the State Department. It featured all the soloists in the band. It's quite a good record. You could tell we had really been playing. We were swinging and we were tight. It sounded like a professional band,. 
Kyle:  After this tour I believe you ended up finishing your academic career in New York?
Randy:  Yeah, somehow I stayed in Europe that summer and made some contacts. I got to know Clark Terry a little at a contest that happened after the tour was over. This isn't a well-known thing, but there was an international jazz competition in Vienna. So several of us from the IU band went up there, and we stayed in a youth hostel with a bunch of other musicians. This was really fascinating because some of the other musicians, who were all our age, were people like Jan Hammer from Czechoslovakia, Miroslav Vitouš, George Mraz, Eddie Daniels, Cláudio Roditi, Joachim Kühn, and my good friend Franco Ambrosetti. This is where we all met. These were guys who all became very famous later. We got to know each other, and we competed together. I was lucky enough to win second prize on trumpet. Franco beat me out by a tenth of a point. Believe it or not, the judges were Cannonball Adderely, J.J. Johnson, Art Farmer, Mel Lewis, Ron Carter, and Joe Zawinul. That really helped all of us because I got to know them, and I decided to move and go to NYU. It was a good time to go to New York and stay in school and try to meet other musicians and work. Slowly I got sucked into the music scene. There was so much happening. 
Kyle: Your brother Michael ended up coming to IU after you left.
Randy: He came three years later. 
Kyle: Was his decision to attend IU based on your good reviews of the experience? 
Randy: I think that was mainly it. He enjoyed what he saw and heard of it. He didn't last as long as I did at school, but he had a great band with Randy Sandke. A lot of people confuse me with being in that band because. But Randy was just a great player and still is. So that was also a very propitious time for Mike. He learned a lot, and he also studied with Baker. Then he made his way to Chicago, and then in 1969 he ended up in New York.
Kyle: I wanted to ask you about Michael's band in Bloomington, they were called Mrs. Seamon's Sound Band. They were very influential here in Indiana. Even though they never recorded, I hear musicians reference them to this day. Did you ever get to hear them play?
Randy: Well, I have a tape of them playing at the Notre Dame Jazz Festival. When I was in Chicago with Horace Silver, this is in 1968, we all jammed together. It was actually the first time I heard Michael play. I hadn't heard him in years because I left home, and then he was at IU. I hadn't heard him in three or four years. 
This is no mere rehash of greatest hits from the Wes Montgomery or Freddie Hubbard songbook. Writing Prompts contains eight wonderfully crafted original pieces composed by Joel and Nick.
So when I saw him in Chicago, they were ensconced in this hippie pad down the street from where I was playing with Horace Silver at the Plugged Nickel. Billy Cobham and Bernie Maupin were all in the Horace Silver band, and I brought those guys over to the hippie pad to hear Mike play with the band. They were great, and my jaw dropped when I actually heard Mike first play. He sounded like a diamond in the rough. But that Michael Brecker style was already developed, kind of combining Coltrane with King Curtis, and R&B tenor players. All our jaws dropped. 
Kyle: That's amazing. And I've heard the sound of Mrs. Seamon's Sound Band described as kind of like The Doors. It was a jazz rock fusion. What do you remember about the sound of the group? 
Randy: Well, that was it. When they played at the finals at the Notre Dame Jazz Festival they played a jazz rock version of "Light My Fire". This shows you what it was like during that time - because they were disqualified. Judges like Oliver Nelson and Ray Brown were put off by their music, and they were disqualified. It made big news in Downbeat. They were the best band, but they were disqualified for playing jazz rock at a jazz festival. 
Kyle: You'll be performing here in Indianapolis on Sunday, September 17 as part of Indy Jazz Fest. You're playing with the Indianapolis Jazz Collective, which includes some of the greatest contemporary players in the scene here: Rob Dixon, Steve Allee, Kenny Phelps and Nick Tucker. Have you worked with these guys before, or did this come together especially for this date? 
Randy: It's coming together for the date, but we have played together individually. I don't think I've played with these four guys as a group. But I know everybody, and they know some of my tunes. I know some of their tunes and we'll trade some more tunes before I get out there. I love playing with these guys, they're are all great.