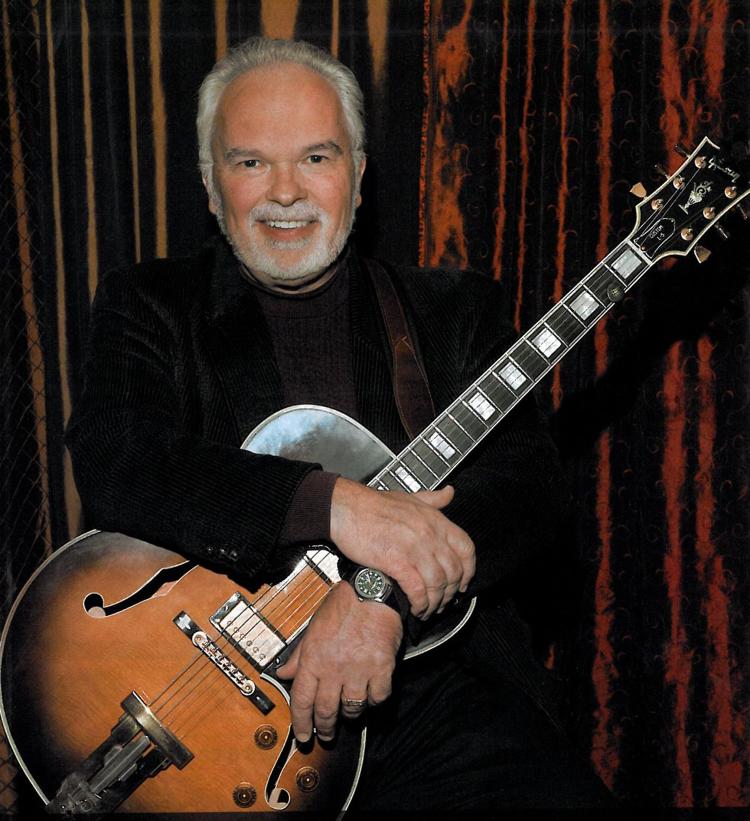 Now they're the "old guard," maintaining Indianapolis' rightful legacy as a cauldron for conjuring up virtuoso guitarists adept as soloists and sidemen. Their versatility ranges across genres and styles for spot-on studio backing, sitting in for road shows and any band needing an immediate replacement. They're ensemble players, big band players, regulars in house bands. They record CDs that hit the charts. Stylists in their own right, over several decades I've observed each watch a fellow player knocking out a solo with admiration.
Nov. 4 at the Jazz Kitchen, I walked in on the last number of the 7:30 p.m. set of the Indy Guitar Summit and got caught up in an exhilarating windup of "Mercy, Mercy, Mercy." It struck me that I was in the moment of six players whose collective history criss-crosses the best of jazz playing for the past many decades, across the U.S. and beyond .
The program information reads, "In Oct. 2002 Bill Lancton, Frank Steans, Sandy Williams, Steve Weakley, and Charlie Smith took the stage for the first Indianapolis Guitar Summit. On Nov. 4th they will be celebrating 15 years of shows at the Jazz Kitchen with the original lineup ... minus Charlie who passed away in 2008. In honor of Charlie, the Summit will be doing a tribute including several of Charlie's songs. Joining the summit will be Scott Pazera on bass and Gene Markiewicz on drums."
Bill Lancton is the acknowledged extrovert in the group. Earlier in the week we had an email exchange.
"There is a whole generation that knows Santana only from more recent commercial albums. People need to go back to Santana's reflective 1960s and 1970s,
"
Bill Lancton said, in preview of his Santana tribute.
"When I put the original IGS show on in Oct 2002, I simply wanted to gather some of the best local jazz guitarists for a night of fun," he said. "When we sold out both shows I figured maybe we should do it again!
"We started doing it twice a year, and I tried to bring in other guys and other genres so that the shows would be fresh. Frank Steans and I have pretty much done every one. At one point I started bringing in guys from Chicago, California and other areas. Nationally known guys. It's always been great. Several years ago I started bringing in the new 'young lions.' Joel Tucker, Patrick Wright. Keeps us old guys on our toes.
"The local guitar scene is hot, as good as it's ever been. Joel, Patrick, Charlie Ballantine [are] great players."
Lancton opened the 9:30 p.m. set playing solo guitar, backed by Pazera and Markiewicz. What happened was a mesmerizing rendition of Santana's "Europa," with Lancton addressing emotional depth as full body language, his fingers over the strings fast as hummingbird wings. A heartfelt tribute to the people we miss. I looked over at Chuck Workman's usual spot. I miss his weekly NUVO Jazz Beat column. Felt like Charlie Smith showed up, too.
Steans, Weakley and Williams returned with Charlie Parker's "Billie's Bounce," trading off personal takes.
With "Mr. Clean" the sextet showcased Freddie Hubbard's Soul-Funk tune pretty much in unison, smooth and singerly, mellowing out and picking up tempo. Then they handed off the circular vibe of "Killer Joe" with the verve of dancers taking over the floor in the era of big bands.
NUVO's beloved Chuck Workman was celebrated at The Jazz Kitchen on Sunday, May 6, with music, memories and lots and lots of food.
José Feliciano's "Affirmation" offered a nod to jazz guitarist George Benson.
If they'd played only Wes Montgomery's "Road Song," I'd have gone home content. The feel of autobiography permeated. The simple melody statements take hold. It is Montgomery's last song. Makes one wistful.
I figure that's why Lancton closed with The Meters' funk instrumental "Cissy Strut." New Orleans strut takes you out of yourself and into smiling.
In all, the set felt like a classic jazz cutting session. I was sorry to have missed the first set showcasing Charlie Smith's "Clouds" and "Trouble with Monkees" along with Wes Montgomery's version of "Sunny" and Herbie Mann's version of "Comin' Home Baby."
Jazz Kitchen owner David Allee implored us to show up at Clowes Memorial Hall on Nov. 19 for the 6:30 p.m. final tour of "Meeting of the Spirits," connecting John McLaughlin with Jimmy Herring. Guitar players on their own summit.