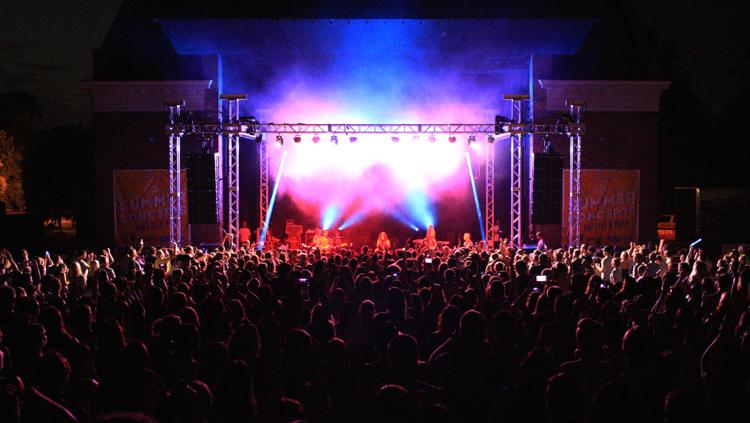 There's a new folk and Americana festival coming to Garfield Park this September, and it's one for the whole damn family.
Put together by MOKB Presents, the inaugural Holler On The Hill festival will take place at historic Garfield Park from Sept. 22-23. Designed with a communal aesthetic in mind, the two-day fest will feature over 30 national, regional, and local performers playing across three stages. Alabama soul powerhouse St. Paul and the Broken Bones will headline this year's festival, with other acts that include Moon Taxi, Colter Wall, Amanda Shires, Jamestown Revival, Hayes Carll, Blitzen Trapper, John Paul White, Reverend Peyton's Big Damn Band, Jade Bird, Billy Strings, Jesse Dayton, Detroit Cobras, Otis Gibbs Band, Whiskey Wolves of the West, Aaron Lee Tasjan, Lera Lynn, Israel Nash, Emily West, and more.
According to a press release, Holler On The Hill was built on the notion that music festivals should attract groups rather than individuals. Described as equal parts neighborhood picnic, family reunion, and music festival, the boutique music gathering is offering affordable tickets, with two-day festival passes starting at just $75. In keeping with this inclusive, community-minded feel, a portion of ticket proceeds will also benefit five community organizations including the Indiana Farmers Union, Indiana Forest Alliance, Hoosier Organic Marketing Education (HOME), Garfield Park Farmers Market, and Indianapolis Parks Foundation.
"When I first stepped foot inside Garfield Park's McAllister Amphitheater, nearly 10 years ago, I wondered why this incredible space wasn't hosting a great music festival," said Josh Baker, Holler On The Hill curator and founder. "I had this vision of a small but mighty gathering of diehard working class music lovers eating, singing, drinking together in a laid back family reunion-like atmosphere. With music as the centerpiece, Holler On The Hill provides a much-needed stewardship opportunity to support two causes I'm extremely passionate about: local agriculture and conservation."
Baker adds, "At this intersection of concerts and farming, I wanted to invite my worlds to collide and unite in an event space that was always meant to belong to everyone. It's our duty to give back and support the challenges facing our local family farms, the logging issues facing Indiana forests and the community groups that align with these ideals. I'm beyond excited to have the opportunity to contribute to several underserved organizations and have a direct impact on the well-being of our state."
To purchase advanced tickets to Holler On The Hill, be sure to visit MOKBPresents.com, where you can also find info on other concerts happening at Garfield Park this September.