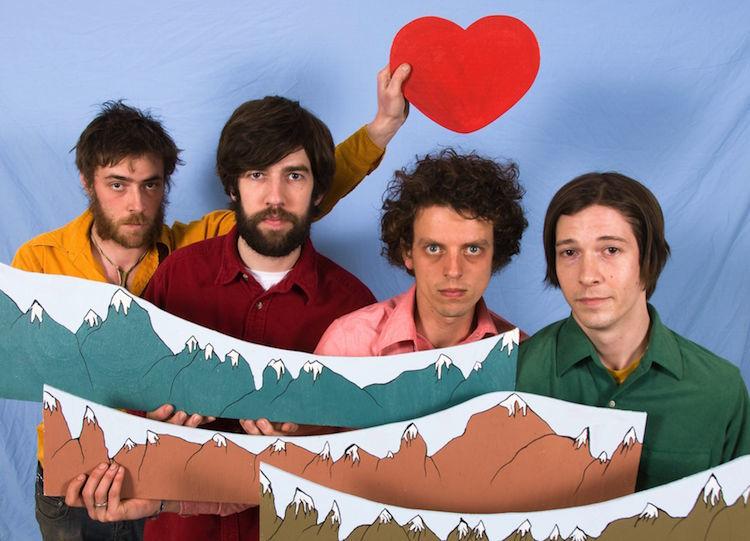 Chris Barth has fond memories of the Impossible Shapes' early days.
"Aaron [Deer] and me were just pretty obsessed with music and finding out as much as we could about how to be in a band," says the Bloomington group's frontman. "We didn't really let anything get in our way."
On Saturday, February 9, the Impossible Shapes will reunite for a performance at the Bloomington Music Expo. Ahead of the show, our Seth Johnson chatted with Barth, taking a retrospective look at the band and their humble origins.
NUVO: What led you Bloomington? Can you lay out the scenery for how the Impossible Shapes first started?
CHRIS BARTH: I grew up in Indy and then I went to Bloomington, just to go to college. I moved there with my friend Aaron. The band had kind of existed in an early form when we were in high school in Indianapolis with Peter [now of Peter and the Kings], but then, we went to different colleges. Aaron and I wanted to keep doing music at IU, and we met Jason Groth and Mark Rice our freshman year. During our freshman and sophomore years, everything came together, and we just started playing shows.
NUVO: What was the music community in Bloomington like at that time?
BARTH: This was 1999-2000. There were definitely a lot of bands. I was always meeting people that were doing music. There had been a good scene there in the '90s that I wasn't really a part of but had heard about. I was always kind of interested in the Bloomington scene, even going back to bands in the '70s like the Gizmos, the Dancing Cigarettes, and all that stuff.
In the '90s, I remember being super into the Panoply Academy. They were an early Secretly Canadian/local Bloomington band. They went through lots of different formations, but they were doing really cool stuff. I remember seeing them at Rhino's, which was one of those venues you could get into before you were 21. I had to do a lot of sneaking around to get into Second Story, the Bluebird, and Bear's Place. I wasn't 21, but I'd find my way in those places somehow. [laughs] I remember doing that a lot.
NUVO: When you first started putting out releases, where were you guys recording at? How did those first couple albums come together?
BARTH: Our first two releases [The Great Migration and Laughter Fills Our Hollow Dome] were all home recordings on cassette 4-tracks in various bedrooms, garages, and basements. They were released by Todd Robinson. He's still in Indianapolis doing LUNA Music. We were lucky enough to have somebody with the means to put stuff out back then.
After that, we were going into studios and having outside engineers. We actually recorded a lot of the third album [Bless the Headless] with this guy Bill Doss, who was in a band called The Olivia Tremor Control. Paul Mahern from the Zero Boys also helped us put that third album together too.
The fourth album we did in Bloomington at Farm Fresh Studios, when it was in a little cabin out in the woods. And then after that, we went and recorded our fifth album in Indy with LonPaul. After all that, we eventually found our way back to home recording. So we recorded a couple more albums that way, which was nice.
NUVO: You had some albums released on Bloomington-based label Secretly Canadian. When did they come into the picture?
BARTH: We met them just through being in Bloomington and liking a lot of the bands they had. They were obviously quite a bit smaller at the time. They were operating out of a little house on the northside of Bloomington. We were really into all their bands: Marmoset, Swearing at Motorists, Scout Niblett, Danielson Family, and Songs: Ohia. All those bands were really inspirational. We played shows and toured with some of those bands. They just approached us and said they were interested after hearing the albums we put out with Todd at LUNA. So we met with them at a Waffle House and made it happen.
NUVO: When was the band touring the most?
BARTH: The peak of our touring happened from 2002 to 2005. We started in 2002, touring with Songs: Ohia and June Panic. We went to Europe with June and Jens Lekman, who's another Secretly Canadian guy from Sweden. We also did a bunch of four-to-six week tours all across the United States around that time too. All of us were in another band [John Wilkes Booze] at the same time as well. We were very busy. I always remember 2004 and 2005 as the time when I didn't really have a set place to live. I was just always on tour, which was really exciting as a 23-year-old.
NUVO: Are there any specific memories that stick with you from the Impossible Shapes' heyday?
BARTH: Even though it was kind of jumbled, I really have fond memories of our first tour in Europe. Jens really welcomed us to Sweden. We spent almost two weeks there, just playing at different places in the country. It was fun to go into a fast food restaurant in Sweden and hear a Jens Lekman song on the radio. We got to play some really fun shows through Secretly Canadian and Jens.
And then, we brought him over to the States after that and showed him what that was like, which was pretty fun. I'll always remember playing in Odessa, Texas in this tiny little pool hall. After playing with Jens in these big concert halls in Sweden, it was just funny to play with him at this little pool hall with high school kids hanging out and shooting pool.
It was cool to do that touring before social media. It was just cool to find your way around with an atlas. You'd have to call the club on a pay phone and be like, "Where are you guys located?" It was like an adventure. We didn't have any reference point for how to do things.
NUVO: Why did you guys choose to get back together for this reunion show at Bloomington Music Expo?
BARTH: We broke up in 2009, and then we had a reunion show four-and-a-half years after that. It's been about four or five years since that. Every five years, it just feels like time to do it again. I had been thinking about it, and then Aaron had been in touch with Mike of Bloomington Music Expo. I had been thinking, "It'd be cool to play with everybody." So it was just perfect timing.
NUVO: What have you been up to on your own right now in terms of music?
BARTH: Right now, I'm working on a solo recording that's just going to be under my name. Doog [who makes music as Sir Deja Doog] kind of helped motivate me and orchestrate some things. We did some recordings at Postal in Indianapolis. I love that studio. I recorded all these songs there, and it was a really good session. So now I'm just going over stuff and putting it all together.
I'm also playing in a band called the Glitter Brains. It's a punk-y rock 'n' roll band. I'm actually a preschool teacher these days, so it's inspired by silliness and things that kids talk about. We play around Bloomington and the area every so often.
And then, if Aaron and I can get together over the summer, we might actually try to collaborate again on some stuff for the Impossible Shapes. We'll see if that happens, but we're both kind of into that idea.