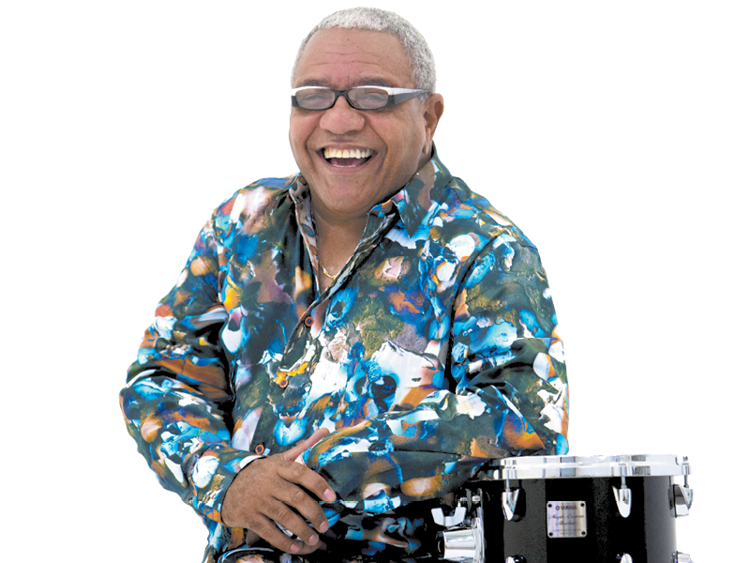 Read more about Indy Jazz Fest here. 
Ignacio Berroa will host a centennial salute to jazz icon Dizzy Gillespie at the Jazz Kitchen on Wednesday, September 20. In many ways the Cuban-born jazz drummer's career has been defined by the decade he spent manning the drum kit in the bebop pioneer's band. An oft-cited quote from Gillespie praises Berroa as the only Latin drummer to master both Afro-Cuban music as well as jazz.
"Dizzy Gillespie was my mentor and friend," Berroa says when we speak. "I spent 10 years with Dizzy and we became friends. He was like my father, so I'm happy to have this opportunity to be at Indy Jazz Fest to pay tribute to his music. That's what we're going to do since this year would've been his 100th birthday.
"I love Dizzy a lot. I learned to speak this terrible English while I was in his band. He helped me a great deal in learning to speak English."
Jazz was Berroa's passion as a young man in Cuba, but in Castro's post-revolution society his music of choice was contraband. So when the Mariel boatlift of 1980 presented an option to exit the island, Berroa quickly jumped on board – literally.
He arrived in the U.S. with no formal jazz training, and relatively limited direct contact with the music. But quickly, Berroa worked his way into the highest echelons of the music.
Berroa has accumulated an incredible discography of music, performing on classic discs from McCoy Tyner, Paquito D'Rivera and a host of other jazz luminaries. Berroa also carved out an impressive recording career during his time in Cuba, "In 1975 I became the first call drummer for EGREM, the only studio in Cuba. I played on 90 percent of all the recordings made in Cuba between 1975 and December of 1979." Berroa told me.
Indy Jazz Fest will offer Hoosier jazz fans a unique opportunity to hear one of Cuba's greatest jazz players pay tribute to one of the key figures in the development of Afro-Cuban jazz in the United States.
Kyle Long: You were born into a musical family. Your father played violin in some of of the biggest charanga orchestras in Cuba during the 1950s, including one of my favorites Fajardo y sus Estrellas. I understand that you initially followed in your father's path and studied violin.
Ignacio Berroa: Yeah, my first instrument was the violin. Mainly because my mother wanted me to be like my father.
Kyle: So you studied the violin to please your parents?
Ignacio: That was exactly the situation. When I was eight or nine-years-old my mom gave me a little violin and I started taking lessons from my dad. But my mom passed away when I was 10 years old.
My father at the time was a violinist for the radio and TV orchestra in Havana, and he used to take me every day to the recording studio. I was always hanging out with the rhythm section. Why? Because one day after my mother passed, my father brought home an album by Nat King Cole. It was Nat King Cole that got me into jazz. When I heard Nat King Cole, something struck me that I can't explain. I knew that jazz was my passion.
A few days later I heard an album with the Glen Miller big band featuring Gene Krupa on drums. When I heard that album, I said to myself, "I want to be a drummer." So Nat King Cole got me into jazz, and Gene Krupa made me switch from the violin to the drums.
Kyle: I've read that you were also a Beatles fan growing up. You know, there's a lot of propaganda going back and forth between the U.S. government and Cuba. I've always heard that in the early days the revolution, rock and roll and jazz were not permitted by Castro.
Ignacio: That is true, and a lot of people have tried to hide that. For people in my generation, jazz music was kind of prohibited. During the '60s if you got caught walking on the streets with a Dizzy Gillespie album, or a Rolling Stones album, you would end up in jail. At that time the Cuban revolution thought that music was promoting the enemy. Yes, it was prohibited, and you could get in trouble if your neighbor heard you listening to jazz. Playing anything from the United States was considered promoting the enemy.
That's something that new Cuban generations don't know about, but it happened. It has changed a lot. Now they have a jazz festival every December. As a matter of fact, the first time I want back to Cuba after I left in 1980, it was in 2002 when I went to the Havana Jazz Festival to play with Gonzalo Rubalcaba's trio. That was my return to Cuba.
Kyle: You began your professional career in music in Cuba around 1970. You played on some amazing records during that time, and you were part of an interesting group called Grupo De Experimentación Sonora. Tell us about your time performing music in Cuba.
Ignacio: I began my career playing with a jazz group. This is something that is controversial. There used to be a pianist in Cuba named Felipe Dulzaides. He was a political prisoner who got in trouble during the revolution. He served three years as a political prisoner. When he got out they allowed him to put his band together, but they put him in a place called Varadero Beach, which was a couple hours away from Havana.
When I got out of the army, someone told me he was looking for a drummer and I went to play with Felipe Dulzaides. He was a big fan of George Shearing, the English pianist and we used to play every style of music from samba to the music of Blood, Sweat & Tears. The reason we were allowed to do that is because it was in a place where only tourists would see us. We never did a TV show, and we were never played on the radio. I spent two years with that band.
One good thing about Varadero is that it's very close to Key West, Florida. We were able to listen to all the radio stations from Key West and Miami. So it was great being in Varadero, and being able to listen to that music everyday.
From there a pianist named Emiliano Salvador, who was a great influence on the development of Afro-Cuban jazz, he invited me to be part of the group you mentioned. The original idea of that group was that it would make the music of all the documentaries and films in Cuba. The group used to belong to the film department in Cuba, which was called ICAIC (Instituto Cubano del Arte e Industria Cinematográficos). So the group was called Grupo De Experimentación Sonora Del ICAIC. In the '70s that band was also allowed to play some jazz and fusion, but always with an Afro-Cuban element. We weren't allowed to play too many concerts. We were a group that existed, but at the same time we really didn't exist. [laughs]
Kyle: You voluntarily emigrated from Cuba to the United States in 1980 during the Mariel boatlift. I read an interview you did with Ted Panken in 2014 where you said, "the main reason why I left Cuba was because I always wanted to be a jazz drummer."
Ignacio: That was the main reason in a sense. I wanted to come to the United States because of my passion for jazz. But the main reason I left is because I didn't want to waste my life living under a dictatorship. I did want to find my place in the jazz world, but the main reason I left is because I wanted to find freedom.
I'm not a politician and I don't like to talk about politics. So I always said I came to this country because of my passion for jazz. I know the Leftists don't want to hear that I came here looking for my freedom.
Kyle: You risked a lot coming to the United States. How did that feel landing that gig with Dizzy so quickly?
Ignacio: How do you think? Many times I thought I was living in a dream. I remember one day a friend of mine who is a painter asked me that question and my response was, "Could you imagine what it would mean to you if Pablo Picasso was alive and he called you to be a part of his team?" That's what it meant to me being Dizzy Gillespie's drummer.
Most importantly, I understand the role I was playing, because I was a Latino and I was playing trap drums for Dizzy. I was an example for musicians in different countries who were thinking at that time, "Can I go to New York and make it?" I demonstrated to everybody that you can. If you are prepared, you can. I came from a tiny island in the Caribbean with no opportunities to play jazz, and I arrived to one of the biggest countries in the world and became Dizzy Gillespie's drummer. A lot of ignorant people think I was Dizzy's conguero. No, I was his drummer for 10 years. Not conga drums, trap drums.
The IJF band matched spot-on the distinctive styles of the two performers most associated with bringing to the fore a new vocabulary leading to the modern jazz era. 
Kyle: On this subject of jazz trumpet, you also played with Freddie Hubbard. Freddie is one of our great jazz icons here in Indianapolis.
Ignacio: [laughs loudly] Listen! He's the greatest trumpet player I have ever played with. Freddie Hubbard is my favorite player. You can write that. Dizzy Gillespie was the father of bebop. Dizzy was my friend, my father, my everything. But if I had to pick one trumpet player that I loved playing with? Freddie Hubbard.
It was an amazing experience playing with him. Freddie is closer to my generation. When I started playing with Dizzy Gillespie I was 26, and Dizzy was 65. When Dizzy was famous in 1957 when I was four years old. Dizzy started his career in the '40s. I was more attuned with Freddie. I'm not saying who is best, but my favorite trumpet player is Freddie Hubbard.
Kyle: Your new album is titled Straight Ahead From Havana. I understand the concept was to take classic Cuban standards, and as the title says interpret them in a straight jazz style.
Ignacio: Man, some people have been writing some things about this album that are not correct. Somebody wrote that I took Afro-Cuban tunes and interpreted them straight ahead. First of all, the tunes on this album are not Afro-Cuban. These tunes are melodies that I heard during my youth in Cuba. Most of the tunes are famous boleros.
My intention was to do a straight-ahead jazz album, because that is my passion. But I didn't want to do an album playing tunes that other drummers have done on their jazz albums playing American standards. So for years I've been working to put together a list of Cuban tunes that would fit what I wanted to do. That's what the record is all about.