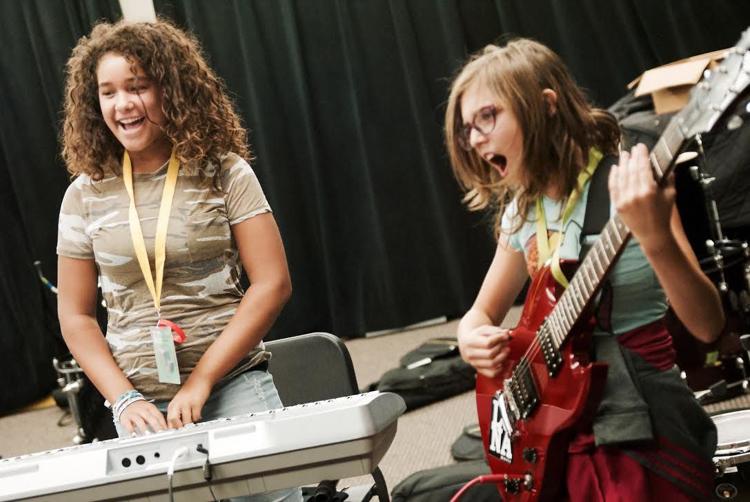 Every year, aspiring young rockers form bands as part of Girls Rock! Indianapolis' annual summer camps. As Michelle Marti explains, however, the end goal of these camps is much greater than rock 'n' roll fun.
"We want women and girls to feel inspired, empowered, and have a renewed sense of confidence that they can achieve what they want to achieve and that they are free to be themselves," says the president of Girls Rock! Indianapolis' board of directors.
As of Monday, Feb. 4, applications are open for Girls Rock! Indianapolis' summer rock camps, being held July 8-13 and July 15-20 on the IUPUI campus. As part of these week-long day camps, girls (trans and non-binary youth) ages 9-16 will form a band, write an original song, and perform said song at a celebratory Saturday showcase.
In addition to campers, those who wish to volunteer at Girls Rock! Indianapolis' 2019 summer camps can also submit their volunteer applications at GirlsRockIndy.org (Note: No musical experience is required to take part in the camps.).
With years of music experience, Marti was first introduced to Girls Rock! Indianapolis' summer camps through her daughter. "I signed her up as a camper," she says. "I met some of the volunteers that first year and was just really inspired by what they were doing." This year now marks her sixth year of volunteering at the camps.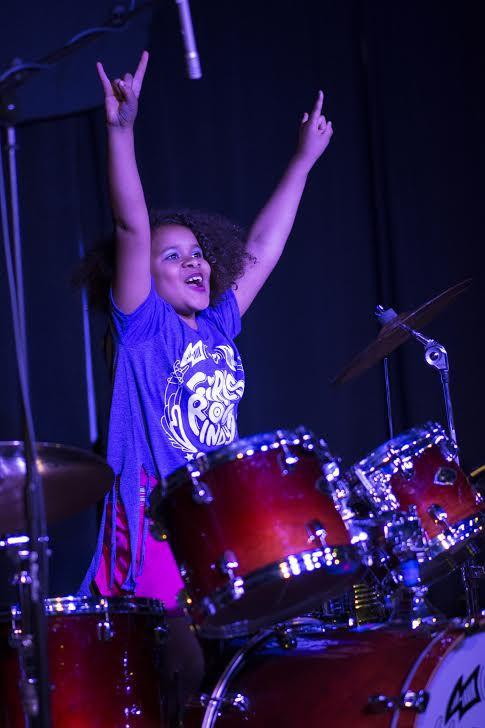 "The volunteers keep coming back because it's a blast for us too," Marti says. "We get inspired by hanging around so many amazing women and other musicians who are wanting to share their knowledge and experiences with youth."
In order to create a safe space, the camps exclude men from participating. "Everyone who is part of the camp week is girl, woman, trans, or non-binary," Marti says. "We don't have any guys there." As previously mentioned, neither campers nor volunteers are required to have any musical background or training.
"They have four instrument instruction lessons of an hour-and-a-half each," Marti says. "So if they are learning an instrument for the first time, we'll just give them the absolute basics to get by and be able to shine on their instrument."
Just like any other camp, Girls Rock! Indianapolis' summer camps open up with icebreakers. "We get the girls all interacting with one another," Marti says. "[They start] getting a feel for what kind of music that their fellow campers like and what they're looking for in a band mate."
From here, campers are split into bands that feature one lead vocalist, one guitarist, a bassist, a keyboardist, and a drummer.
"They give us ideas of who they want to be in a band with," Marti says. "And then, the counselors in training and the volunteers get together and try to form these bands, which is no mean feat."
Unlike other music camps, Girls Rock! Indianapolis has its participants write original songs of their own. "We're setting them up with the basic skills they'll need to collaborate on writing a song," Marti says. "There's a lot of collaboration needed to write a song, which they find out by about day two."
In addition to instrument instruction, songwriting classes, and band practices, the camp also includes workshops that focus on topics like empowerment and social justice.
To cap off the week-long camps, each band presents its song to the public at a live Saturday concert.
"They get their hair and makeup done, if they want it, so they look fierce by the time they get on stage," Marti says. "They get to rock out in front of their family and friends."