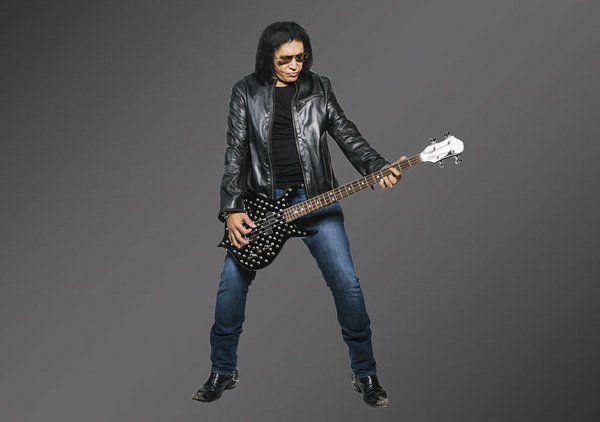 Editor's note: We'll have a full transcript of this interview with Gene online tomorrow. 
When you're talking to Gene Simmons, half the battle is getting him to stray from his talking points. I was two minutes into what was supposed to be a 10-minute interview, when the man started rattling off a litany of KISS-branded merchandise he'd licensed over the years ("We sell KISS condoms and KISS caskets," he tells me, "so we can get you coming and going!" Ba-DING!) and I knew I had to get him on track.
So I tell him I read one of his six books, and then ask him if he's excited getting the chance to play lesser-known KISS songs with his solo band when he comes to Hoosier Park Racing & Casino this weekend. Now he's excited, and wrapped around my finger.
"You got it, see, you cut to the chase," he laughs. "I was just being all flowery and all about me. But you're exactly right. For the first time in 43 years of touring, some folks asked me if I'd like to jump up on stage and put together some crackerjack rockers and go through some nuggets that KISS will never play, or has never played. And I thought, 'gee, that sounds like a lot of fun!' Because there are always songs that I think are kind of neat and we will never get a chance to play, because our blessing is also our curse."
That curse is that, over the years the band has recorded more than two dozen studio albums, so there's a ton of music to choose from. Simmons says the folks in Anderson embraced the idea of having him come in with his own band and just make the fans happy. And in turn, Simmons has embraced the challenge of finding new ways to surprise fans who already are in the palm of his hand whenever he makes an appearance.
"We're gonna bring our band," he explains, "and instead of the regular concerts where the people just get up on stage and show you what they're all about, we do it a little different. You've got your cellphone, which has got video on it, so you want to come up on stage and video the audience and video us on stage? I'm gonna pull you up. You think you can sing? I'm gonna pull you up on stage. When I was a kid and I saw the Beatles and the Stones, I couldn't imagine that opportunity. So I want to break down those barriers."
Simmons has long had ties with Indianapolis, having worked with Tony George back in the middle years of the last decade on re-branding the Indy Racing League and Indy 500 via his song "I Am Indy." The man has a virtually encyclopedic knowledge of open-wheel racing, and once I got him going, he seemed as excited talking about that as about himself.
"One of the first things I told the folks at Indy was, 'first of all your name sounds like a communicable disease.'" he laughs. "[They're like] 'What do you mean?' 'IRL? I hope I don't catch it!'"
With George, Simmons had worked to re-brand IndyCar around the idea of Indy as "independent," "individual." He'd wanted to do more, including bringing in Hugh Hefner's Playmates to shoot a "Girls of IndyCar" cover, but he says the family members who succeeded George balked at the idea. His love of the sport, however, shines through any artifice.
"When you take a look at IndyCar compared to Nascar — are you kidding me?" he asks, and I can practically see the arm gestures. "You've got jet engines, and the wings in the front are face-down because IndyCars go so fast, they go faster in fact than jets taking off at airports. If those wings weren't there at the front of the cars facing down, they'd take off! It's really quite a phenomenon. And the masses don't know any of this stuff. They just see cool-looking space-age cars and they wanna watch the race. But I think you've got to make it more interesting. 
"Like when I go to the Kentucky Derby, it's not just about the horses! It's about the beautiful women with the big hats and the spectacle, the glamor of it. And that's what I wanted to do with IndyCar. It can't just be about the cars, even though the cars are the coolest thing on earth."