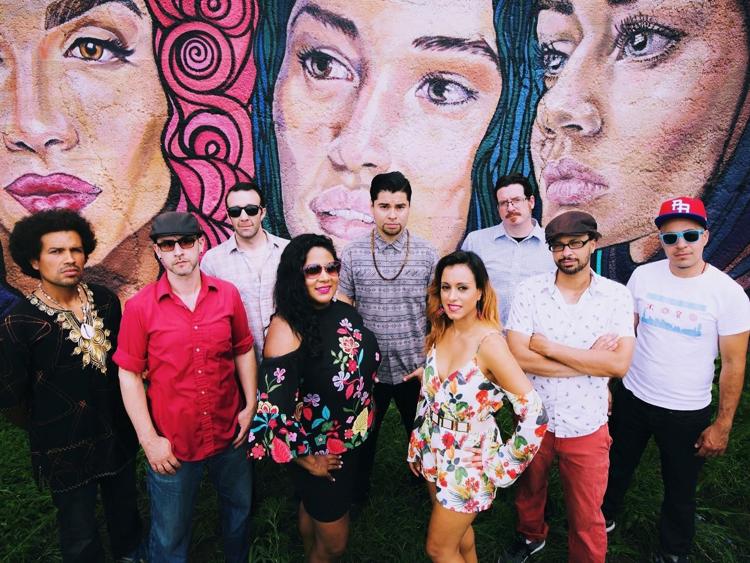 This year has been devastating to the psyche of all progressive Americans, with each new day bringing a fresh crop of outrageous injustices guaranteed to eat away at the soul. We all have our methods of coping with this political chaos. For me, it's music and ¡ESSO! Afrojam Funkbeat's sophomore LP Juntos arrived as the perfect antidote to our year of collective misery.
With Juntos, ¡ESSO! have created a milestone project for the Midwest alt-Latin and global bass scenes. ¡ESSO!'s founder Armando Pérez grew up on the streets of Chicago, soaking in the city's rich culture of hip-hop, house, jazz and rock. On Juntos, Pérez has masterfully fused those sounds with a kaleidoscopic array of Afro-Latin rhythms, touching on everything from reggaeton to merengue.
On the lyrical tip, Juntos is a celebration of community, and culture. In addition to his own contributions, Pérez has assembled a remarkable cast of guest voices on Juntos, including NYC rappers Rebel Diaz, and Mexican poet Rojo Córdova on "Mi Gente", and Chicago spoken word artist Logan Lu on "Stone Eagle".
Juntos is a dynamic record, unfolding like a favorite mixtape. Each track manifestos a distinct sound, while building toward a unified theme.
¡ESSO! have become regulars on the Indy live music scene, with multiple visits in 2017. There's more about their latest release in my interview with ¡ESSO!'s Armando Pérez.
Kyle Long: You formed ¡ESSO! Afrojam Funkbeat in 2013. The band has a really rich sound that incorporates elements from jazz, funk, hip-hop, house, cumbia, salsa, afrobeat, and rock. In forming ¡ESSO!, was it your intention to create a band with that sort of expansive and wide-ranging sound?
Armando Pérez: Initially, in forming the band, we didn't want to lock ourselves into any one genre. All the players that joined us brought their talents and their history to the band, and little by little it became what it is today. When we first started out the band was instrumental, when we started working with vocalists, it became very song-based, lyric-based, and message-based. That's when we really started to write, and I started to particularly think about how Spanish lyrics affected me, and how they came out onstage and in public. ¡ESSO! allowed me to explore all these styles with the support of very open-minded musicians around me, which has really solidified into the sound you hear on the records.
Kyle: In the last couple years ¡ESSO! have racked up some impressive accomplishments. You recorded two excellent LPs, you were named "best new band" in the Chicago Reader's 2016 Best of Chicago issue; you toured Mexico; and played a huge show in Chicago with the legendary Café Tacvba, among many other distinctions. Does it surprise you how quickly the band has grown over the last couple years?
Armando: I'm actually very surprised by it. But when I really think about it, it makes sense that a band like ours could do what we've done in such a short time. I can see the attraction of a community based band promoting unity, especially right now. The political and social climate is very crazy in America. Honestly, people want to feel connected and that's what we try to do onstage. We try to connect people through music and dance. Looking out at an audience and seeing people from every demographic and culture is a beautiful thing. I think that's when I feel most fulfilled.
Kyle: One of the things I love about ¡ESSO! is the group's openness to addressing social issues in your music. For example, there's a track titled "Stone Eagle" on your new album that reflects on the effects of gentrification. Tell me about the role of social commentary in ¡ESSO!'s music.
Armando: It's so important to have a message within your music. When you're building an audience you have a certain responsibility to speak truth and to speak on issues that have affected your life, and your community.
You mentioned "Stone Eagle," and gentrification is very real. It's something my family has lived through and experienced. It's a challenge that many families in Chicago, and the cities we've visited face. It's so important for us to speak these truths and share this knowledge, not from a negative position, but from an enlightenment position. It's important for people to understand what's happening around them. And if it's not their reality, then at least see it from someone else's viewpoint to gain this higher consciousness. It's very necessary, and we feel very proud, honored, and privileged to be able to do that within a setting of unity and celebration.