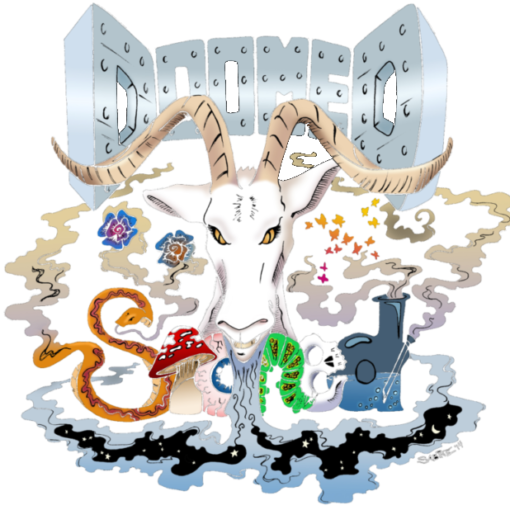 For its second year, the Doomed and Stoned Festival heads to a new location, Indiana City Brewing Co., to celebrate heavy metal, specifically the psychedelic-stoner subgenre. From Oct. 6-7, the brewery will house bands from around the country.
After the launch of the website of the same name, which reviews albums and interviews metal bands, founder and event organizer Melissa Collins found a tightknit community in the Midwest metal scene, and added bands from across the United States for two days filled with live music, art and lots of beer.
Since last year's fest was held at the now-closed Fifth Quarter Lounge, Collins was in need of a new venue when she started planning this year's fest. Luckily, Indiana City Brewing fit the bill. After expanding the space's stage area in the spring of 2016, the local brewery could accommodate bigger events and bands, something that they have wanted to do from the start.
"We started hosting metal bands here shortly after we opened, and it's something that built from our support for the local scene," Indiana City Brewing owner Ray Kamstra said.
"Beer is our art, and it's been a part of our business model to support local artists," he says. "People see breweries as a great community place that is accepting with local artists, maybe more so than other venues."
Festival-goers will have a wide variety of beers to choose from, including seasonal beers like Death by Pumpkin, which incorporates 180 pounds of mashed pumpkins, cinnamon, nutmeg and whole Madagascar vanilla beans into the single batch that's made per year.
While no new brews will be made to commemorate the festival, Indiana City Brewing offers a limited release every week.
"I'm not sure exactly what we have on the calendar, but there will definitely be something new available," Kamstra said.
Along with beer and food provided by Citizen Hash and Bacon Station!, the two-day festival will feature a lineup of local and national bands. As the festivities begin, the Dallas-based doom band Wo Fat will headline on Friday.
Guitarist and vocalist Kent Stump balances time writing, playing and touring with the band with being the co-owner of Crystal Clear Sound, a recording studio in Dallas. While a scheduling conflict kept the band from coming to Doomed and Stone's first year, Stump is looking forward to seeing how the Indy festival compares to others that they have played in the past.
"Festivals are awesome, I love playing them. We've been lucky enough to play some really important festivals, especially some related to heavy, underground music like we play. We've done a number of them in Europe, and they're always really fun," Stump said. "From a band perspective, it brings bands together. We get to play with a bunch of other cool bands that we're usually fans of, or we become fans of if we haven't seen them before. We make friends with other bands, and with fans, as well. Because of festivals, we've made lasting friendships with a lot of people. They're a great thing that really help to drive the scene."
At the festival, audiences will be able to buy a copy of Live JuJu, Wo Fat's live album from their 2014 set at the Freak Valley Festival.
Of the 15 bands on the lineup, local musician Steve Janiak is in two of them. As a vocalist and guitarist in both Devil To Pay and Apostle of Solitude, a scheduling conflict kept both bands from performing last year.
"We were unable to play last year because Apostle of Solitude was headed to Europe at the time. I play in both bands, so if I'm not available, neither band can do the show. This year, we told her we really wanted to play, so know Apostle of Solitude and Devil to Pay are both on the lineup."
Luckily for Janiak, festival goers will be able to catch Devil To Pay on Friday, and Apostle of Solitude on Saturday.
"I've done that before, playing back to back in two bands, and it's a lot more energy expenditure than I would prefer. I'd rather play one set and relax a bit and see some bands," he says.
As Collins went about organizing this year's event, she was surprised at the reach her event had, much of which she believes is thanks to social media and a strong group effort.
"We even talked to a band from Sweden, and we really tried to make it work, but that immigration stuff is just way over my head," she says. "The fact that we've got bands coming from Seattle and Portland speaks a lot for the event itself and the underground community.
Other bands on the fest include R'yleh, Swamp Ritual, Book of Wyrms, Season of Arrows, Disenchanter, Ape Machine, Un, Wo Fat, Potslammer, Black Tar Prophet, Freedom Hawk, Year of the Cobra, Fister, Geezer, Earthride and Acid Witch.
"I pretty much handle communicating with the bands and promoting aspect," she says. "I am friends with two guys named Drew and Jordan Smith; they're great guys and are involved in local metal bands, including Archarus and Potslammer. They handle equipment, time slots, all that stuff. This is a group effort. There is no way I could do this alone."
Visual art is another aspect of the Doomed and Stoned Festival, which is one of the only changes to the program from last year. Brad Moore, who is known throughout the metal scene for designing album art for bands such as Morpheus Descend and Argus, is this year's artist vendor.
"His work is just a very old school traditional doom style of art," Collins said. "He's going to be there with his art, and I think a lot of it will be for sale. I'm sure a lot of old-schoolers will be really familiar with his work."
With a limited number of passes left still available for the festival, Collins is hoping for a sold-out venue.
"I think that would be any promoter's goal," Collins said. "I just want everyone to come and have a good time and support the bands."