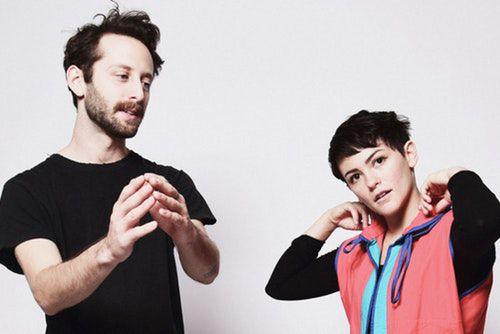 New York indie-rock duo Diet Cig always strives to create an inclusive environment at their shows.
"It's really important to us to make everyone feel welcome and able to have fun and let loose," says guitarist/vocalist Alex Luciano. "We want everyone to have a cathartic time with their friends, which can only really happen if you feel safe at a venue."
Diet Cig will visit the Hoosier Dome on Tuesday, Nov. 20 on the last leg of a tour supporting 2017's Swear I'm Good At This. Before the show, we caught up with Luciano and drummer Noah Bowman for a phone interview.
NUVO: You'll be playing at the Hoosier Dome when you visit Indianapolis, which is an all-ages venue. Tell me about the music community you came up around and why playing all-ages venues is important to you?
ALEX LUCIANO: We started as a band playing DIY house shows. It's really important to us to play all-ages shows, not even specifically because of how we came up, but because it's inclusive. We feel like it's really dumb to exclude people from music or art because of how old they are. So we try really hard to play all-ages venues as much as possible because kids that are under 18 deserve to be a part of the community just as much as people over 18. We have a pretty young fan base, and it feels really uncool to exclude them because of their age.
We started as a band playing house shows, which are inherently all-ages. It's always felt like the kids are the magic of shows. I wish I had cool shows to go when I was a kid. So it's literally the least we can do in terms of inclusivity to play at all-ages venues.
NOAH BOWMAN: All-ages venues are great. It's such a battle sometimes with different cities and different laws. It gets to the point where you're dealing with security, and it costs more to have an all-ages show. But it's great when a city has these places that can afford to be all-ages.
NUVO: I've read that you two originally met at a house show. Can you elaborate on that story?
BOWMAN: I was touring with another band I was playing with at the time called Earl Boykins. I was playing in New Paltz, where Alex was going to school. I had never met her before, but we ended up meeting at that show I played through mutual friends. She was a media production person and was talking about helping make a music video. Through hanging out, the conversation came up of, "Let's write a couple songs and see what happens." Honestly, we only had the intention of playing a couple house shows and having something fun to do. And then, it kind of turned into something more than that.
NUVO: From what I've read, you had never played in bands before that Alex. Did you have to get used to anything when you first started playing with Noah?
LUCIANO: Yeah. It was definitely super challenging learning how to write music with another person. I didn't really know that much on guitar. So i definitely learned a lot really fast. Even just simple stuff, like how pedals work with a guitar amp and how to coil my cables correctly. All these things that you just assume people in bands know are things I didn't really know at all when we started. So it was definitely a big learning curve, but we had a good group of friends around us. New Paltz was a really great environment to learn in. Everyone was so nice and supportive. It felt like a judgement-free place to figure it all out.
NUVO: I've seen Diet Cig live before, and I know that inclusivity is something that you speak on throughout your shows. Besides playing at all-ages venues, what other ways do you go about making your shows as inclusive as possible?
LUCIANO: We try to enforce a safer space policy at our shows, where you don't touch anyone without their consent. If there's anyone in the audience who is being a creep or not being cool, we let everyone know that they can approach our tour manager who's selling merch, and they can facilitate with security to get that person out.
An important part of being inclusive at shows is making people who are marginalized feel safe to come to a show. So we like to make it clear at the beginning of our set that we have zero tolerance for creeps or anyone violating consent, and that we're there for our audience. If something goes down that's not cool, we will literally stop the show to make sure everything's okay. I think that makes our shows feel more inclusive to people who might feel hesitant to go to a show for fear of being groped or mistreated. So it's really important to us to try and host a safer space.
NUVO: From your perspective, how good of a job are venues doing of creating a safe environment?
LUCIANO: There's so much work to be done by venues to make their spaces more inclusive, But in a lot of venues we've been traveling to, we have been seeing signage up saying, "Here's a code word you can tell the bartender if someone is being a creep and you need help." Or, "We don't tolerate racism, sexism, or homophobia." Just having signage up that says they stand with those marginalized people is really cool.
Something that I don't see a lot but would like to see more of is signage indicating if a band is going to be having strobes or intense lighting. I think a lot more venues could start making that clear and having signs up just to let people know if they are sensitive to that. That's just a small accessibility thing that I think venues could do better with. So I feel like venues are trying to shift toward more inclusive practices and being more accessible for everyone, but there is still so much work to be done.
NUVO: Your last album, Swear I'm Good At This, came out in 2017. Are you working on anything new, or are you still out in support of that record?
BOWMAN: We're still mostly out in support of the 2017 record. but we're in the talks of working on the next record and are spit-balling ideas. We just honestly had a chance to sit down and work on it because we've just been on the road so much. So this is our last tour that we're on right now, and then we've got some time off. We're looking forward to being able to unload the van and set up our stuff in the practice space again. [laughs] Most of the time, we get home and don't even unpack because we have to turn back around.