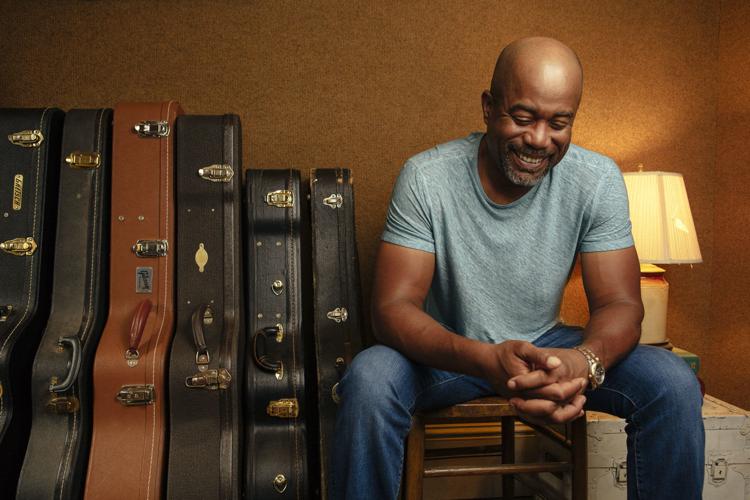 Darius Rucker is certainly a star in his own right. But after all these years in the spotlight, even he can't help but pinch himself sometimes.
"I love Lady Gaga," Rucker recalls of the time he crossed paths with the pop star at the 100th Indianapolis 500. "She walked up to me and said her and her dad had this relationship and part of it was due to some of my music. I was like, 'Lady Gaga just told me she knows who the freak I am. [laughs] Not only does she know who I am, but she actually knows my music. Freaking Lady Gaga. You've gotta be kidding me.' That was pretty awesome."
This Friday, Sept. 14, Rucker will co-headline a show at Ruoff Home Mortgage Music Center with Lady Antebellum. Beforehand, we caught up with him for an interview full of awesome anecdotes.
NUVO: I'm a big sports fan and have listened to a lot of your interviews, especially on the Dan Patrick Show. That being said, can you tell me how your friendship with Tiger Woods started out?
DARIUS RUCKER: Hootie & the Blowfish's record was starting to take off, and we had these clubs we had booked. Our booking agent wanted us to cancel the clubs, but those clubs had been so good to us that we said we were just going to play out this string of clubs. We ended up playing this club in East Lansing, Michigan. We finish our gig, and we go around the corner to this bar called Rick's American Cafe. We're sitting there, and I say to Dean our bass player, "Isn't that that Tiger Woods kid?" He said, "I think so." This was before he was on the PGA Tour. He was going to college. So i go over, and I say, "Aren't you Tiger Woods?" He's like, "Aren't you Hootie." I'm like, "Yeah, I'm Darius."
We sat down and started having a couple beers together. We're sitting there, and all of a sudden, the Stanley Cup walks into this bar. The guy [a former Michigan State hockey player and Stanley Cup champ] puts it on the bar, and we're freaking out. We're like, "This is hilarious." But we hung out that night, and it was great. We kept in touch, and we've been the best of friends ever since.
NUVO: Staying on the topic of sports, I know you're a fan of several teams in the South, being that you're from South Carolina. I've also seen that you're a Cincinnati Reds fan, though, which seems to be an outlier. How did you become a Cincinnati Reds fan?
RUCKER: I think it's the same way I became a Dolphins fan. When I played baseball as a kid, everybody was picking their team. Dave Concepción is still my favorite player of all time. I loved Dave Concepción, Joe Morgan, Ken Griffey Sr., and Tom Seaver later on. All of those Big Red Machine teams were great! When you're a 6-year-old in 1972 and you're picking the Reds as your baseball team, you had such a great run. It was easy to be a Reds fan, and I always have been.
NUVO: You sang at Frank Sinatra's 80th birthday. How did that opportunity come about, and what was your reaction upon being asked to do that?
RUCKER: I've been a huge Sinatra guy forever, and we heard that they were doing something. I had met George Schlatter [who produced the birthday celebration] a couple of times at award shows, and we had just gotten along. And we were big. Hootie was selling a lot of records at that time. So we're in the studio actually, and we get a phone call that they want us to play Sinatra's 80th birthday party with all these artists. I'm freaking out. I talked to the guys, and they're like, "Yeah, we'll do it." So I'm like, "Yeah! We're in, we're in, we're in."
They asked me what I wanted to do, and I said I wanted to do "The Lady Is a Tramp." We're in the studio this whole time making a record. They sent us this arrangement of it. We played it, and it was "Only Wanna Be With You." The guy who arranged it had done an amazing arrangement because it was basically "Only Wanna Be With You" to the words of "The Lady Is a Tramp." [laughs] So I called up George and I said, "I don't want to do it like that. I want the Quincy Jones arrangement." He said, "All right, we can do that." We get out there, and we do it. I've had some amazing moments in my life, but I think I will look back…this and the moment Al Green walked in and said to me, "I really like that cover you did of my song," were the two moments from other artists that freaked me out.
Frank was 80. We were backstage watching. Sometimes somebody would be singing, and Barbara would have to nudge him. So we were like, "C'mon. Frank doesn't know who Hootie & the Blowfish is." We get out there, and we do the song. We killed it. We had an orchestra with us. The crowd is cheering, and Mr. Sinatra stands up, beckons me to come over, and shakes my hand. I'll never forget it.
NUVO: You've been in country music for a long time now. As an African American are there still situations where you feel uncomfortable in the country music world?
RUCKER: Oh man. There are times in normal life when I feel uncomfortable. It's not just something that's [tied to] country music. And I don't think I do feel uncomfortable. When I'm out doing anything, people know I'm going to be there. No one's going to bug me. No one's going to bother me. When I've got my buddies and my folks with me, I don't feel uncomfortable. But I get the question. It's more like there are places everywhere where I sometimes feel uncomfortable.
NUVO: Has being in the country music world been different than being in the rock world in any ways?
RUCKER: Oh goodness gracious, yes. It's like night and day. I'm not saying rock 'n' roll fans aren't loyal because they are loyal. But with country fans, you're like their best friend, and they're loyal as heck.
NUVO: You're touring with Lady Antebellum when you visit Ruoff Home Mortgage Music Center. Talk to me about your relationship with them, and what you enjoy about touring with them?
RUCKER: We toured together about four years ago when Need You Now was big and they were winning all those Grammys. They took me out on tour as the band right before them, and we had a blast. Charles and I have known each other for a while. In this business, I've got some really good friends, and Charles and Brad Paisley are both my best friends in the business. And Luke and Jason. Those guys are my boys.
You also go out, and the shows are great. I know they're going to put on a great show. They've got so many hits. They're such a great band, and they're going to put on a great show. I had a great time last year and the year before doing my own thing. They called, and they said, "Do you want to co-headline?" And I said, "Man, that's exactly what I want to do. Let's go out and have some fun."
NUVO: You sang the national anthem at the 100th anniversary of the Indianapolis 500. Tell me about your memories of that day.
RUCKER: The fact that you just said that once again gave me chills. Of all the singers in the world that they could have gotten to do that, to choose me to do the anthem was amazing. That was just a day I'll never forget as a sports fan.
NUVO: Does Indianapolis have any other significance to you? I know you've been touring through here for a long time now.
RUCKER: Indy is one of those towns for me. I have so many great memories. All the Peyton years because Peyton and I are really good friends. Playing shows. Playing that Super Bowl outside in the cold, and there was 60,000 people there. That was awesome.
This is one of my favorite stories to tell about Indy. It's just so funny. It was when Hootie was big, and I was going to every Miami Dolphins game I could go to. So I call up Dan Marino (Dan is still playing), and I say, "Dan, I want to come to the Indy game." He's like, "Okay. Do you want tickets or do you want to be in somebody's box?" I said, "Well put me in the box, but I'd like some tickets just to go experience the dome." He said, "All right, I'll get 'em both."
So we get our packet. We're about to go to the box, but we say, "Let's just go see where our seats are." When we sat down, and this is not an exaggeration, we touched the top of the dome. [laughs] They gave us seats so high! I was like, "That's awesome.