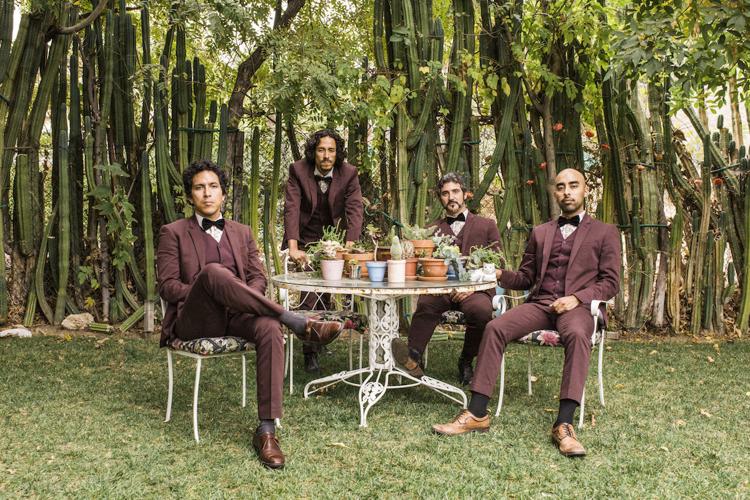 The psychedelic soul vibrations of Chicano Batman have a way of uniting music lovers.
"You have all kinds of people coming together to watch us play music, and it's something that we honor," says lead guitarist Carlos Arévalo. "It's really beautiful to be able to draw people into one place to celebrate one thing during these divisive times."
Chicano Batman will perform at HI-FI on Friday, Sept. 21, kicking off an excellent weekend of live music in Indy. Ahead of the show, we caught up with lead guitarist Carlos Arévalo to discuss the L.A. band's liberating sound.
NUVO: Tell me about your upbringing and the music you grew up around.
CARLOS ARÉVALO: I was born in Los Angeles, California, and I was raised in the Inland Empire, which is a suburb an hour east of Los Angeles in the desert. I grew up on '90s hip-hop and R&B when I was in middle school. I got a guitar when I was in high school, and that steered me towards rock music. I started listening to Radiohead, At the Drive In, Bjork, Jimi Hendrix, Led Zeppelin, etc. That was the kind of stuff I was into in my formative years.
NUVO: Were you in bands prior to Chicano Batman?
ARÉVALO: Yeah. I was grinding it out with several bands before Chicano Batman. I had a band in high school, and they were just basically a wannabe At the Drive In. I had like three or four bands before Chicano Batman, and it was hard, especially not having any true contacts in the Los Angeles music scene. It was really hard to get your foot in the door.
Bardo, our singer, actually dated the singer in one of my bands. He was pretty connected in the music scene in L.A., and he would invite us a lot to play on shows that he was throwing. That was really helpful, and that's when me and him got to know each other.
NUVO: How did that eventually lead to Chicano Batman coming together?
ARÉVALO: Chicano Batman was formed when Bardo and Eduardo were finishing up college. They bonded over a mutual respect of Caetano Veloso and Tropicália music from Brazil in the '60s. Bardo met our drummer Gabriel at a show from this band called Very Be Careful. They're a cumbia group that plays vallenato, which is Columbian cumbia. They met, started jamming, and became a band. Then, I joined three years later.
NUVO: How has the diversity of cultures in L.A. impacted the sound of Chicano Batman?
ARÉVALO: Los Angeles has so much diversity and so many ethnic communities to really draw inspiration from. We're definitely inspired by the Brazilian communities, Black communities, and Latino communities. There's just a lot of variety, and a lot of great art being made by these communities, and it impacts us, inspires us, and finds its way into our music through osmosis.
NUVO: All the members of Chicano Batman wear suits when you perform live. Why was that something you all decided to start doing?
ARÉVALO: Eduarda Arenas, our bassist, introduced the idea of wearing suits, and that was to pay homage to '60s and '70s Latin American ballad groups. They would wear suits with the tuxedo ruffles and bow ties. They really got it from The Beatles and also Black soul music, like Curtis Mayfield and the Delfonics.
There are people that don't get the reference, and they think we're trying to be silly. But there's a real sincere reason why we wear those suits, and it's just to pay respect to those musical heroes of ours.
NUVO: How important was the Los Angeles community to the growth of Chicano Batman?
ARÉVALO: I feel like Chicano Batman is a band that can only exist because we came up in L.A. The people here were so supportive of us from the start. Chicano Batman would play really packed shows. After the first record came out, there was almost an instant fan base. They are a diehard fan base, and they remain our core fan base to this day. Southern California in general just has our back. We don't take them for granted, and we appreciate that they have been following us for so long.
NUVO: Has the audience of Chicano Batman diversified as the band has grown in popularity?
ARÉVALO: In L.A., our audience primarily at the beginning was Latinos—people that looked like us and came from the same places as us. It ended up diversifying. Now, we play places like North Carolina, and there's a whole wealth of different ethnic groups and communities that come out to watch us play. Same thing on the East Coast, in the Midwest, and in the South. It's very varied, and it's really beautiful.
NUVO: Chicano Batman started 10 years ago when the political climate was a little bit different than it is now. Has your approach as a band changed at all with how divisive our nation is now?
ARÉVALO: Not really man. We were always kind of aware of how it is out there. It just didn't have a face, and it wasn't as obvious in the media. We've always done our thing, and it's always been about promoting positivity and love. That's always been our m.o., and it hasn't changed.
NUVO: Your latest record is titled Freedom Is Free, which seems to tie into this inclusive mentality you speak of. Why did you all decide to name it that?
ARÉVALO: It's just a flip on the idea of "Freedom isn't free." We thought, "Why don't we flip it and make it something positive?" So it essentially means, "Be free to express yourself. Don't let anyone tell you that you're not good enough to look a certain way or be a certain way or dress a certain way. If that's how you feel deep in your heart and soul, let if fly."
We definitely live in a time where people are trying to suppress other people, and they really have no right to do that. You have elderly Caucasian males making laws against what women can do. There are people being negative toward people of color. We feel that these people [who are being suppressed] shouldn't feel disenfranchised. They should celebrate who they are no matter what the status quo is saying. As long as you're not doing anything that's hurting anybody, celebrate yourself in that matter.
NUVO: Chicano Batman touches on so many different styles of music. That being said, I'm curious to hear what you've been listening to lately.
ARÉVALO: We were listening to a lot of soul music. I think that's apparent when you hear the album [Freedom Is Free]. As a musician, I'm always trying to progress and change, just so I don't repeat myself musically. It just keeps things fresh and keeps me on my toes.
I've been listening to this Brooklyn musician named Helado Negro, and he's awesome. Hurray for the Riff Raff. They're amazing, and they're really saying important things right now. Alynda Segarra, the singer of that group, is awesome. I've been revisiting Bosnian Rainbows, which is a group Omar Rodríguez-López was in. I've been listening to Drake's new album. The new Parquet Courts record, Wide Awake! It's really timely for right now. Their lyrics are pro-resistance, and the songs are funky because of Danger Mouse's production.