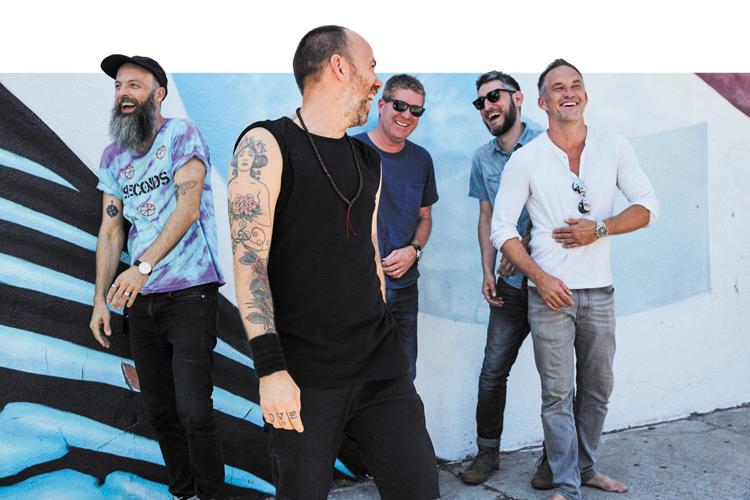 The world was certainly a different place in 1998. Google was newly founded, news of the Bill Clinton-Monica Lewinsky scandal had just come to light. Peyton Manning was just starting his rookie year as quarterback of the Indianapolis Colts, and a favorite Indianapolis music venue known as the Patio was still going strong.
It was also in 1998 that Indiana band Chamberlain released their much-loved album The Moon My Saddle. Now, two decades later, the storied Indiana band is set to celebrate the release's 20th anniversary with a string of reunion tour dates, including one at HI-FI in Indianapolis on Wednesday, Sept. 12.
The roots of Chamberlain can be traced all the way back to the early '90s, when its members (who were teenagers at the time) first started playing together in the legendary Indianapolis emo-core band Split Lip. After going down this path for a while, the band eventually moved to Bloomington, where they changed their name to Chamberlain and shifted away from punk, instead choosing to go in a more traditional Americana-leaning direction.
"We were young guys who grew up in the punk rock scene, and we had just discovered The Band, Tom Petty, and Bob Dylan," says Chamberlain guitarist Adam Rubenstein. "We grew up listening to Fugazi, Bad Brains, and New York hardcore. We were just in a different playing field so to speak."
Coming from this background, Chamberlain organically injected punk energy into their more traditional Midwest rock 'n' roll sound. For this reason, The Moon My Saddle stands out as a classic.
"Living down in Bloomington, all of us fell in love with Americana, and we didn't really know how to play it," Rubenstein says. "I think that's the unique thing about that record. Curt is still playing Fugazi-inspired bass lines. I'm just learning how to play rock 'n' roll guitar. David is just learning to use his voice."
The Moon My Saddle was also created at a time when all the members of Chamberlain were entering a new stage of their lives. "We started a band as kids, and then when we wrote that record, it was kind of a turn of events," says bassist Curtis Mead. "We were branching out, not just musically but with school and jobs. It was definitely a turning point for a lot of us." While making the record, the band was also put in somewhat surreal circumstances.
"We were kind of star-struck," says singer David Moore on the making of The Moon My Saddle. "We were working with some of Mellencamp's people and recorded it down at his guitar player's studio. It was the first time we kind of felt like we were getting closer to a bigger stage and working with more professional musicians."
Now 20 years removed from its release, the members of Chamberlain are excited to present fans with a slightly revamped version of The Moon My Saddle.
"We're older and more mature, and most of us have still kept playing," says Rubenstein, who also mentioned that the band has recently written some new material too. "We sound seasoned. I think the songs [from the album] now sound like they should sound."
This string of shows will also mark a rare opportunity for fans of Chamberlain to hear every song from The Moon My Saddle, as the band never toured on the record. "With some of those songs, it was kind of like, 'Wow. We have not played these together since we literally recorded them," Mead says.
Admittedly, Moore was rather hesitant about doing the string of reunion dates at first. "I didn't want it to be about nostalgia as much as it was really something that people were passionate about hearing," he says. Having since seen the response to this The Moon My Saddle reunion, he looks forward to sharing a special moment with devoted Chamberlain fans.
"I look forward to being in the moment with the people who still listen to that record regularly and still feel a connection to it," Moore says. "It's always great to be up there and have people screaming and singing the words to the songs back at you. The fact that they're a bit aged, as we all are, and still feel passionately about the songs is what I really take the most honor in."