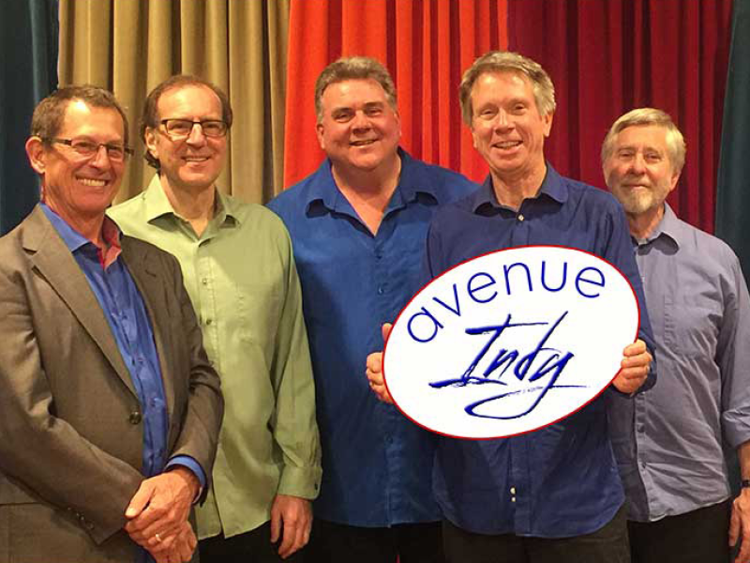 Read more about 2017's Indy Jazz Fest here. 
Avenue Indy Jazz Quintet, celebrating its fourth year, continued its momentum with their signature nod to the heritage of Indiana Avenue's storied past on Sept. 13.
Bassist Jon Block and Jake Richter, subbing on drums, joined original founders, trumpeter Jeff Conrad, saxophonist Rich Cohen and pianist Gary Potter to deliver a mix of standard and new arrangements and new compositions. A May IU Jacobs School of Music graduate, Richter bears watching.
The promised premiere of Conrad's arrangement of "La Fiesta" surfaced half-way through the first set, treating us with spirited solos by Block, Conrad and Cohen, definitively joining the pantheon of composer Corea, followed by signature personal takes by Ferguson and more recently Diana Haddad. A Corea standard since 1972, Conrad's arrangement artfully extends the flamenco modes as a celebratory tune, with the quintet as a whole raising the bar of cohesive playing. No room for misery here.
Kyle Long and Everett Greene have an in-depth and moving conversation in what may be Greene's most expansive interview ever done with local singer Everett Greene.
Potter's original "Starless" provided a changeup to a balladic mode.
And, as if on cue from my 2015 first anniversary review, Conrad's jaunty original "Yat's Blues" returned as a tribute to the indefatigable Joe.
Totally delightful was the take on "Wonderful World" complete with growls and reverbs. Louis Armstrong never left the room; neither did Sinatra when "It Was a Very Good Year" wafted across us. And guess who else showed up? Oh yes, the suave Everett Greene, tuning our hearts to his with "Autumn Leaves," and linking caring with "God Bless the Child."
Even though Conrad explains, "Our goal is to engage our listeners and keep the music interesting and accessible to them, not to "educate" them," this listener felt intellectually as well as emotionally fulfilled by program's end, especially in this year of turmoil when anything hopeful is welcome